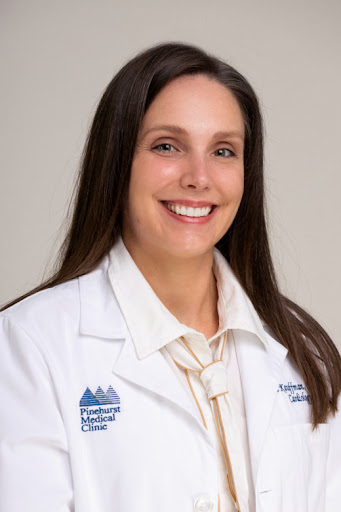 FirstHealth Cardiology – Pinehurst Medical Clinic is excited to announce the expansion of its electrophysiology team in Pinehurst with the addition of Laura Kauffman, NP. She joins the established team located at FirstHeatlh Cardiology - PMC – East, which is composed of three board-certified cardiologists.
Kauffman earned her Master of Science in Nursing from Duke University School of Nursing, her Bachelor of Science in Nursing from the University of North Carolina Wilmington, her Bachelor of Arts in International Business from Eckerd College and an associate degree in nursing from Sandhills Community College.
After almost 10 years of clinical experience, Kauffman has developed a care philosophy that encompasses her patients' complete health and well-being. "I enjoy providing care to the entire person and am passionate about cardiology," shared Kauffman in a press release. "I believe that many things affect a person's health – their physical health, environment, support systems, mental health, diet and exercise all play roles, and I love helping a patient identify ways to improve their health in a way that fits into their lifestyle."
FirstHealth and PMC are happy that Kauffman has decided to stick around after experiencing the culture of the organization through several clinical rotations she did throughout her education. Kauffman expressed that the providers' commitment to delivering the best care for their patients and the support they gave her made it an easy choice to continue her career in the electrophysiology department.