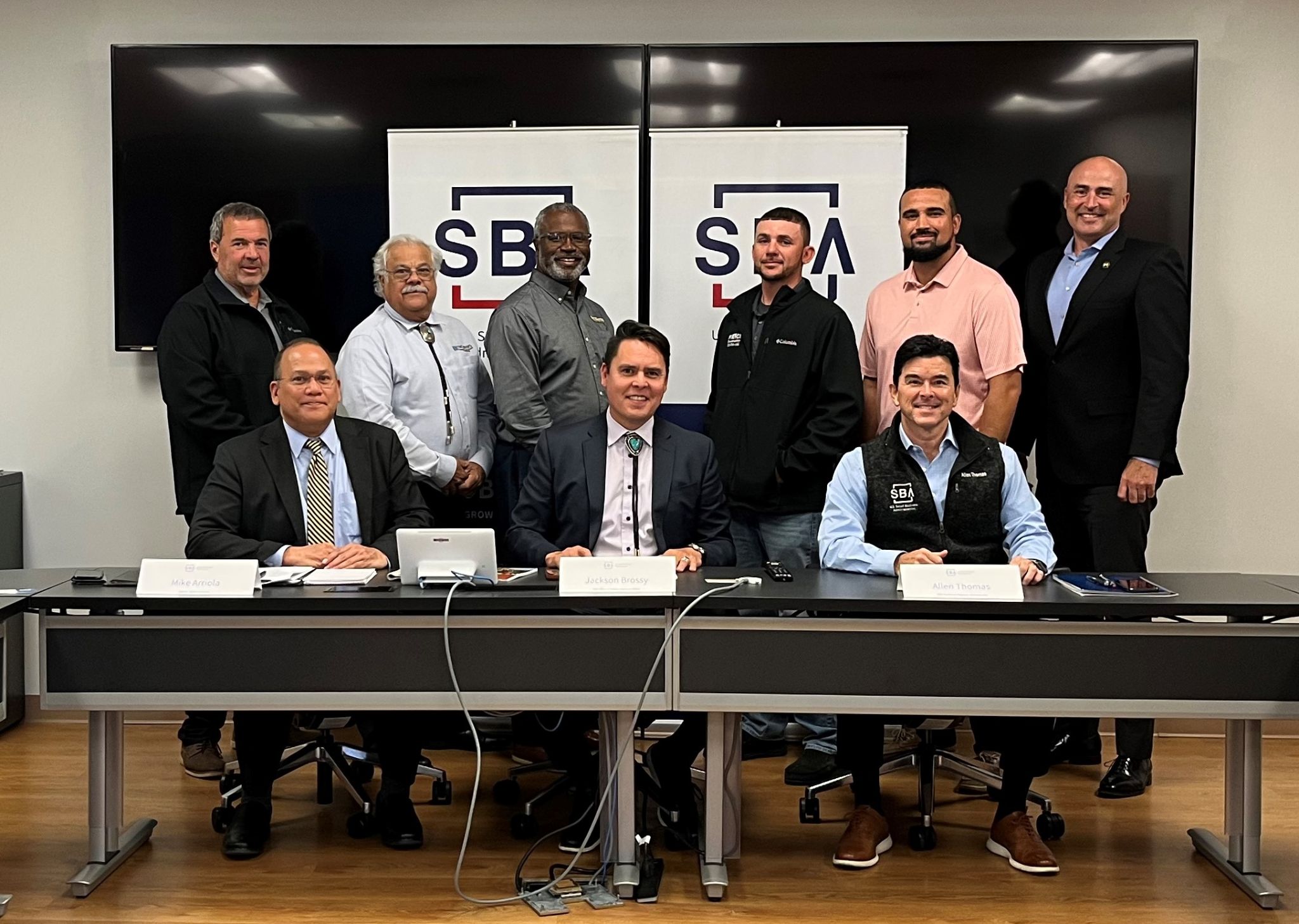 Standing in support of small business owners and entrepreneurs, the Small Business Administration is working to provide funding, counseling and information to small businesses across the country.
The Office of Native American Affairs within the Small Business Administration is one branch of the organization working to support the future of small businesses on a local level by working with tribes across the country including the Lumbee tribe in Pembroke, NC.
On Oct. 19, 2022, the SBA brought face-to face support to present and future entrepreneurs. The Thomas Entrepreneurship Hub partnered with the Lumbee Tribe of North Carolina to host the first SBA Town Hall event.
Included were panel discussions aimed at small business owners, including topics like government contracting, community business resources and, most importantly, funding information on the various loans programs available to small businesses for socially and economically disadvantaged communities through the SBA.
While the Office of Native American Affairs does outreach with other tribes across the country, leaders said it was a priority to connect with the Lumbee Tribe as they are the largest tribe located east of the Mississippi River.
"There was a great turnout, it was standing room only. We had a number of businesses that we appreciate them taking time out of their days in their small businesses," said Assistant Administrator for the SBA Office of Native American Affairs Jackson Brossy.
The SBA offers two main loan programs which vary in how much and what they will cover. The 7(a) loan, the most common loan program according to the SBA, and the long-term 504 loan program.
The 7(a) loan includes financial help for businesses with special requirements. While the loan is the best option for a business-related real estate purchase renovation or construction, it can also be used for short-term working capital, refinancing current business debt, and the purchase of furniture, fixtures and supplies. The maximum amount for a 7(a) loan is $5 million, and the key eligibility factors are based on what a business does to receive its income, its credit history, and where the business operates.
Some of the business eligibility requirements for a 7(a) loan include operating for profit, being considered a small business following the SBA's definition, and using alternative financial resources, including personal assets, before seeking financial assistance.
7(a) loans are traditionally repaid through monthly payments of principal and applied interest. Payments do stay the same for fixed rate loans because their interest rate stays constant, but for variable loans the lender can require a different payment amount if the interest rate changes.
The 504 loan program is a fixed rate financing loan for major fixed assets. According to the SBA website, 504 loans are available through Certified Development Companies, the SBA's community-based partners who regulate nonprofits and "promote economic development within their communities," but who are also certified and regulated by the SBA. The maximum loan amount for a 504 loan is $5 million with the exception of certain energy projects.
For those exceptions, the borrower can receive up to $5.5 million per project and a total of $16.5 million total for up to three projects.
To be eligible for a 504 loan, your business must operate as a for profit company in the U.S. or its territories, have a tangible net worth of less than $15 million, and have an average net income of less than $5 million after federal income taxes for the two years preceding your application.
Other eligibility standards for a 504 loan include falling within SBA size guidelines, having qualified management expertise, a realistic business plan, good character, and the ability to repay the loan.
A 504 loan can be used for a number of things that promote business growth and job creation such as new facilities, long term machinery and equipment, or the improvement of land, streets, utilities, parking lots and landscaping and existing facilities.
Despite their titles, both the loans are not traditional loans. Instead, the SBA works to back a portion of loans taken out by small businesses through the programs.
"Both of these 7(a) and 504 products are loan guarantees, where the SBA says that if, for some reason the borrower isn't able to pay back the bank for the loan, the SBA will step in and pay a portion of that. And so that way, if you're a small business that is new starting up and you haven't had that opportunity to build up a track record, like a lot of larger businesses do, hopefully, the bank will be more likely to do that," said Brossy.
The Small Business Administration partners with local banks to help business owners get the funding they need. Lumbee Guaranty Bank is one local bank that doubles as an SBA approved lender. According to Chief Credit Officer James Gore, the bank looks for opportunities where SBA assistance may be beneficial to a client and then helps them work on the proper loan program that is best for them.
"We use SBA as the backup, if you will, as a tool that could potentially help us. When we have a loan situation that doesn't quite check all the boxes for us to be able to consider it within our risk profile," said Gore. While operating locally across 14 branches in three counties, Gore said being a local option helps give them an edge when it comes to helping their clients.
"We're very attuned to the needs of the community and we look at long opportunities as can we figure out a way to make these work within the risk tolerance," said Gore. "If we have a loan need that is presented and it had some factors in it that makes the risk a little bit out of our guidance, And then that's where we start looking for, 'okay, is there a way to make this work?'"
Full loan information can be found online at www.SBA.gov.