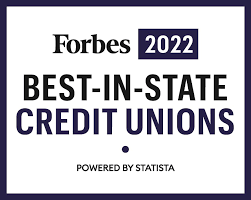 Two credit unions in North Carolina are receiving national recognition from Forbes with the release of the America's Best Credit Unions in Each State 2022 List.
Out of three winners announced for North Carolina in late June, the top two spots were held by credit unions available to Greater Fayetteville Business Journal readers.
State Employees Credit Union was ranked number one in North Carolina for the third year in a row. In service to employees of the state of North Carolina and their families for 85 years, SECU is the second largest Credit Union in the United States with $53 billion in assets, and over 2.6 million members. According to Forbes, the company also has 7,031 employees. Branches can be found throughout Cumberland, Harnett, Hoke, Moore, and Robeson Counties. Leadership said they are humbled SECU has been among the top ranked credit unions since the award's inception five years ago.
"Our longstanding philosophy of 'People Helping People' is at the very heart of SECU. It guides us in our mission to serve more than 2.6 million members, and we are grateful for their support," said SECU President and CEO Jim Hayes in a press release. "We are truly humbled and honored to once again receive the top ranking for this national recognition. It speaks volumes about the outstanding work that our employees do every day to help members and their community."
Local Government Federal Credit Union ranked second on the list. Beginning in 1983, LGFCU is the first statewide credit union that exclusively serves North Carolina's local government employees including; state volunteers, elected and appointed officials and their families as well as fire rescue and EMS workers.
As of January 2021, LGFCU had more than 300,000 members across the state and, according to Forbes, the Union employs 221 people. LGFCU locations can be found in Cumber land, Moore, Hoke, Robeson, Bladen Sampson, and Harnett Counties.
To increase access to services to its members, LGFCU has also partnered with State Employees Credit Union to deliver in person services. While LGFCU and SECU are two separate credit unions, LGFCU members can enjoy full service at SECU branches.
Leadership said they will continue to focus on their individual members and communities and continue to help them meet their financial goals.
"We like to use this term 'like hearted'. We all truly have this heart for local government; we have a heart for our state." said LGFCU President Mark Caverly. "We're constantly trying to determine 'What more can we do for our members and the communities where they live?' 'What more can we do to enhance local government and help improve the quality of life for our public servants across the state?'"
To bring the lists to consumers across the country, Forbes partnered with Statista Inc., a world wide statistics portal and industry ranking provider. According to SECU, results were based on the feedback of approximately 26,000 U.S. consumers who were surveyed and asked to rate credit unions they currently bank with, or have used in the past. Feedback was also collected on areas such as trust, terms and conditions, branch services, digital services, customer service, and financial advice.