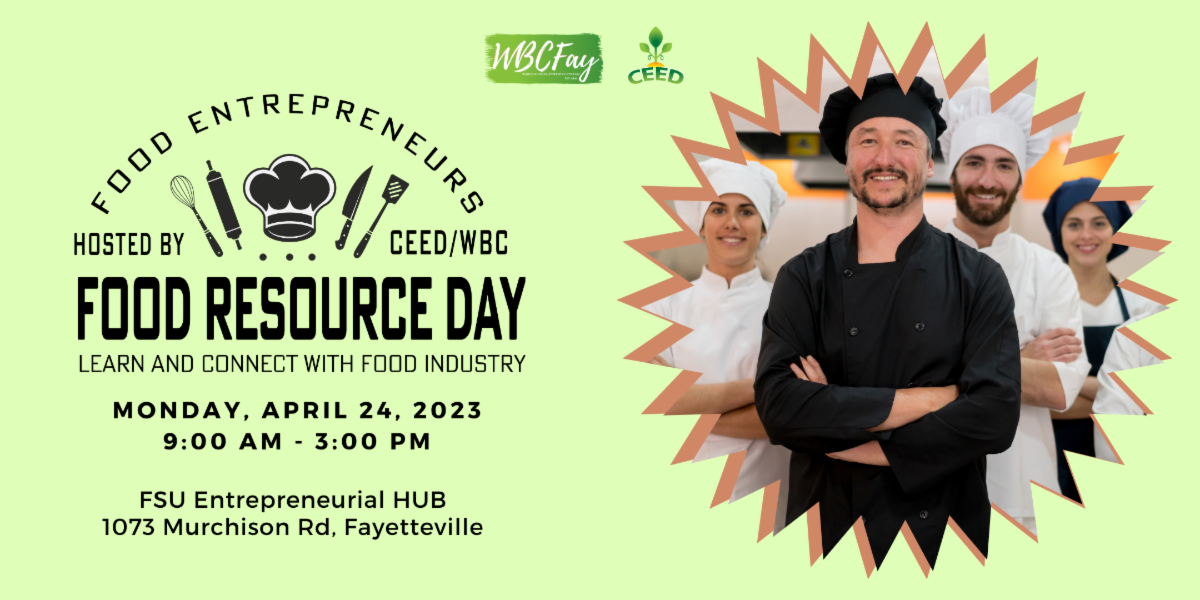 The Women's Business Center of Fayetteville at CEED is hosting a Resource Day tailored to Food Based Entrepreneurs on Monday, April 24.
The Food Resource Day will give guidance on how to get started in the food business with the Secretary of State and EIN Filing, strategies on how to create a solid business and/or expansion plan. Business owners will also get the opportunity to talk to bankers, insurance agents skilled in coverage for food businesses, accountants bookkeepers, and a resource will be present that will help with payroll and HR services for staffing. The event will also have opportunities for food-based entrepreneurs to learn about funding opportunities for equipment, food trucks, and/or commercial property.
"...we want it to cover many facets from those that are looking to cater, those that are looking to bake, those that are looking to open a brick and mortar, those that are looking to purchase a franchise and those that just have certain type food products like seasonings and barbecue sauce and jams that they want to be able to package and distribute into stores," shared NC CEED's Director of Lending Crystal McLean.
The itinerary includes three Knowledge Sessions from 11 a.m. - 1:30 p.m. around Food Regulations, "What I Wish I Knew" from Mentor Panelists, and a "How to price your Menu" workshop, along with speed dating rounds with local resource experts.
Topics will include but are not limited to:
Developing menus and recipes and how to price your menu based on costs

Working with suppliers

Food Truck to Brick & Mortar

Collaboration with Key Players in the Food Industry

How to finance your Food Truck and/or equipment

Exclusive panel made up of extraordinary food entrepreneurs!
The event is being held at the Fayetteville-Cumberland Regional Entrepreneurial HUB located at 1073 Murchison Road. It will begin at 9 a.m. and go until 3:30 p.m.
"I'm really excited about the panel discussion… I'm really excited about that discussion, because I feel like people being able to hear first hand [the] good, bad and ugly of the industry will give them more knowledge than they could read online," shared McLean.
Mentors participating include Latonia Parks, franchise owner of Cold Stone Creamery; Chef Lou & Edna Johnson-Irizarry, co-owners of Elite Catering, Got Chew Grill, and a Food Truck; Peter Pappas, the franchise owner of Baldinos and real estate developer; Julius Cook owner of Bezzie's Home Style Foods; Chef Alan Dover chef and teacher with FTCC; and Dani Black will be the lead facilitator and teacher. Black is the Co-Founder of WE Power Food and Advisor for small food businesses and organizations that support them through her business Bigger Tables Culinary and Service Consulting.
"I'm also excited about the potential connections and [networking] that will take place…If I have a bakery or I [sell] baked goods, and you have a restaurant, I can have the ability to network with you about 'How can I get my desserts in your brick and mortar restaurant?' So I'm excited about the potential collaborations and partnerships," added McLean.
Tickets are $30 and can be purchased at
https://www.eventbrite.com/e/food-entrepreneur-resource-day-tickets-551621022327