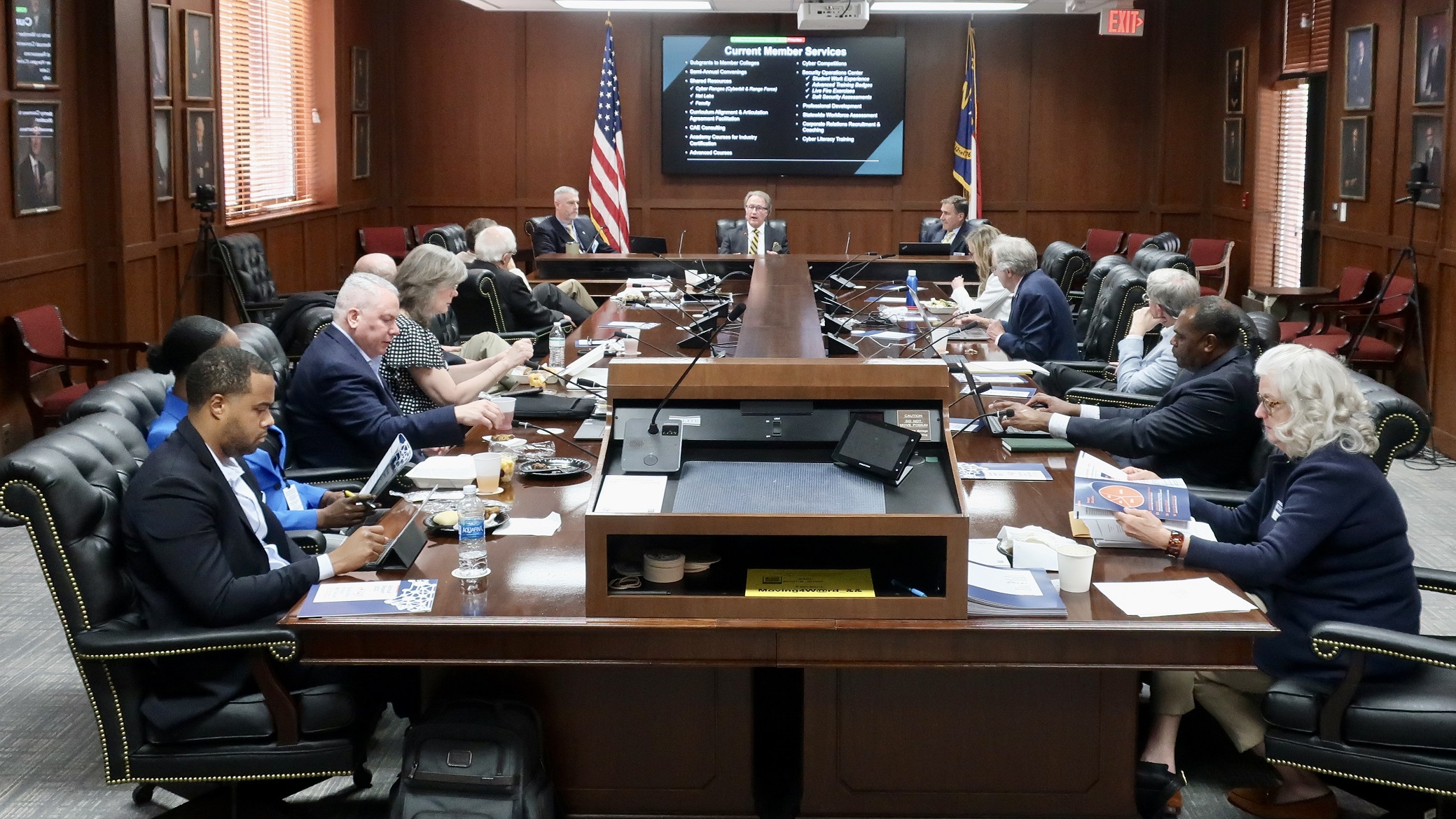 Fayetteville Technical Community College President Dr. Mark Sorrells met with the State Board of Community Colleges to discuss the work of the Carolina Cyber Network and CCN's comprehensive cybersecurity workforce strategy for North Carolina.
Sorrells, a co-founder and leader of CCN which was established in 2020 by Fayetteville Tech and Montreat College, made a presentation about CCN on April 20 during the issues luncheon portion of the State Board's monthly meeting
Sorrells told the State Board there are estimated to be more than 23,400 cybersecurity job openings in North Carolina currently and more than 755,000 cybersecurity job openings nationwide.
Since its founding, CCN's membership has grown to include 11 community colleges and three four-year institutions, with an anticipated 3-4 additional colleges joining this year. CCN has received funding from the General Assembly to support its work.
Sorrells explained that CCN members work together to ensure their students meet cybersecurity workforce needs in a variety of economic sectors, including agriculture, biotechnology, critical infrastructure, financial services, healthcare, manufacturing and military transition.
Since the program's start, Sorrells said, member schools in CCN have collectively reported a 60-percent increase in enrollment in cybersecurity credit programs and a 197-percent increase in total graduates. Among the 14 current member colleges, nine have reported adding or updating their cybersecurity programs. Four additional colleges are in the application and review process.
Sorrells shared that CCN has developed a dynamic and powerful public-private partnership with significant buy-in from industry and the highest levels of U.S. and State government.
"The Carolina Cyber Network really has a dual focus," said FTCC President Dr. Mark Sorrells. "One focus is to address and develop the cybersecurity workforce that is needed by our public and private agencies across the state. The other is to protect our national interests. Our nation is under attack from nefarious actors that are looking to steal assets and undermine our national security. By collaboratively uniting around this, we can make a difference."
CCN's leaders are Sorrells, Lawrence Young, Executive Director of the Carolina Cyber Center of Montreat College, and David Thompson, President and CEO of RBX Solutions.
To learn more about CCN, visit