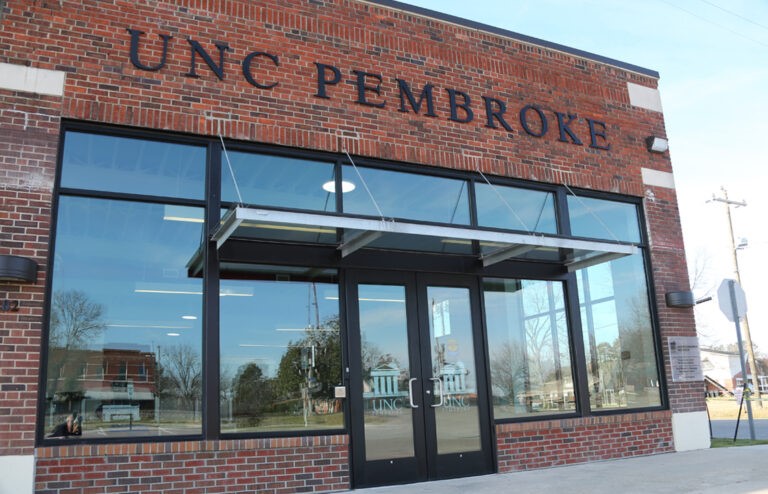 The Thomas Entrepreneurship HUB (Thomas Center) has served as an aid to the small business community of Pembroke, NC since its founding in 2005. Founder James A. Thomas established the HUB with the belief that entrepreneurship drives economic growth and job creation.
The Thomas Entrepreneurship HUB is an engine of economic growth and support, providing opportunities for up-and-coming entrepreneurs and small businesses in the entire southeastern North Carolina region at no cost to them.
After opening the doors to its present facility, located at 202 Main Street in downtown Pembroke in 2015, the HUB has continued its mission to support, educate and house local businesses from conceptualization to execution.
The HUB's flagship services include offering co-working space, office space, business advising and a Jumpstart Program, a five-week, 12-milestone program that helps entrepreneurs develop their raw ideas into a well-developed, fully vetted business plan.
Now with more than 15 years working to advocate and support local business owners, the HUB is moving forward with new leadership, new tenants and new goals for 2023 and beyond.
New Executive Director Elizabeth "Beth" Wilkerson joined the staff in June of 2023.
A Robeson County native and graduate of UNCP herself, Wilkerson has been active with the University of North Carolina at Pembroke for years, starting in December of 2007 in the Small Business and Technology Development Center (SBTDC) until May of 2018. After which, she transitioned to Fayetteville State University where she served as the Regional Director of the SBTDC until she returned to UNCP in her new role.
After serving for three months, Wilkerson shared that her goal is to continue the good work set by the HUB's founder, while also growing and expanding community awareness and involvement.
"We're working with a student team, a marketing class on campus to help us improve with our marketing, our promotional events and promotional type of marketing. We've had some events and we really tried to market them well and the turnout was low, so we're working with a student team to help us come up with a strategy on how to improve our marketing for networking events and training opportunities," shared Wilkerson.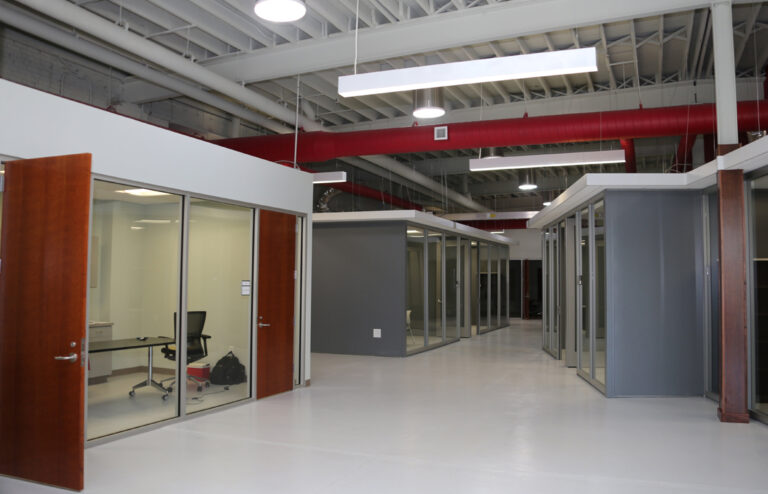 The Thomas Entrepreneurship Hub (Thomas Center) is a 20,000-square-foot newly renovated building featuring 12 private offices, 16 semi-private cubicles, an Idea Lab, conference rooms and a Markers space to help aspiring entrepreneurs jumpstart their businesses. Wilkerson shared that as of September 2023, the building is almost at full occupancy as far as tenants leasing the office space and progress is being made for a new tenant expected to occupy a larger space in the back of the HUB known as the Accelerator Space.
Wilkerson shared that there are only two offices available for budding businesses and as soon as they are full, a wait list will be created to keep the ideas and businesses flowing through the space and ensuring the HUB is being utilized to its full potential.
"We'd like to meet with them first and find out what their business is going to be, so I'm not going say we're looking for anything in particular, but we do want to make sure it's a business that can benefit from our resources," said Wilkerson.
Staff needs are also changing with the HUB looking to add a new Facility Manager and Business Advisor to better serve the community.
"It's a work in progress. Our purpose is to serve the community by helping startups and small businesses start and grow into successful companies and we're trying to keep it true to that. We are moving forward with it and we're hoping once we're fully staffed, we can start looking at setting specific goals for each of us and make sure that we're moving in that direction," said Wilkerson.
The HUB will continue hosting events in the space with a full roster already planned for the rest of the year including:
● 1 Million Cups on Oct. 18
● The North Carolina forestry and logging business seminar in Oct. 20
● Farm Food Safety program on Oct. 25
● And the first ever Global Entrepreneurship Week coming in November
"The future looks great and we have to continue to provide these resources to the community and the University and the students," concluded Wilkerson.
_____________________________
For more information about the Thomas Entrepreneurship HUB and to learn how to get connected with the HUB's resources, you can visit their newly redesigned website at www.thethomashub.org.
Anyone interested in leasing the office space or applying for an open position can contact Elizabeth Wilkerson via email at elizabeth.wilkerson@uncp.edu.