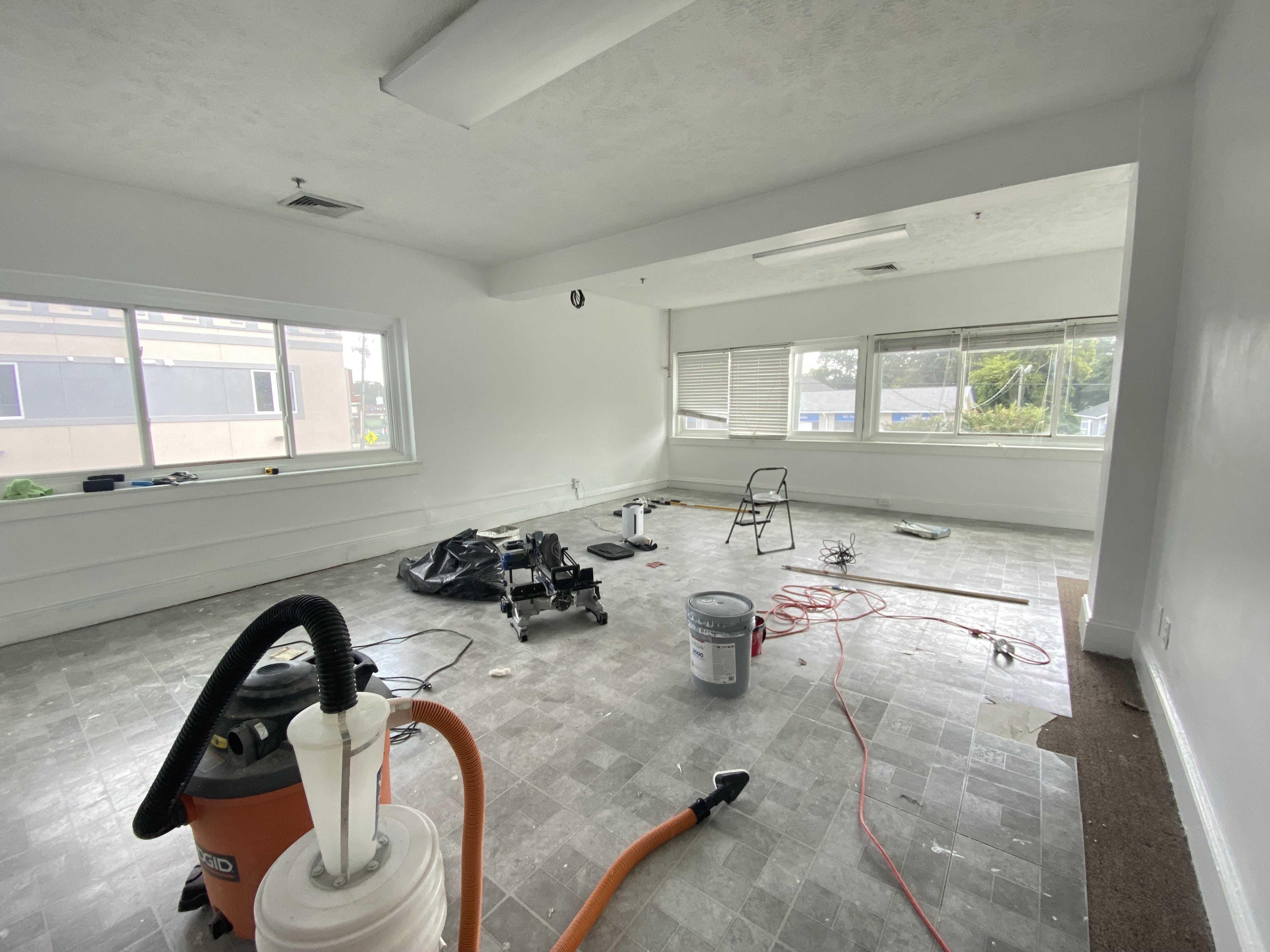 Morganton Space, a natural light studio and small event venue, is opening at 1308 Morganton Rd., Suite 201 located in the Haymount district of Fayetteville.
The venue is a creative space and business venture of two of Fayetteville's local photographers and businesswomen, Kristin Guynn and Taylor Heim.
Friends as well as neighbors, Guynn and Heim met in 2019 in a photography group on Facebook.
"The Morganton Space is something that I wanted for my photography and her space was already too small, and we started talking about the possibilities of renting it out whenever it's not in use," Guynn said. "The space will be available to rent for other photographers, organizations and individuals."
Heim is a baby planner photographer specializing in maternity, birth, newborn and Guynn's business focuses on family, couples, maternity photography as well as business branding.
"I was there first. I opened my photography business there in a small room a while ago. Of course, we've been friends for a long time, and she came up to the studio and we saw the bigger room was vacant," Heim said. "And I was ready for that step. I am not much of a big leap person, so when she recommended the idea I was nervous and excited but here we are."
The 500 sq ft. event space will include a larger room and one small room that will include counter and desk space with a fridge.
"We will be bringing in a velvet couch and props for photography, and decorate with a cowhide rug, white walls and gold frames," Guynn said. "We're going based on what the building already is and some mid-century vibe. We are trying to keep the character."
The studio also has large windows and natural lightning, Heim added.
The building Morganton Space will be located in is called Triangle Heights and was built in 1955, and is owned by the owner of the former Haymount Grill that burned down in 2016.
"We can have 20 or less people in the space for now comfortably and then we'll see how it goes," Guynn said. "It's over by where Leclair's General Store and the food truck stop is."
The duo got into the space two weeks ago and said they've been working non-stop everyday to get it up and running before opening the studio today, Oct. 4.
"It's been a fast moving process," Guynn said. "We have just jumped into it and it's been chaotic and it's what I dream about now. I think we are coming into Haymount at a perfect time because there's so many cool things coming in and around downtown."
The studio will be open to other photographers for bookings starting today Oct. 4. They can reach out to the business on their Facebook page at The Morganton Space.


"The process of working together has been really good, when I am freaking out, she calms me down and vice versa." Guynn said.
The business plan came together in less than a month, the two owners said.
"I am not a big change person, and this is Kristin's niche, and she could have absolutely done it without [me], but this is her thing, and she's letting me be a part of it," Heim said.
"Whatever she says, I absolutely couldn't do it without her. She's just being humble," Guynn added in disagreement. "We balance each other though, where certain parts we have to go ahead but certain parts where she pulls me back in."
Morganton Space came to fruition in hopes of having a better work-life balance for the duo as well as creating a sense of community in Fayetteville.
"This is also for the community because that's my thing," Guynn said. "The Fayetteville community has so much potential, and I very much think that if I want community and want something cool in it, I have to put it in the work to make it happen."
Currently the duo plans on renting out the space to others when they aren't using it themselves.
"The interest we have had in it so far makes us think we'll be able to do a lot with this space and even profit from it," she added. "So far, we have seen interest from yoga teachers to come teach classes, makeup artists who want to host classes and also an initiative wellness coach who wants to host something."
The space aims to provide an all inclusive welcoming opportunity to everyone in the community.
Morganton Space will host it's very first event for teachers, nurses and therapists, where they will have food catered for guests in a grazing table style to thank them for their hard work in the community.


"Some of the other events we are planning on hosting are a garland or wreath making workshop by a florist. In February we plan on having a sip-and-paint Galentine's event," Guynn added.
The duo hopes to outgrow the space in the future and to have larger events that aim to bring a very trendy, diverse and inclusive vibe to the city.
"This is such a transient city, so our goal is to market well enough that when you come here you know who we are and have a place because I do think when more people feel at home here and welcomed here and more people feel like the city has something to offer them, then they will be more inclined to also be more involved in the community," Guynn said. "We do want to take this city in a direction that's going to appeal to a larger group of people and make them want to stay."
For more information and inquiries, businesses and individuals can reach Kristin Guynn at https://www.kristinguynn.com and Taylor Heim at https://taylorheimphotography.com