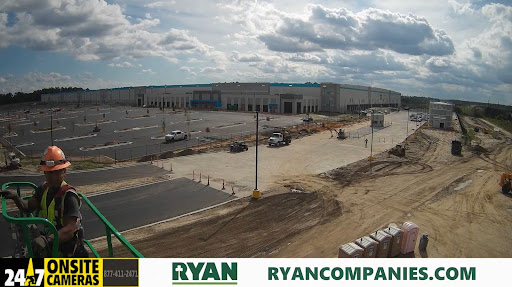 Following months of progress, Amazon is close to completing the nearly 1.3 million- square-foot fulfillment facility in Fayetteville's Military Business Park off of Bragg Blvd and U.S. Highway 295. Announced in February of 2022, the facility is expected to bring more than 500 jobs to Cumberland County with additional opportunities for part time positions.
The company originally entered the community in May of 2021 after announcing a new last mile facility at 1005 Dunn Road in Fayetteville. That project, still under construction, is expected to complement the new distribution center and speed up deliveries for customers in the region.
President of the Fayetteville Cumberland Economic Development Corporation Robert Van Geons said that the new distribution operation facility is on track to open on schedule in 2023, and that the FCEDC has been provided with regular updates on the project.
"The company [Amazon] continues to be a great partner to work with. The final infrastructure project on Dunn Road "Last Mile Delivery Center" should be complete (or about to be), after that the facility will be opening for operations," said Van Geons. "For the DC project on Bragg Blvd., both Amazon and the developer (Ryan Companies) have communicated with us throughout, and we talk regularly. Since the initial announcement, opening in 2023 has always been the target. We look forward to welcoming the company and these jobs to Cumberland County. In the future, if there are any changes with regards to the timeline, I am confident that we will hear from the company directly."
The Greater Fayetteville Business Journal also received confirmation on the progress of the new fulfillment center from several Amazon spokespersons who said they are looking forward to releasing an official launch date as soon as the information becomes available.
Ryan Companies, the company responsible for the construction of the fulfillment facility, also have a time lapse video available showing the progress of the project. That footage is updated hourly and is free to access online here: https://ryan.247osctimelapse.com/.