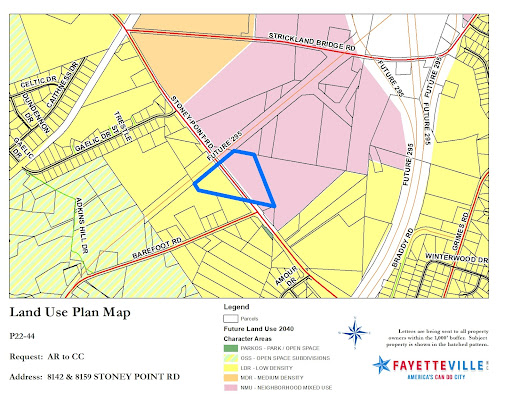 The Fayetteville City Council approved to rezone 8.68 acres of land located at 8142 & 8159 Stoney Point Road from Agricultural Residential to Community Commercial at their regularly scheduled city council meeting held on Dec. 12.
The property owners, Jimmy N Ray, Judy Epps Click, and Kenny J Click, were represented by Mark Candler of Candler Development Group LLC.
According to city documents, the owner(s) wish to rezone these properties from Agricultural Residential to Community Commercial due to their proximity to the future I-295, in accordance to the city's 2040 Comprehensive Land Use Plan adopted in May of 2020.
By rezoning the property, the space would align with future growth corridors identified in city plans with the CC zone intended to accommodate a diverse range of medium- to high-intensity retail, service, and office uses that provide goods and services serving the residents and businesses in the community at large-e.g., shopping centers, convenience stores, retail sales establishments, and heavier commercial uses.
Currently, the subject properties are split by Stoney Point Road with the property to the North already being used commercially by Clicks Nursery and Greenhouse.
According to city records, the property to the south is mostly wooded with a single family residence which calls for that portion to remain classified as low- density residential however, portions of both properties are being used as part of I-295 construction.
According to legislation details on the vote, limited commercial zoning [on] one property to the southeast along Stoney Point Road, nd the construction of the new service road for I-295 that will border the western side of this property lead staff to recommend this rezoning.
According to the document: "It is staff's opinion that the construction of I-295 and its service roads and interchanges have changed the conditions along Stoney Point Road to warrant the recommended changes in zoning and an amendment to the City's Future Land Use Plan Map. Once the I-295 improvements are complete, these two properties will make up one half of a new intersection on Stoney Point Road."
The Zoning Commission held a legislative public hearing regarding this case on Nov. 8 where two speakers came forward to speak in favor and none in opposition. The Commission voted 5-0 to recommend approval of the CC rezoning.
The Zoning Commission voted in favor of the change based on the changes helping to implement the policies and needs of the Future Land Use Plan, the uses permitted by the change will be appropriate for the immediate area moving forward and there were no other factors found that will substantially affect public health, safety, morals, or general welfare.
This is a developing story. The Greater Fayetteville Business Journal reached out to Candler Development Group LLC for comments on potential developments plans for the area, but have not yet received a response.