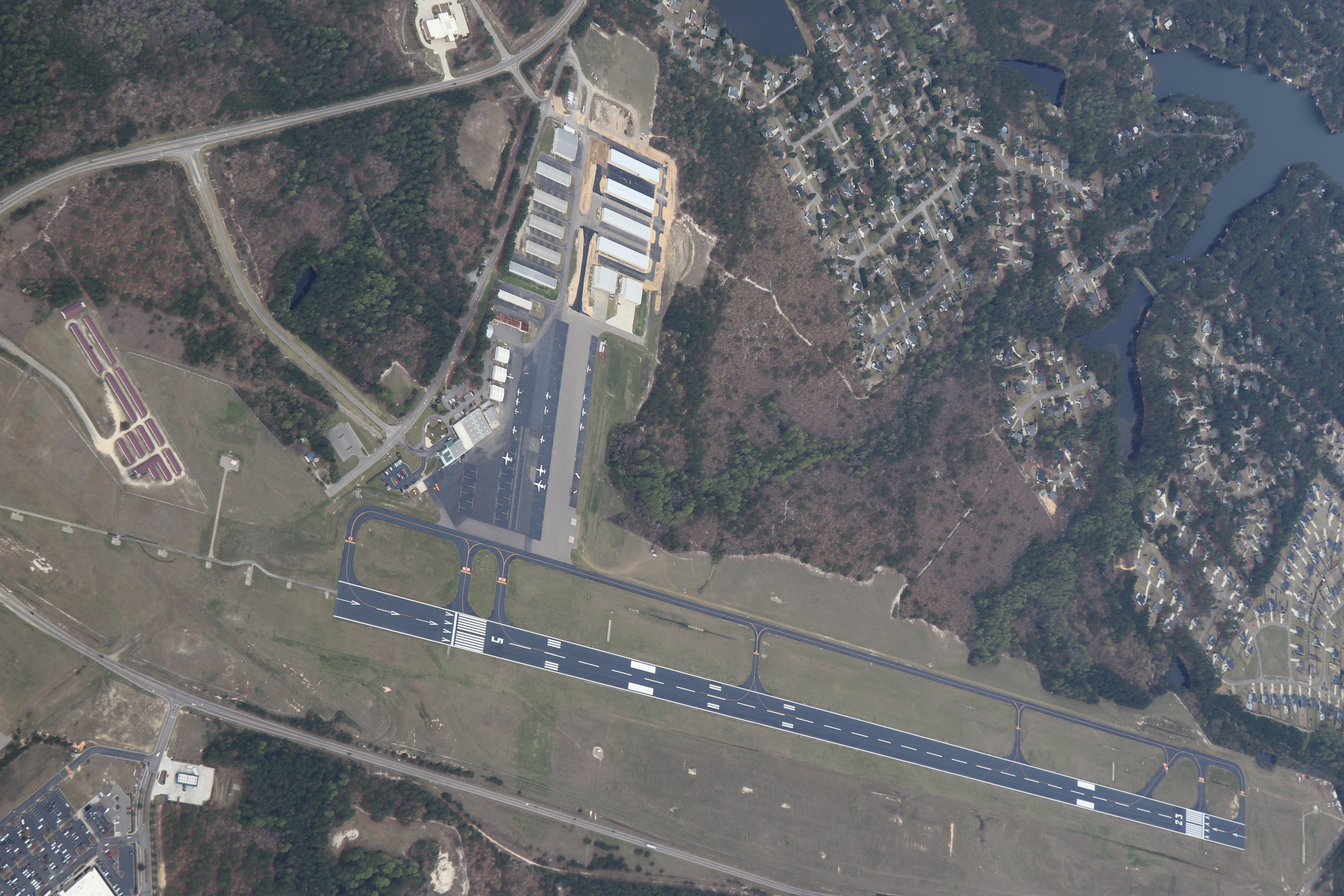 The Moore County Airport team is celebrating a job well done after nearly completing their Runway Rehabilitation Projects which have been underway since January 2023.
The full project, aimed at improving the runways and taxiways from regular wear and tear, had a price tag of about $1 million, which Airport Director Ron Maness shared was paid for by the Division of Aviation.
"The Division of Aviation here in North Carolina is periodically going to general aviation airports and looking at runway conditions, and they're funding improvements," said Maness. "In our particular situation the runway hadn't been improved or worked on for several years and over time, you get cracks that come into the cement or the asphalt. So we had a company come in, they filled the cracks and then went and resurfaced the runway with a coating and then after that was set, they went in and repainted all our runway markings, so it looks like a brand new runway."
Phase 1 of the project, which spanned from January to July, focused on Taxiways and other added infrastructure for the airport.
"Another big project we completed was a taxilane and taxi road and access to our hangars with infrastructure to expand our hangars. That was funded by the Department of Transportation under their Strategic Transportation Initiative. That was a $4 million project that's been completed," said Maness.
He also added that the Airport also built 17 new hangars which were completely occupied the day they were completed, another $4.2 million addition approved by the Airport Authority to help meet the high demand seen for Moore County. Along the same goal, the Airport also purchased a 10,000 square-foot hangar from a private owner for a total of $1.3 million to further meet demand.
Maness shared that the Moore County Airport also received an undisclosed grant that allowed for the construction of another 10,000 square foot hangar.
Additionally, the Airport will be finishing up a new lighting project which involves replacing the entire lighting system for the Airport with LED lighting, a change that Maness shared will be a very important runway safety improvement for pilots and improve the cost of utilities. The LED light improvement project is expected to be completed by mid-September.
All of these improvements are wrapping up right in time to greet guests for the upcoming U.S. Open Championship taking place in Pinehurst in 2024, an event that is sure to bring plenty of travelers to the area which Maness said the Airport is now better prepared to handle with the inclusion of a temporary air traffic control tower scheduled to be in place to handle thousands of flights.
"What I'm describing is a heck of a lot of activity in the last 12 or 14 months, a lot of significant infrastructure improvements. We're looking at the U.S. Open in 2024, that's staring us down and getting closer every day,' shared Maness. "The last two Opens here in 2005 and 2014, we had well over 2,000 flights in five days. We are an uncontrolled airport, so we need temporary air traffic control to handle that kind of volume and we've already got that in place."
As the renovation projects continue to wrap up, Maness shared that the Airport is also preparing to welcome guests well before the 2024 U.S. Open
Championship with the upcoming 2023 Festival D'Avion currently scheduled to take place on Oct. 28.
"It's a huge event for anybody in the area. The Golden Knights will be here jumping, we'll have Army helicopters, skydiving, airplane rides, all kinds of static displays and fly bys for our guests and last time around we approached 10,000 guests for that event," shared Maness.
__________________________________
The Moore County Airport is more than ready to help guests on the ground or in the sky. You can learn more about airport operations and updates on this year's Festival D'Avion at www.moorecountyairport.com.