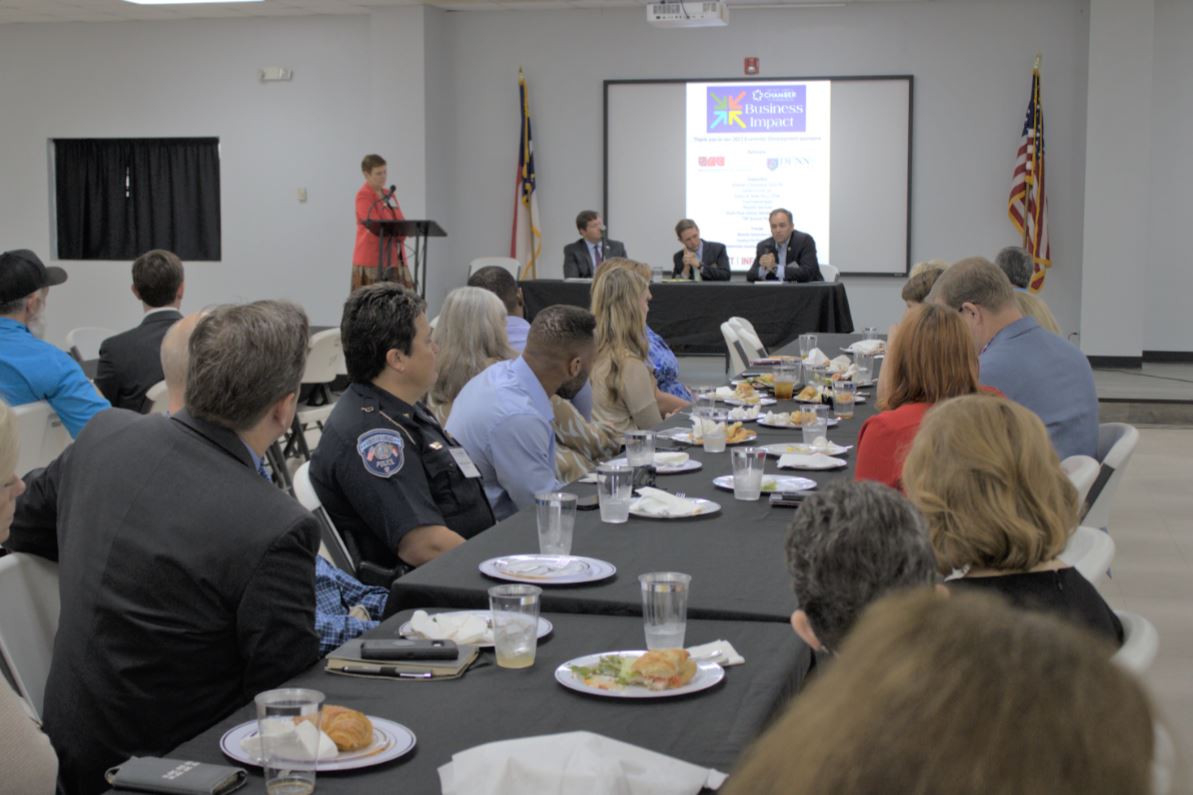 The Dunn Area Chamber of Commerce brought together members and leader representatives for the State on Tuesday, Aug. 29 for their second annual Business Impact Luncheon held at the Dunn Community Building.
The Luncheon focused on updating community members on the impact of federal legislation on Harnett County business owners.
Guest speakers included Congressman Wiley Nickel, Representative Adam Caldwell and a video update from Senator Thom Tillis and Regional Director Sam Shumate who appeared on behalf of Senator Ted Budd.
"Yesterday was an opportunity for us to bring in front of the members of the Chamber of Commerce, our elected officials who are making decisions every single day that impact our members at home and in their businesses," shared Dunn Area Chambers President Catherine O'Dell. "This really gave them the opportunity to to hear what's going on in Washington and to ask questions of their elected officials or their representatives. And really, for some to be able to start a relationship with these elected officials, where they feel more comfortable picking up the phone when there's an issue in Washington that they feel they need to be heard on or ask questions."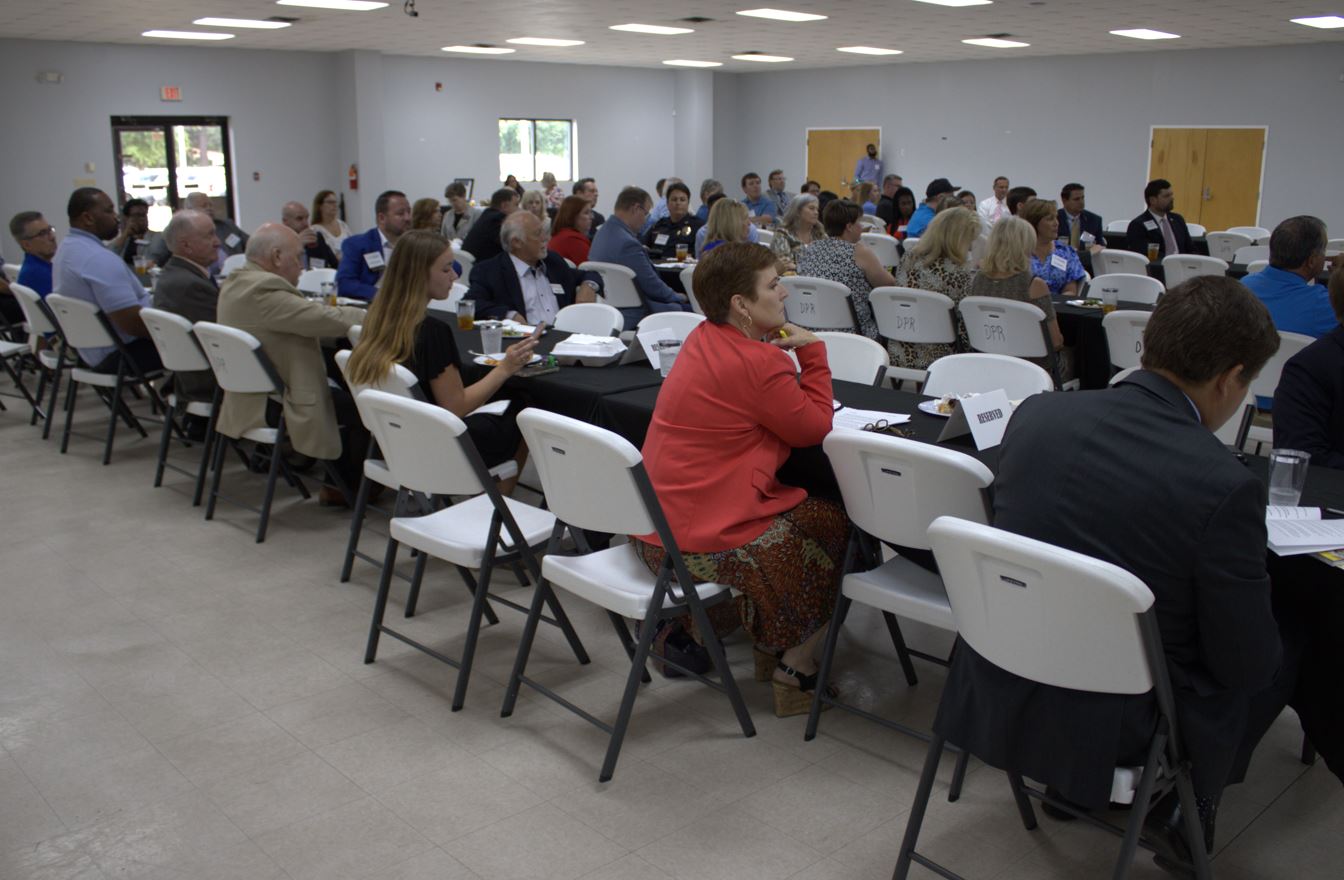 Leaders with the Dunn Area Chamber say that their main objective is to provide the connection between the drivers of the local economy and legislatures.
"I love that this type of event really affords everyone the opportunity to have time together, not just with other business people but with other municipal leaders," shared Dunn Area Chamber's Executive Vice President Heather Lawson. "Because it's not always possible for folks to get that time with them, but it's nice that they're able to get in there and talk with our city leaders, talk with our county leaders, our economic development boards and so on and so forth, as well as interact directly with our federal representatives."
Following lunch, the speakers made presentations about the effects of legislation passed during the COVID-19 pandemic and recently passed federal infrastructure legislation.
Highlights included:
Work is still being done to finalize the National Defense Authorization Act (NDAA) which could potentially mean a 5.2 percent pay increase for service members and their families and secure nearly $400 million in military construction for bases across the country.

Up to $50 billion from unused COVID-19 recovery funding and Unspent unemployment insurance came back to North carolina specifically for infrastructure including:

$7.2 billion going to roads

$1.5 billion for broadband connectivity

$9.11 million for public transit

$458 million in airport improvements

$457 million for bridge construction and repair

$44 million for clean water

144.2 million to coastal resilience projects.
Harnett and Sampson County specific impact from that same bill includes:
$295,000 went to the Harnett Regional Jetport

$7.7 million went to the US 421 and I-95 Interchange currently under construction

$4.2 million went to Jonesboro Rd and I-95

$1.8 million was given to improve road safety and pedestrian improvements across Harnett County .

Sampson County received $159,000 for improvements to their airport.

Sampson also received $3.2 million for road safety improvements on secondary routes and

$2.6 million to rebuild a number of bridges.

So far $850,000 has been allocated in response to a request by the I-95 / I-40 Crossroads of America Economic Development Alliance in Dunn. That money is reportedly going towards an advanced manufacturing training center and biotech training center projected to create numerous high paying jobs in the area.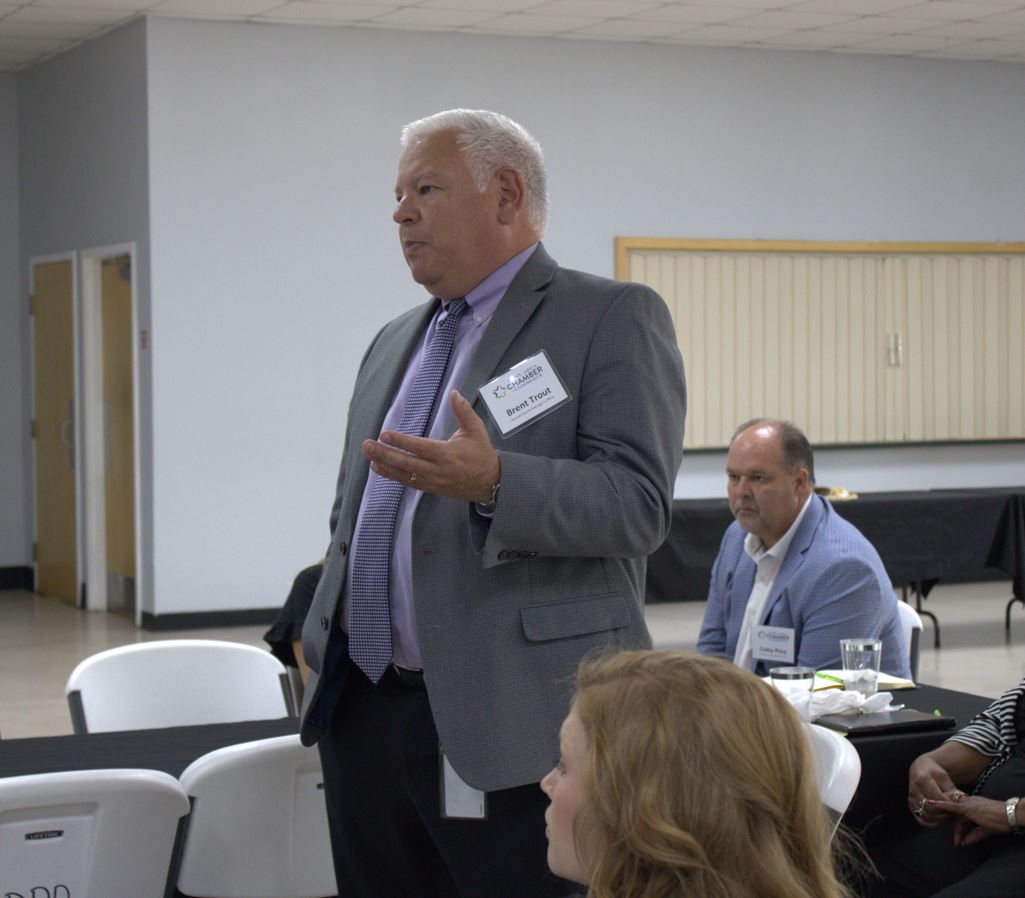 After their presentations, a Q&A was held where attendees were able to field questions to speakers.
Topics touched on include the climate on banking, the possibility of an extension to spend funds from COVID-19 relief packages, and future of reliable and clean power sources.
"Our job is not to have a political alliance, our job is to be nonpartisan conveners, our responsibility is to identify the topics and subjects that we think would benefit our members," shared Lawson. "A lot of times the individual businessman, small mom and pops, owner/operator doesn't have access to our federal legislature. So we have good working relationships with many of them, mostly through their regional offices, and meet with them on a regular basis and talk to them about important things that are coming down the pipeline, things that may be of concern."
The next Dunn Chamber event, a Local Municipal Candidate Panel will be held on Sept. 14 and will be catered to fostering the connection between potential future leaders who are running for a specific office.
This event is specifically for local Dunn candidates to have a platform to meet and address the community. The event is open to the public and free to attends, but registration is required. You can find more information and register online here.
"The whole entire series is really exactly as it says. It is an opportunity to invite speakers that have information or serve in a role that impacts our members, the business community. It could be representatives from the local health care organizations, county government, local, state government, yesterday our federal government, we occasionally will invite in the city to give an update," said O'Dell.