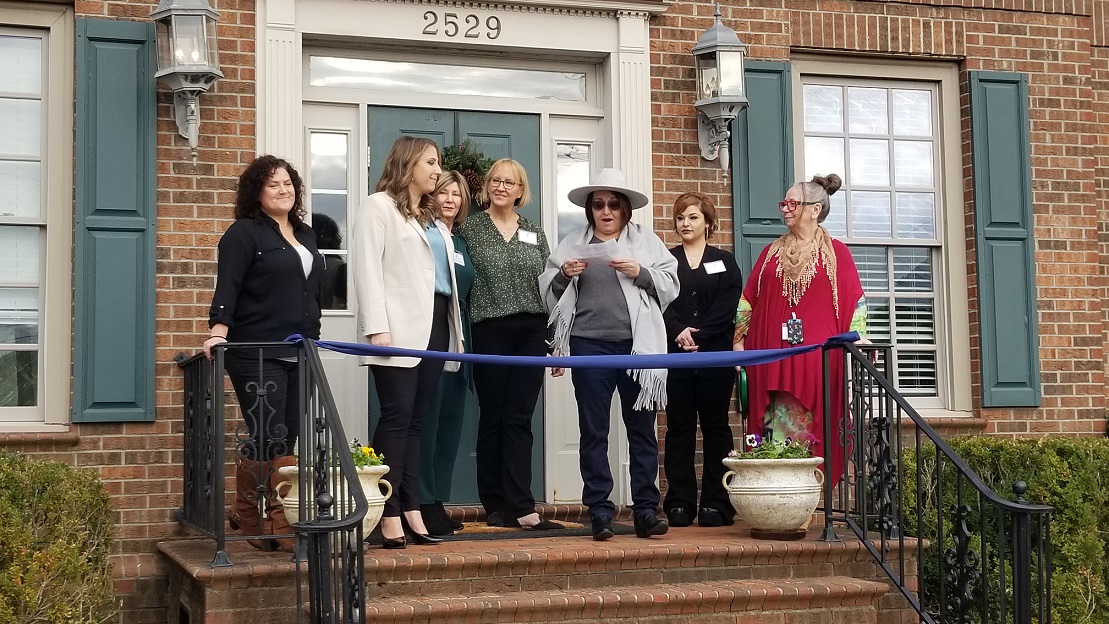 Numerous individuals are frustrated with an all too familiar scenario in our current medical system. Many doctors seem to be overscheduled and overworked and are only afforded a very small amount of time to get to know their patients. It seems at times pharmaceuticals are the only solution, but according to a new holistic approach in Fayetteville — there is another way to achieve a healthy and comfortable life.
Fayetteville's premiere integrative medical coworking space, Integrative MedSpace, is composed of a holistic team of five providers that operate out of the same office space and offer alternative treatment options for their patients. They celebrated their grand opening on Dec. 10 and their office at 2529 Raeford Road is officially open for business.
THE FIVE PROVIDERS THAT MAKE UP THIS INTEGRATIVE SPACE ARE:
KERRY DUNN - Origins Naturopathic Health & Wellness
WANDA CHAVIS - Picture of Health & Thermography, LLC
LAURIE POWERS - Sleep & Diet Restoration
TANYA GIBBS - Awaken Wellness NC
GAIL FULSOM - Revivify Therapeutic Massage and Wellness
Owner of Origins Naturopathic Health and Wellness Dr. Kerry Dunn shared that she was inspired to open this space when she saw the need for more complementary, integrative, functional modalities in Fayetteville.
Dr. Dunn is an established provider in the area who has been running her business for two years. She previously worked in OR, and though she commends the advances made in surgical procedures, she decided to step away from more commercialized medicine as she disagreed with how patients were handled from a lifestyle perspective. "I wasn't seeing results… We're treating symptoms versus getting to root causes. So people aren't getting better because you're not addressing anything but that symptom…it wasn't what I wanted to do, and I got a little disenchanted with it," said Dunn.
In addition to her personal ideas of how patients should be treated, Dr. Dunn was also inspired to learn about alternative approaches to treatment and care when her daughter became sick.
"…And then when my daughter was four, she got sick and I wasn't accepting of the treatment that they were giving her. Nobody researches like a mom with a sick kiddo, and that just kind of turned into a purpose, [a] profession. I'm really happy with it," said Dunn.
To Dunn's surprise, finding additional members of the holistic healthcare dream team proved to be rather easy.
"I actually had a list of people that I interviewed. So, I had more providers that were interested than I actually had space for…And the people that have come on have been really great and really excited…we already had two meetings this month to see how we can support each other if anybody needs any assistance or help with social media or advertising or graphics. You know, we've tried to be kind of democratic in the process of how we set up the space. It's been really nice and refreshing, honestly," shared Dunn.
Wanda Chavis was inspired to start her journey as a healthcare professional after being diagnosed with breast cancer in 2008. She went to Everglades University and earned a B.S. in Alternative Medicine and then went on to earn her master's in Public Health Administration. Upon graduation she was certain she wanted to use thermography in her practice.
Thermography is a radiation free alternative to traditional radiology practices and promises no side effects to patients.
Chavis found a woman who practiced thermography in Fayetteville who happened to be looking to retire. "I went and got certified as a thermographer and finished up my clinicals and all that by the end of the year, which was 2017, and I bought the business from her and formed Picture of Health & Thermography LLC," shared Chavis.
Prior to joining Integrative MedSpace, Chavis bounced around a bit, renting rooms at different locations to provide care to her clients. Now that Chavis has joined Fayetteville's premiere integrative medical coworking space, she describes the set up as a "dream come true."
"That's really where I've always dreamed of being, in a space where everybody was holistic healers and into the preventative medicine and whatnot and natural patterns, and so I'm just- I'm thrilled to even be a part of Integrative MedSpace," said Chavis.
Laurie Powers PA-C opened the Sleep & Diet Restoration clinic in June 2022.
"I was practicing medicine for, gosh, almost 30 years, and just seeing kids getting sicker and sicker, adults getting sicker and sicker, and then both my parents got cancer. They both have since passed, and I decided that I wanted to do something more proactive. I didn't want to continue to just prescribe medication and give bandaids, I wanted to figure out how to prevent disease. I also wanted to see if there was a way to cure disease using something else like food or lifestyle medicine," shared Powers.
Powers then found out about a culinary medicine program at Tulane University and enrolled in that to learn about alternative solutions to preventing and curing disease. After about two and a half years she was certified to use culinary medicine on her patients.
She didn't stop there. Powers realized there was another component missing from her treatment services: sleep. Powers then began looking for a way to help patients overcome insomnia without prescribing them drugs.
"I heard about cognitive behavioral therapy for insomnia, and because I was already certified in psychiatry, I was able to get that certification. So I went back, that was an online program, I went back online over COVID and got trained to do cognitive behavioral therapy for insomnia. And I've added that to my regimen in the last, I don't know year, year and a half and it is literally magical," remarked Powers.
Tanya Gibbs is the owner of Awaken Wellness NC, a wellness clinic specializing in medical weight loss, IV nutrition, and post-COVID services. Gibbs believes that traditional health care does not allow for practitioners to spend enough time with their patients.
"I think our commercial medicine practice is not working for many people and they need an alternative. I do believe in a mix of conventional medicine and holistic medicine because that is what I have seen work best for my patients. I also don't believe in the 15 minutes per patient model. I don't think you can understand what a patient needs in 15 minutes," said Gibbs.
Gibbs has been in healthcare for 20 years and has worked in multiple different RN roles. She's been a Nurse Practitioner for four and a half years and has owned her own practice for one and a half years. Now she is happy to share an office space with other holistic practitioners.
"I enjoy collaborating with other providers to get the best outcome for my patients. We see several unicorn patients who need multiple modalities to get the best outcomes. All of the women here at Integrative MedSpace are wonderful and supportive and everyone should work with providers like I do," shared Gibbs.
Gail Fulsom's desire to help people mixed with her persistent interest in anatomy and physiology led her to become a massage therapist. Fulsom is the owner of Revivify Therapeutic Massage and Wellness.
Fulsom has been doing massage therapy for 26 years, but she recently expanded her education to help understand her clients better. She returned to school and graduated with a Physical Therapy Assistant degree in 2016, and she also received her certification as a lymphedema therapist four years ago.
Fulsom was looking for her own office space, and upon hearing about Dr. Dunn's idea for an integrative medical coworking space she was convinced it was a team she wanted to be a part of.
"This setup kind of enables us to cover a majority of services that need to be provided for, you know, assessments, and then treatment, and the way we all cover different things, we can just say, 'Oh, okay, we're seeing this with you, so and so down the hall can help with that. Let's walk you down there so you can speak with them and maybe we can get you on their schedule.' And that way, you're not waiting three months to get in with somebody for the next step," shared Fulsom.
Fulsom is happy to be able to provide patients with relief from pain. "Somebody can come into my office, and by the time they're leaving, they feel better, there's less pain. There's improved movement and range of motion, improved functional ability. Or, if nothing else, there's enough difference to where they feel like there's a light at the end of the tunnel," said Fulsom.
Even with the broad range of services available at Integrative MedSpace, the team of five is open to adding a few more holistic practitioners into their space. Laurie Powers shared that they still have three or four office spaces they could share. They are interested in adding a chiropractor or a midwife to their office. The goal is to make the location a "one and done" stop offering holistic specialists to meet all of a client's healthcare needs.