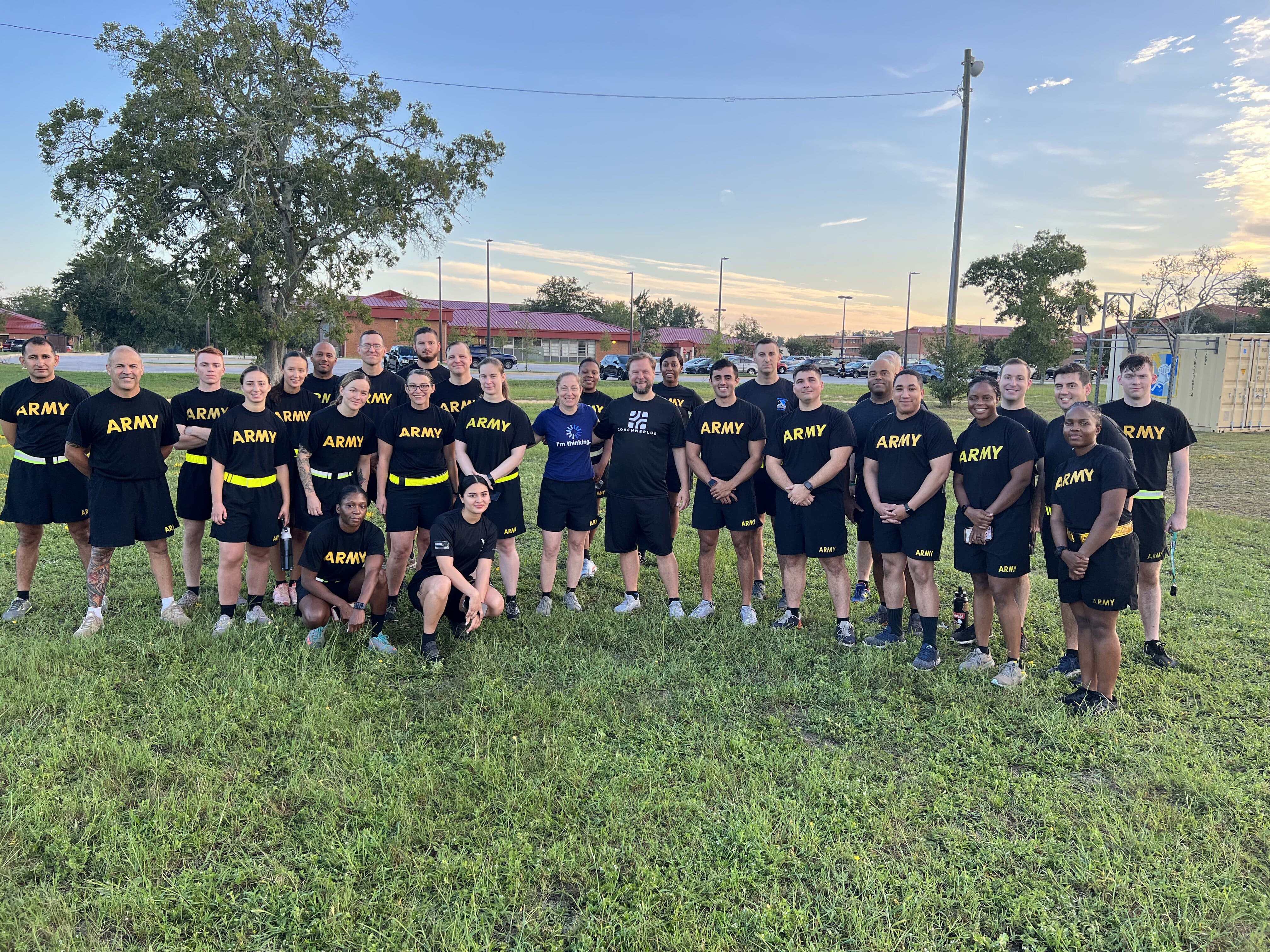 Imagine a U.S. Army where a soldier preparing to go through Ranger school pulls up an app on his phone and asks his unit's dietician to create a custom meal plan to improve his performance, the personal trainer to develop a workout plan for better training outcomes and makes an appointment with behavioral health to discuss their anxiety.
The Fort Liberty Research Institute (FLRI) is working to make it possible with its latest joint venture, the CoachMePlus project.
FLRI was formed in 2018 in partnership with The Geneva Foundation, Fort Liberty and Womack Army Medical Center to improve military human performance using scientific research, analysis and implementation.
The institute employs 12 people locally, currently managing 34 research projects with Fort Liberty and the U.S. Marine Corps's Camp Lejeune. Its employees include retired service members, veterans, military spouses and healthcare professionals. Geneva funds FLRI's projects with a portion of its grant revenue, which ran upwards of $79 million last year.
FLRI's CoachMePlus program is an effort to help the Army reach its goals under the new H2F effort or Holistic Health and Fitness Management System.
A 2021 Army report revealed 25 percent of reserve soldiers were obese, more than half of active duty soldiers sustained injuries annually and 10 percent of soldiers overall had sleep disorders. To reverse this trend, in 2020 the Army developed the H2F framework and the Warrior Performance Platform (WP2) to implement the changes. The H2F framework takes traditional metrics like physical and nutritional health and adds mental health, sleep and spiritual wellness.
The CoachMePlus (CMP) platform is one of several platforms the Army has operating trial runs throughout the branch, but the CMP is the only one that accounts for all five health areas the WP2 is measuring.
"It's the real difference between the three contenders last year and the reason I'm confident we won the award again this year," said LTC (Ret.) Stephen DeLellis, executive director of the FLRI. "When you're talking about collegiate or professional health, they're not asking about psychological and spiritual fitness. CMP took into consideration the psychological and spiritual health."
For decades the Army's physical fitness test included a timed run, pushups and sit-ups. The updated test includes physically strenuous tasks a soldier will likely encounter on a battlefield.
In this same way, a soldier's readiness for deployment is currently determined by readiness and availability.
"Readiness just means you did all your paperwork and you can go," said DeLellis. "Availability means that a soldier can get on a plane. In my opinion and the focus of CoachMePlus from the beginning, was adding capability."
The program has about 9,000 volunteers at three military bases; Fort Sam Houston, Texas; Fort Gordon, Georgia; and Fort Liberty.
CMP gathers data from metrics that can be analyzed for care gaps and readiness levels. The U.S. Army Center for Initial Military Training is working on a management system for the data collected so the local leaders and unit commanders can leverage that information for readiness preparedness.
There are opportunities for soldiers to quantitatively and qualitatively record emotional factors like depression, anxiety and stress. Soldiers can even request assistance from specialists like behavioral health. DeLellis said that at this point, the program connects the soldier with a medical professional but doesn't track the results of any treatment. Prevention can be hard to measure, but DeLellis shared an example.
"At Fort Sam Houston, a few weeks after the option was added, there were several requests to speak to a chaplain. During an after-action review, the chaplains said because of that opportunity, something that could have happened didn't."
FLRI has paired with the 82nd Airborne Division to test the CMP capabilities within an active-duty unit that deploys often. FLRI has two personnel working with the unit's H2F team of health professionals.
"As the H2F team meets with the warfighters from those brigades, they go back to our personnel and offer preferences, changes and feedback," said DeLellis. "Our folks prepare documents for the CMP team, software designers and app managers to tweak the app."
There is a desktop version of the platform and the app is downloaded on the personal phones of volunteer soldiers. Soldiers access it with their common access card or DoD ID number. The data will stay within the platform, even as the soldier moves from duty station to duty station. The Army doesn't currently collect the data recorded.
The CMP connects the soldier to each H2F staff member so they can ask for individualized care.
"With CMP, it gives the steering wheel to the soldier," shared Hunter Treuchet, the health and ftness director for the H2F team assigned to the 82nd Airborne Division's 1st Brigade Combat Team. "They can track their workouts, track food intake, answer surveys, contact us and make appointments or request any kind of performance education info they need."
The back side of the platform is used for the leadership level and allows users to decide how much information they see, whether it be squad level or brigade level.
Now in phase two of the project, the Army hopes to expand the number of brigades supported by its H2F program and platforms like CMP. Currently, there are 28 brigades with H2F teams of medical personnel and subject matter experts. The goal is 130 brigades by 2030, with a fully developed and implemented system.
The results are still coming in on the effectiveness of a program like the CMP app.
"Essentially, it's hard to quantify because we live in the human performance realm, which is somewhat subjective," said Treuchet. "There's a piece to the puzzle our providers are impacting and with CoachMePlus, it's a way we can interact with soldiers, draw metrics in what we're doing and be able to report to leaders to make better decisions about what their soldiers can do in a day."
The biggest challenge so far has been getting soldiers and leaders to sign on to using a new app and tapping into a new data system. Treuchet said the common reasons for not adopting the app are that soldiers are happy with their current third-party app, don't consider health a priority or don't want to use their personal phones for work use.
Those soldiers volunteering typically prioritize their health, said Treuchet and the feedback has been overwhelmingly positive. The most significant use of the platform so far has been around physical training, where NCOs programming and implementing PT throughout their units can see real-time progress and make adjustments where needed.
"It's a smooth, easy feedback system where we both, staff and NCOs, are looking at the same template of a training session and being able to interact and get feedback," said Treuchet.
Treuchet says working with FLRI to bring the H2F's goals to fruition has been a big help.
"Everyone we come in contact with is invested in the success of our soldiers," said Treuchet. "One of the great things about this program is the supporting elements and organizations we can interact with who have soldier success on their mind. It makes everyone's job easier."