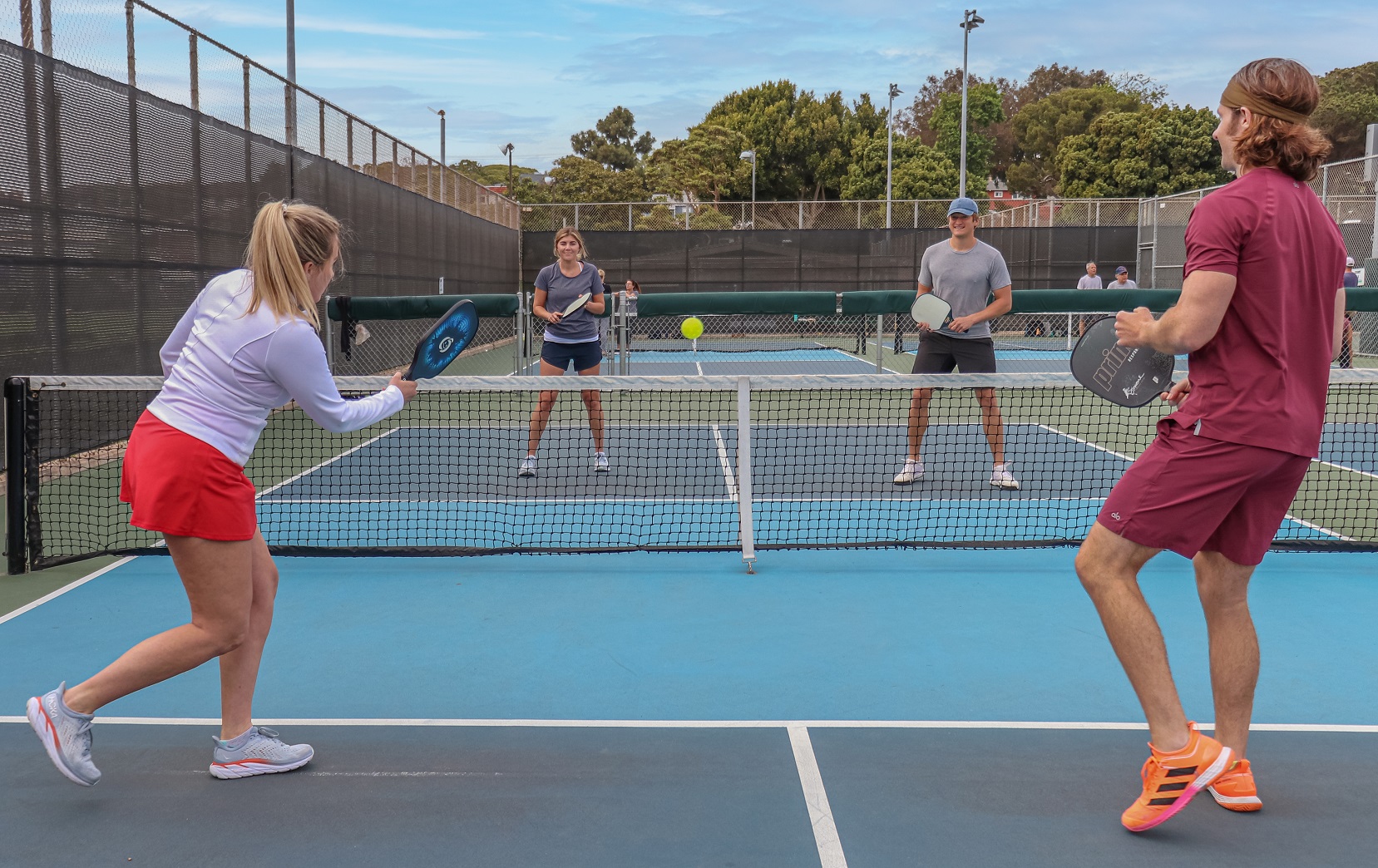 In typical North Carolina fashion, the temperature outside is rising early, and nobody wants to stay inside with such beautiful weather! Fayetteville has found a new way to spend warmer days, in the form of a sport called pickleball. Pickleball is a versatile, social sport with an addictive play style and a high skill ceiling, so it is no wonder pickleball's player count has skyrocketed, according to recent data. North Carolina takes a particular interest in pickleball, and Fayetteville is not exempt to the growing interest. With local court and player counts steadily rising every year, one can't help but wonder why.
What even is pickleball? Pickleball was a sport created in 1965 by a group of vacationers on Bainbridge Island, near the Seattle area looking for something to play.
"You can think about pickleball as a cross between ping pong, tennis, and badminton. You play on a court that resembles a tennis court, it's about a third of the size of a tennis court and you're playing with a plastic paddle and ball like a wiffle ball," shared Brandon Mackie, cofounder of Pickleheads and avid player. The game is very beginner friendly, with wins being accessible for even the newest of players.
"Typically playing as doubles, so four people out on the court and it plays very similarly to tennis, you serve, the strategy is to get up to the net as quickly as possible because that's where you have the greatest advantage, you need pretty quick hands because both teams will try and rush the net. And hit volleys you know it's just like tennis, if you hit the ball out you lose, if you hit it past your opponents you win. But the scoring is more like ping pong or badminton, where you only win points on your serve and you play to eleven."
On a local level, pickleball continues to attract a crowd. Pickleheads records North Carolina has 417 pickleball courts, ranking it among the top five states with the most courts in America. There are multiple places to play in Fayetteville, including the G.B. Myers Recreation Center, Massey Hill Recreation Center, and pickleball courts in Eastover and Rowan Park. A total of 14 courts are scattered around Fayetteville, Hope Mills, Eastover and Southern Pines.
"I just think it's a great sport for all ages," Monique Gilbert, pickleball organizer at the G.B. Myers Recreation center said. "I've seen people come in and do something for exercise and it's almost like an addiction because they always keep on coming back!"
Between the social aspect and how easy it is to get the hang of, it's no wonder that pickleball is an increasingly popular sport in America. Pickleball currently ranks as one of the most popular sports in America, with 36.5 million active participants of the sport estimated. "Even since we published that report, new data has come out, growth has absolutely skyrocketed in the last year, one report said we were at 36 and a half million players, the sport has grown ten times in the last year, and another report said the numbers have grown 85 percent in the last year," said Mackie. "Depending on which numbers you believe, there are more pickleball players now than folks that play tennis, golf, or basketball which is pretty unbelievable."
The sport is played on an indoor or outdoor court with a net, a ball, and a paddle. The lack of a pickle sparks intrigue. "So, the biggest [question] is, 'where did the pickle come from?' and that's a story of great controversy. Some people say it was named after the founder's dog, who was named Pickles, but if you go back into history books, you'll see the dog came after the sport actually so that couldn't be true," informed Mackie. "What they say is, the founders had experienced rowing in college and there's a concept in rowing called a pickle boat and a pickle boat is just a mismatch of different rowers from different teams that all end up on one boat together, and that's kind of what pickleball is, it's just a mismatch of different pieces of sports equipment from different sports, so that's a fact some people don't know."
Pickleball isn't as physically intense as its similar counterparts, ensuring hours of active game time without leaving the player totally exhausted.
"Another great thing about the sport is that it's relatively easy on the body," said Mackie. "Because the court is smaller there's less court to run around and cover, and because the advantage of the game is to be up at the net, there's less movement to hit the ball out of the air."
The senior age demographic made up the majority of pickleball players for a long time. This wide age range for players lends itself to the sport's popularity.
"What's interesting about that is that's changing, the young segment, the 18-24 segment is the fastest growing segment of pickleball," said Mackie. "The average age of pickleball players dropped below forty for the first time ever last year."
Casual players looking to have fun and diehard athletes of all ages can all find where they fit in on the pickleball court. Encouraging socializing and communication, coupled with a beginner friendly learning curve, pickleball is a great activity to get the whole family outdoors. Mackie shares, "The biggest thing is that anybody out there, they're gonna have fun. My friends, my grandparents, it doesn't matter who you go out with, they'll immediately connect with the sport, get a feel for it and it's always fun. No one's ever so good or so bad where you don't have a good time. I've never found a sport quite like that before."
For more facts, statistics, and general insider knowledge, the Pickleheads' website www.pickleheads.com is your one stop shop for pickleball data, resources, court locations and game finding.