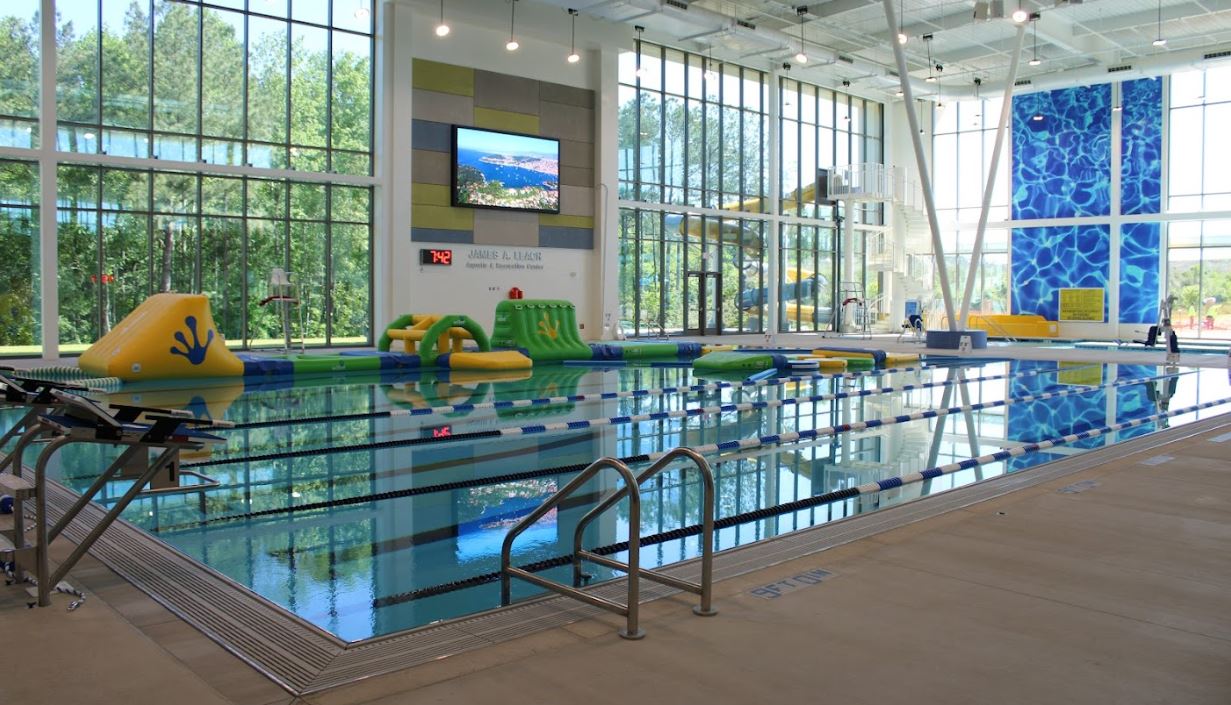 A long awaited addition has finally made its permanent appearance in Hoke County.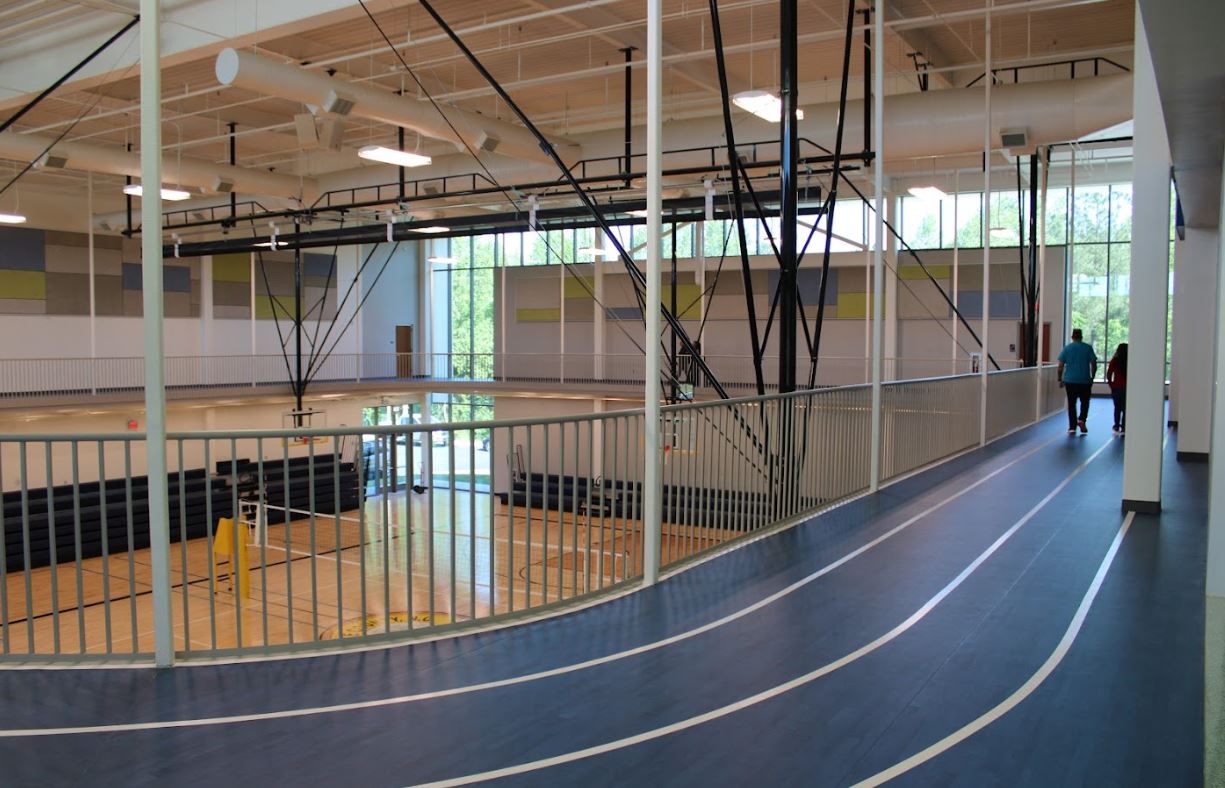 The James A. Leach Aquatic & Recreation Center had its official grand opening on Monday, May 1, and the team behind it and the community
of Hoke County could not be more excited.
It is a top of the line swimming and recreation center that offers facilities serving every manner of outdoor and indoor activities for all your health and fitness needs.
"This is the first public swimming place Hoke County has ever had, our citizens had to go to different counties to swim, we've never had a facility like this one," said Hoke County Commissioner and the building's namesake James A. Leach. "We felt like if you live in Hoke County, go to school in Hoke County you ought to be able to stay home and have a place here where you can learn, practice, and have swimming meets."
The James A. Leach Aquatic & Recreation Center is located on Fayetteville Road, and has been in production for a little over two years, but the need for a swimming facility has been around for a while.
"I always said from day one, since 1992, that Hoke County needed their own public swimming facility," said Leach. The wait is over and the day
is now here, and Hoke County invites everyone to participate in all that the facility has to offer. "It was a great need in our section of Hoke County,
it was a need here for our citizens and we want to fulfill the need," said Leach. "You have to come out and see it."
The building itself is two stories tall and with 53,000 square footage of space to work with. Situated on thirty acres of land, the center uses every inch to offer more to its community. Inside the building, the main features are the NBA sized basketball court, an Olympic sized swimming pool, walking track and numerous aquatic features, including a waterpark area with a waterslide.
Here, people of all ages are encouraged to take swimming lessons and play in the pools. The swimming pool was designed with the local schools'
swimming teams in mind, to offer a space for meets and tournaments and the like.
"We want every child in North Carolina, at a schooling level, to know how to swim or have the opportunity to learn how to swim. That's one of our long-term goals," said Hoke County Commissioner Harry Southerland.
The facility also features weightlifting rooms, rooms for dance, martial arts, yoga, exercise and other classes, and an indoor walking trail.
"I have a heart for seniors, and I want to see our seniors walking the walking trail—we have no walking trails, and our seniors love speed walking, but in the time that the weather changes, they can no longer walk," said Southerland. "And this walking trail makes walking accessible even when the weather is bad."
The facility also thoughtfully has an inclusive playground designed for special needs children.
"We didn't forget about anybody in this project, we wanted a playground for our disabled kids. That one is actually going to be complete in two weeks, and it is dedicated to our exceptional children," said Southerland. "A lot of times communities build these playgrounds, but they only think about the people who can walk around and get to them, but our playground was specifically designed for our disabled and exceptional kids so it's going to be handicap accessible, and wheelchair accessible. We made a specific purpose to make sure they get that."
In addition, the facility includes a concession area and two party rooms. One party room can fit thirty-five to forty people, and the second party room can fit forty to fifty people, for all your social needs. The facility is also equipped with features for an emergency shelter in the case of natural disasters, making it an invaluable resource to Hoke County and the surrounding area.
The facility in its entirety was a $27 million endeavor, which was more than what the budget planned, but Southerland explains that comes with the territory of serving the community.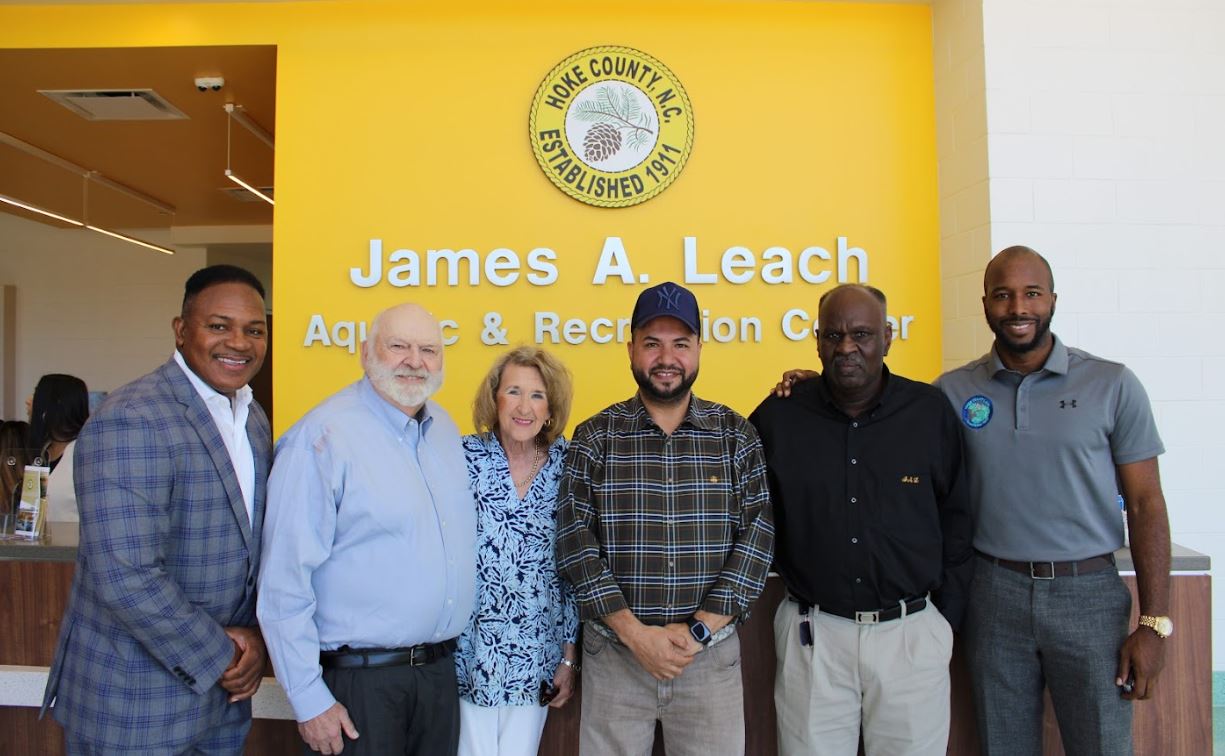 "Initially when we took on this project, it was a $17 million project but as we developed the project, we wanted this to be a center where anyone in the community—whether you're ten years old or eighty—could use it, with that came a cost increase," said Southerland. "When we began to
plan for those things, in addition to a regular rec center, the cost went up but it was money well spent."
With all the well thought out details and customized features the facility offers, it was virtually designed to appeal to a broad audience.
"We want people to see what we have to offer, not just our county, but our region because we're all the same and we need to help each other, and that's why we made this place open to everyone," said Southerland. "You can live in Raleigh and you can get a membership, it doesn't matter. Because we just want the place to be accessible to you to use."
The accessibility of the James A. Leach Aquatic Center and Recreation facility coupled with the vast array of options for citizens almost sounds too
good to be true. But the facility the community has been needing is just a drive away.
"You have a piece of gold right here at home." said Leach.
Southerland offered some final words of wisdom. "Listen first, learn second, lead third. You have to have those things in that order in order to
be effective. You can't lead without knowing why you're leading or what you're leading for. You have to listen to the community, learn what they
want and then lead."