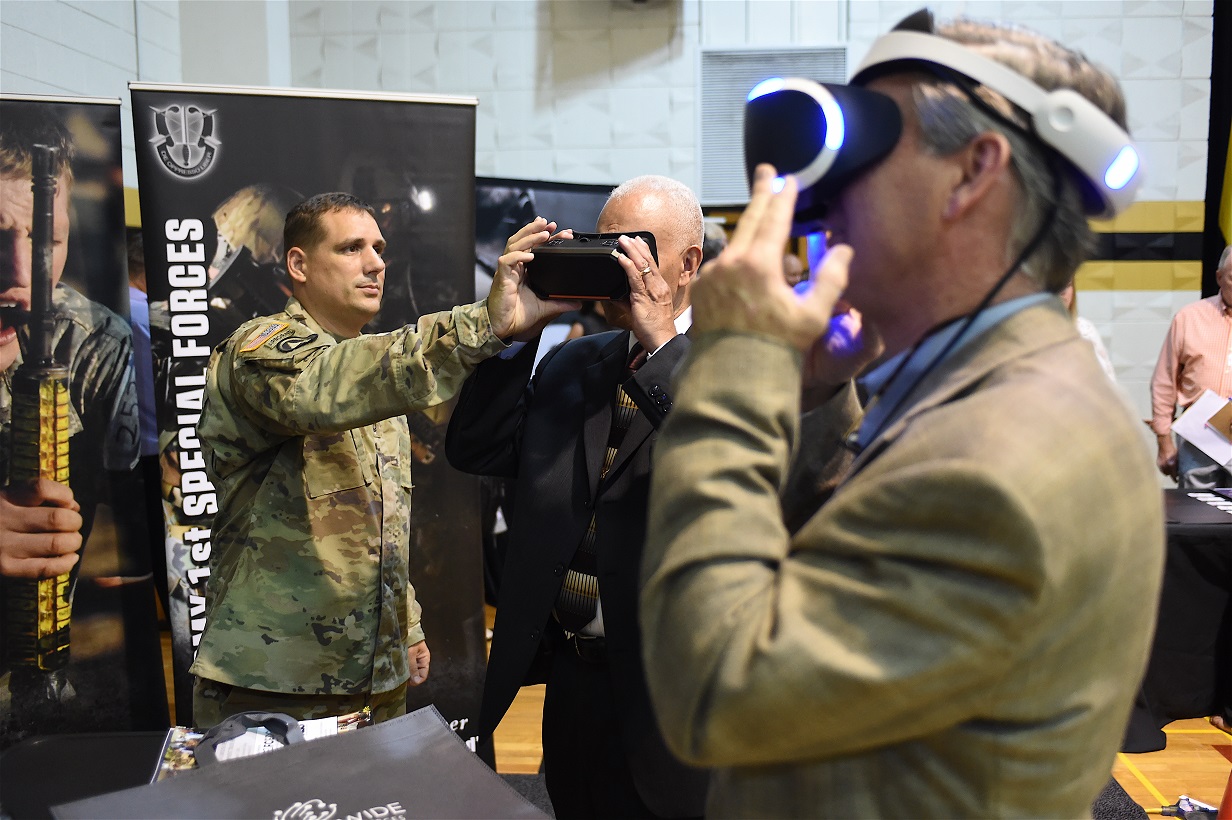 Fayetteville Technical Community College will host the 19th Annual North Carolina Defense Trade Show and Cybersecurity Forum on Aug. 4 on the college's campus.
The forum will take place in the Tony Rand Student Center, and the trade show will be in the Horace Sisk building.
The event is cohosted by Sen. Richard Burr, Sen. Thom Tillis and the North Carolina Military Business Center.
"This is a general defense trade show," said Scott Dorney, executive director of NCMBC. "This year, a really big, hot topic is Department of Defense/Cybersecurity certification. … In conjunction with the trade show, we're having the cybersecurity forum."
The topic of the trade show's concurrent event changes each year.
Although typically, the senators come to the event in person, this year will be different.
"We always do this the first week of August because normally in the first week of August Congress is in recess and the senators come to this event. This year … they're not going to be in recess," Dorney said.
Nevertheless, the senators' offices are heavily involved with the process of making the event happen. Both government officials will make live remarks from D.C. via Zoom.
It's a traditional trade show with the businesses in the booths. "In working with the Senators' offices, what we try to do is balance [the] booths," Dorney said. They try to get big contractors and some local NC contractors and out of state companies that may be potential teaming partners."
Vendors apply through applications and representatives from the senators office and NCMBC look at the applications and select them.
The cybersecurity forum has two main factors driving the forum: the need for cybersecurity workforce and the fact that FTCC is the home for the Carolina Cyber Network. The CCN was initiated by FTCC and Montreat College. It is a workforce development initiative made up of two and four-year colleges that works to meet the needs of the state and private businesses. The Network makes efforts to grow and strengthen the cybersecurity workforce. scopes out talent within the cybersecurity sector
One impetus for the cyber forum is also that there is a new requirement that all DOD vendors have cybersecurity certifications over time.
Particularly, all of those vendors must have Cybersecurity Maturity Model Certification, a new cybersecurity standard mandated by the DOD that was first introduced in January 2020.
In the past, the trade show would see approximately 600 participants over the span of the day. This year, post-pandemic, the numbers are up in the air. Courtney Smedick, statewide integrated marketing, events coordinator and government relations, said the number of registrants has started to pick up as the event nears. "It's hard to say, but we do have, I believe, over 80 exhibitors … Fort Bragg is going to bring out static displays as well."
"It's cool because people get a little bit of hands-on, too … You actually get to see and understand," she said.
While the event is meaningful for people who are in the defense industry or who have been awarded contracts, businesses that may be interested in federal contracts often find value in attending the trade show as well.
"What we all just went through for the past year, it's been very difficult for businesses to make connections with the government folks or to even connect with them to learn about what opportunities exist or how they can do that… If a business wants to know more about this, they need to come," Smedick.
As of July 14, 2021, the exhibitor list for the trade show was listed on the event's website as follows:
ACLC, LLC/Integrity Training Solutions
Advanced Computer Learning Company
Advanced Machining LLC
Advanced Materials Manufacturing, LLC
Adventure Tactical
Aries Security
AURA Technologies
Bionica Labs
Blue Ridge Imaging Technologies
BTC Electronics
Burlington Fabrics
Carroll Communications
Combat Defense Systems
Corvid Cyberdefense
Craters & Freighters
Cross Technology/Nu-Tech
DaVinci Aerospace, LLC
DCE, Inc.
dmarcian
Eagle Video Productions Inc
Elastic Therapy
Fayetteville Cumberland County Economic Development Corporation
Freedom Atlantic
FTCC Computer Information Technology
FTCC Small Business Center
Fusion3 3D Printers
Industrial Video Engineering
International Thought Leader Network
Johnson Controls
Johnson Controls Federal Systems
JPS Interoperability Solutions Inc.
LCI
Lumbee Tribe Enterprises, LLC
Marine Corps Installations East
NC State University IES
North Carolina Military Business Center
NUFABRX
Powertac USA Inc.
Queen City Engineering & Design
QuickSilver Analytics, Inc.
Raven Advisory, LLC
Reef Systems
RM Global LLC
SBTDC
Sierra Nevada Corporation
Simontic Composite Inc.
SR&R Environmental, Inc.
Strategic Consulting Solutions
Strategic Solutions Unlimited, Inc.
Tactical Support Equipment Inc.
Tactical Tracker Training School LLC
The BlueWater Group, Inc.
The Loflin Group, Inc.
Timber Rock Marketing DBA Legend Compression Wear
Torfino Enterprises, Inc.
Trust Stamp
U.S. Small Business Administration
US Logoworks
USACE, Wilmington District
USAF Seymour Johnson AFB
Voltage Multipliers / CalRamic Technologies
Walsingham Group
WDL Systems
White Raven Security
WISER Systems, Inc.
XGO
Yelton Capital Network

Local food trucks will also be on campus for attendees during lunch.
Visit https://defense.ncmbc.us/ to learn more about the event and speakers or to register for the event.