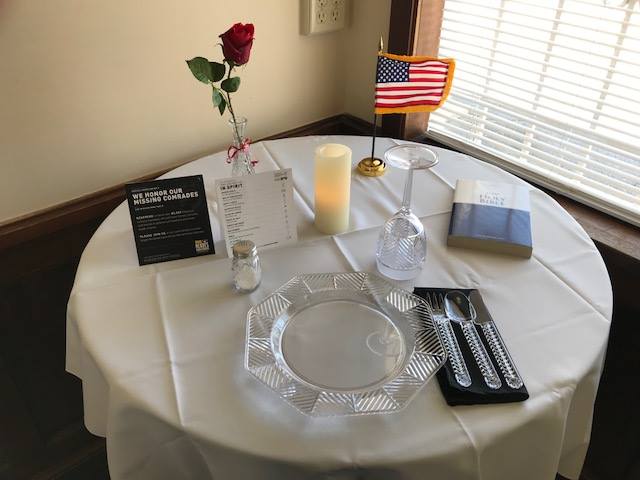 Businesses across Cumberland County are invited to participate in honoring service members who are listed as Prisoners of War or Missing in Action by putting a Missing Man Table in their establishment.
The Missing Man Table or Honor Chair is part of a larger initiative, Heroes Homecoming. The annual event runs from November 4-11 and recognizes the bravery and sacrifice of the men and women who have served in the military, past and present.
"The organizations that are part of Heroes Homecoming agree that we must not forget those who served as POW or who are still MIA," says Angie Brady, Fayetteville Area Convention & Visitors Bureau Director of Tourism Marketing.
The Heroes Homecoming Committee provides the kit that is needed for the Missing Man kit, with the exception of salt, a saltshaker, table and chair.
The Committee asks that its participants make sure viewers can understand that the table or chair is just for display and that the table and the chair will be in place from November 1-30.
The memorial in the month of Veterans Day has always been a success, and Brady says the FACVB is prepared to provide kits for ample participation businesses this year as well. "We have 180 displays – 170 Missing Man Table Kits and 10 Honor Chairs - to lend to local businesses for this important effort," she said.
Business owners is Cumberland County can reserve a table kit or Honor Chair at www.heroeshomecoming.com/missing-man-project/. For more information or questions, contact Angie Brady at 910-483-5311 or abrady@visitfayettevillenc.com.