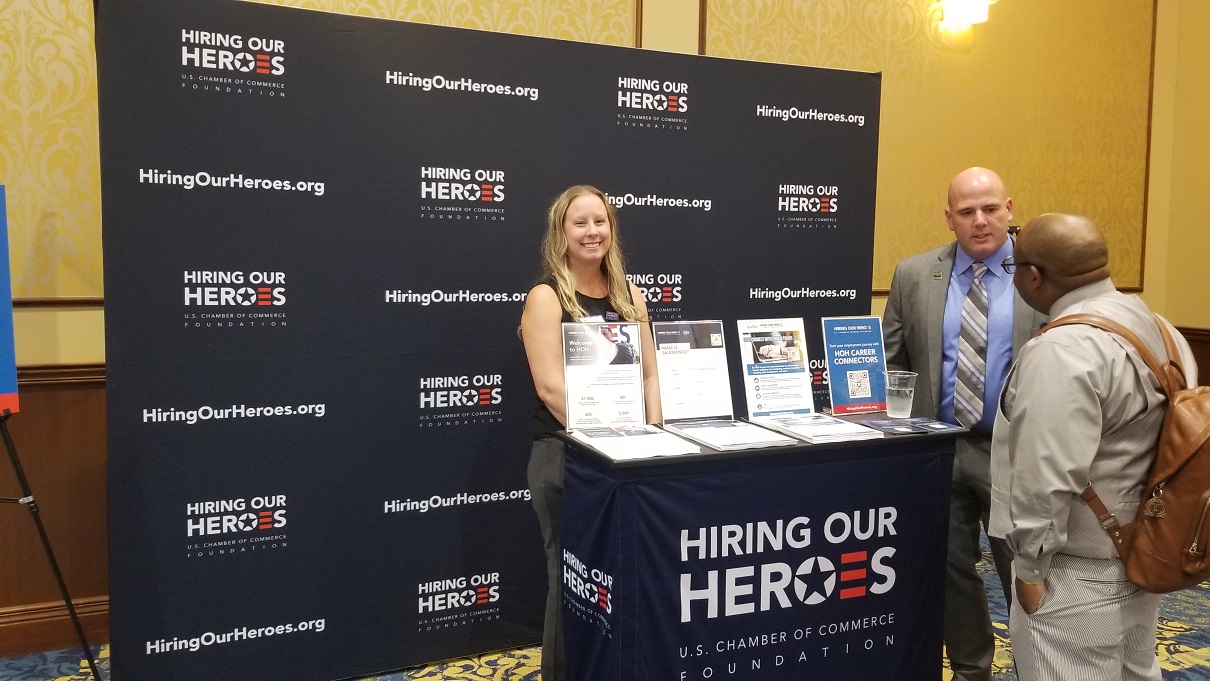 Fort Bragg military base welcomed U.S. service members, veterans, and military spouses looking to start the transition to civilian life to the Iron Mike Conference Center for the 2022 Hiring Our Heroes Career Summit.
Fort Bragg partnered with Hiring Our Heroes, a U.S. Chamber of Commerce Foundation affiliate, to host the event. Hiring Our Heroes Director of Events & Engagements Crystal Kearns said the goal is to connect with all service members, veterans, military spouses and military caregivers by bringing the event to them on the base annually.
"That is one thing that is really unique about Hiring Our Heroes, we bring the companies onto the military installation because that's where the military population is. It also makes it easier for them to attend when it's on the installation," said Kearns.
The summit began Aug. 24 with an early networking opportunity and followed on Aug. 25 with a full career fair. The fair included informational panels, mock interviews, and educational resources for tools like LinkedIn, resume writing and even included an opportunity for professional headshots. Attendees were also given the chance to speak to potential employers at various booths, some offering on the spot interviews, ready to hire.
Both events gave attendees the opportunity to learn more about possible career fields following the end of their military service, Fort Bragg interim director of Human Resources Tony Castillo says the event is a good first step for those transitioning out of military life.
"It's one of the most critical things that service members have to do when they're leaving," said Castillo. "You know, you've been in the Army, now you're leaving, you're going into another chapter in your life, and you want to take advantage of all the technical training and the experiences that you've had throughout the Army and that's why the employers are here. They value that experience of those service members, so it's really important for them to start early, so they can learn to navigate that other world outside of the military."
Hiring Our Heroes has more than a decade of experience connecting the military community with meaningful employment opportunities. Since launching in March 2011, the organization has hosted more than 1,425 hiring events in every state in the U.S. and worldwide on military installations in Germany, Italy, Japan and Puerto Rico. According to the organization website, as of 2019 HOH hiring events reported a 43 percent job offer rate among attendees. Kearns said the Fort Bragg event hosted more than 100 companies collectively offering over 200,000 jobs. Corporations including Jabil, Arconic Corp, Wells Fargo and CarMax also had the opportunity to speak at panels and clarify any misconceptions about requirements for working in their industries.
"What they're looking for are the soft skills that the military possess. They're looking for leadership, team building,the ability to work in diverse groups of people and just the natural things that our military community possess. They can train the skill, but they can't train those soft skills," said Kearns.
Following another successful year, Castillo said his department is already looking to bring the event back in 2023.
"It looks like our numbers this year are going to be higher than last year, which is great," said Castillo. "We always have what is called an After Action review where we look at what went well, what didn't go well, what suggestions there are and we'll go through that process to determine how to make the event even better next year."