Military leaders, families, soldiers and members of the Fayetteville Community gathered under the eternal flame on June 2, 2023 to commemorate and recognize the official name change of Fort Bragg to Fort Liberty.
In a ceremony that began promptly at 9am officials began with Honors, the National Anthem and invocation by COL. Brian Koyn XVIII Airborne Corps Chaplain.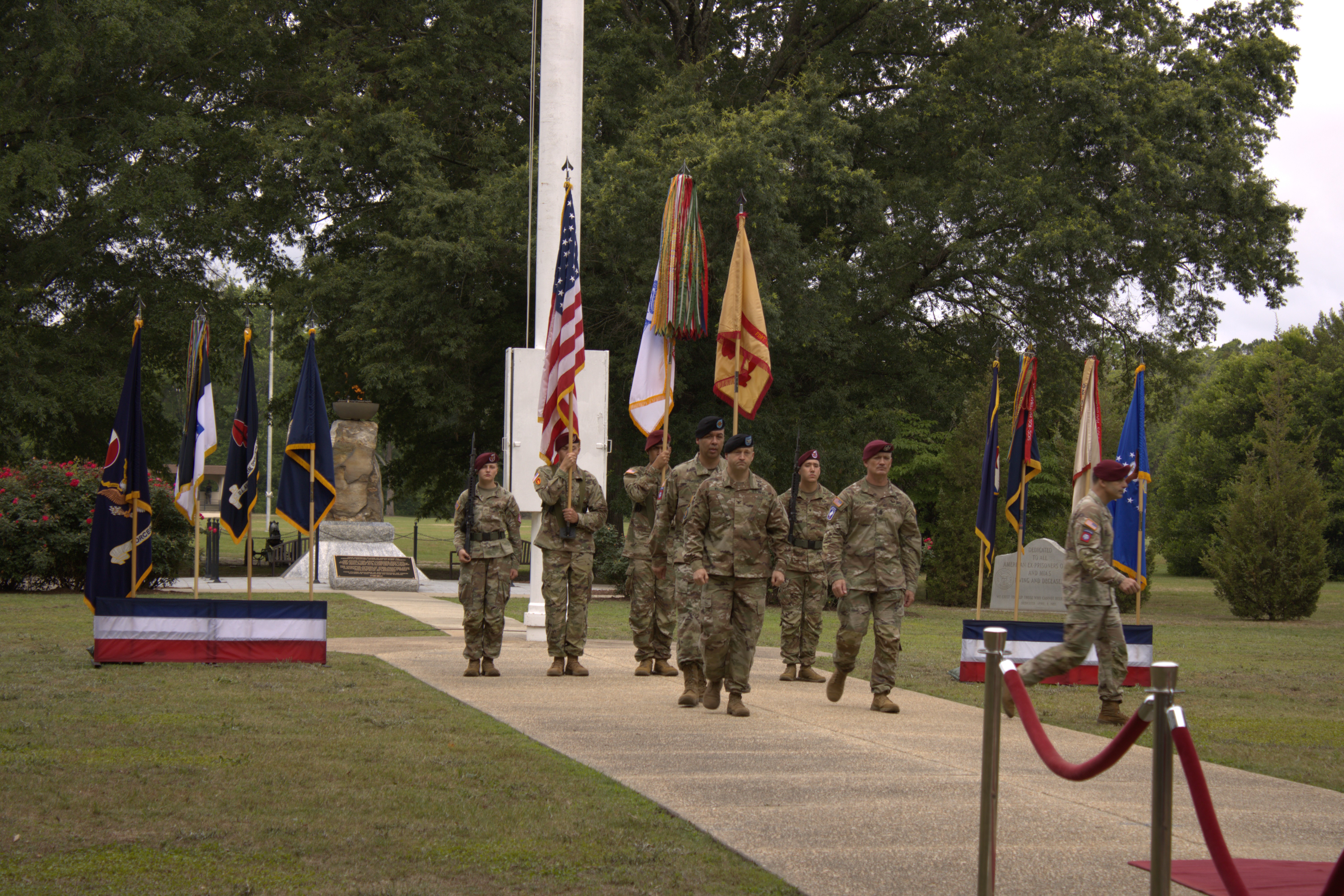 The final casing of the Fort Bragg Colors Garrison Colors and Uncasing of the Fort Liberty Colors signified the official name change and was followed by remarks from Fort Liberty leaders.
"As you look around this group, across this installation, this community, you will know that we are ready to ensure liberty for all. Today we Gold Star families, community, business leaders, educators, politicians, judges, military, everybody from this community, we were given a mission to re-designate our installation, no small task with its history. We seize this opportunity to make ourselves better and to seek excellence as what we always have done and always will do," shared Lieutenant General Christopher Donahue in his address to the crowd.
The ceremony also revealed the identity of the "Gold Star Mother ''who brought about the new name, and who has been an integral part of the story behind the name change; Patti Elliot, a member of American Gold Star Mothers, Inc.
The story tells that the loss of her son, Specialist Daniel Lucus Elliot who served in the Army Reserve and the 805th Military Police Company out of Cary, N.C., inspired her to offer the name Fort Liberty.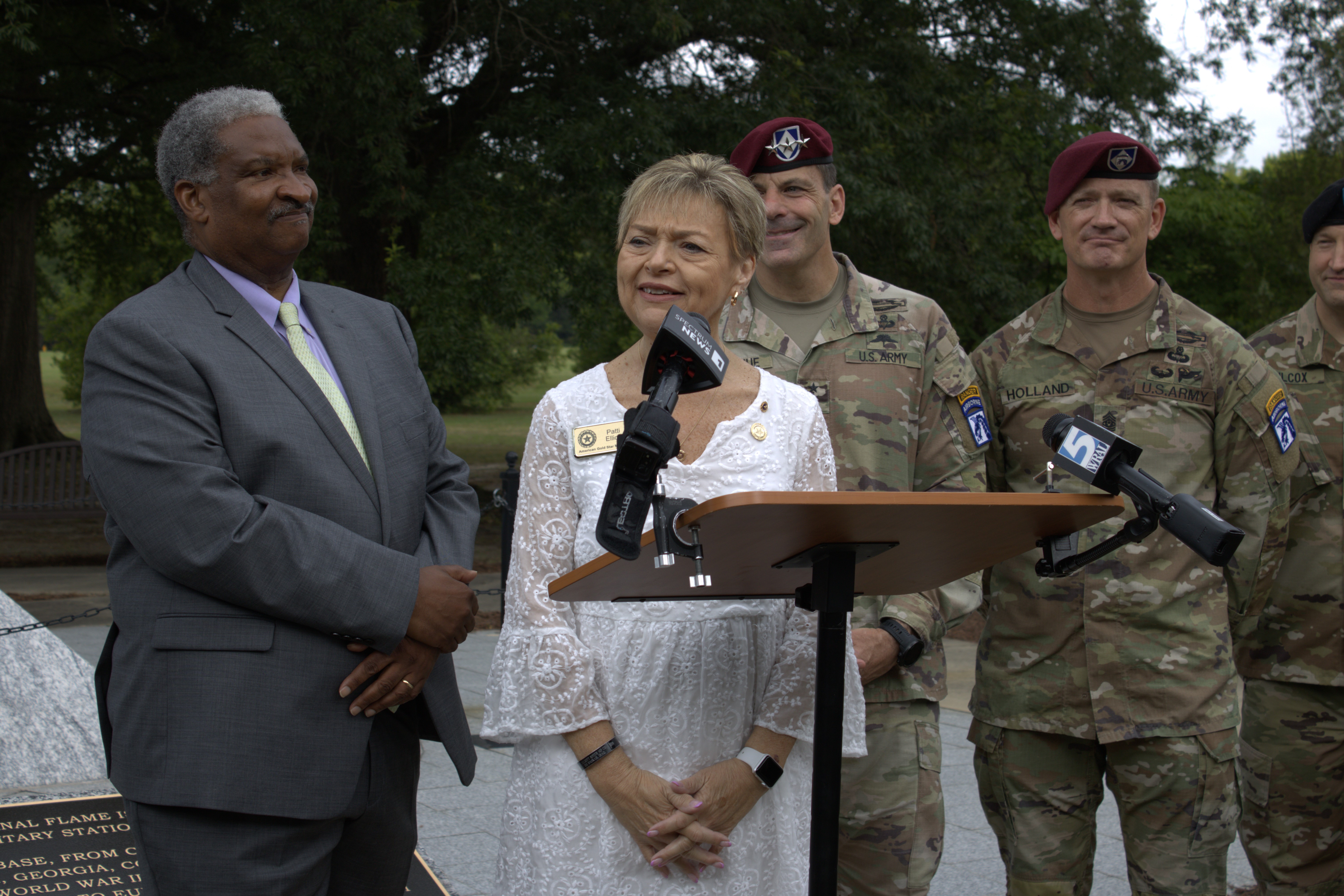 "There had to be a way that we could include everyone and make it significant for those who have served before and those that will serve in the future, the legacy that we are building now. I'm not one to keep quiet," shared Elliot. "He's probably sitting in heaven shaking his head. I was his FRG later when he died, and so I'd always been that involved team mom, room mom, that kind of thing. So it would not surprise him in the least that I had my say and stood up for what I believe, but I hope that he's incredibly proud. That's what I hope he's sitting up there saying."
Leaders also shared about the rebranding process and the status of updating monuments, signs and other technologies around the base.
According to Colonel John Wilcox, the process has cost approximately $8 million to change "signage, infrastructure and other technologies." The base is still in the process of removing the Fort Bragg name from all areas of the base.
"I can tell you this is an installation that has been here since 1918. We're going to find something that still says 'Fort Bragg' on it. But we have done the very best we can to find all the front facing signage that says Fort Bragg and changed it out with Fort Liberty and we'll continue to identify those and make the changes necessary," shared Wilcox.
Donahue also shared the fate of previous Fort Bragg monuments and memorabilia:
"We received a lot of specificity of what to do with that. Everything was collected up, every monument, everything that'll go to the Center of Military History. Certain things that are not worth actually keeping due to the state of repair etc., they'll be destroyed but anything of historic value goes to the center of military history," shared Donahue
"And the sunset Liberty March tells, it tells the history of Fort liberty. It starts with the inception of Camp Bragg's, it goes all the way through and that'll tell us the history of this installation."
A total of nine streets have been renamed on base to recognize past soldiers who share a special connection to the installation:
Bragg Boulevard to Liberty Boulevard
Reilly Road to Rock Merritt Avenue
Randolph Street to R. Miller Street
Armistead Street to Stiner Road
Alexander Street to Gandara Street
Pelham Street to Conde-Falcon Road
Jackson Street to Merriweather Road
Donelson Street to Benavidez Street
Mosby Street to Shachnow Lane
A full livestream of the ceremony is available online here.