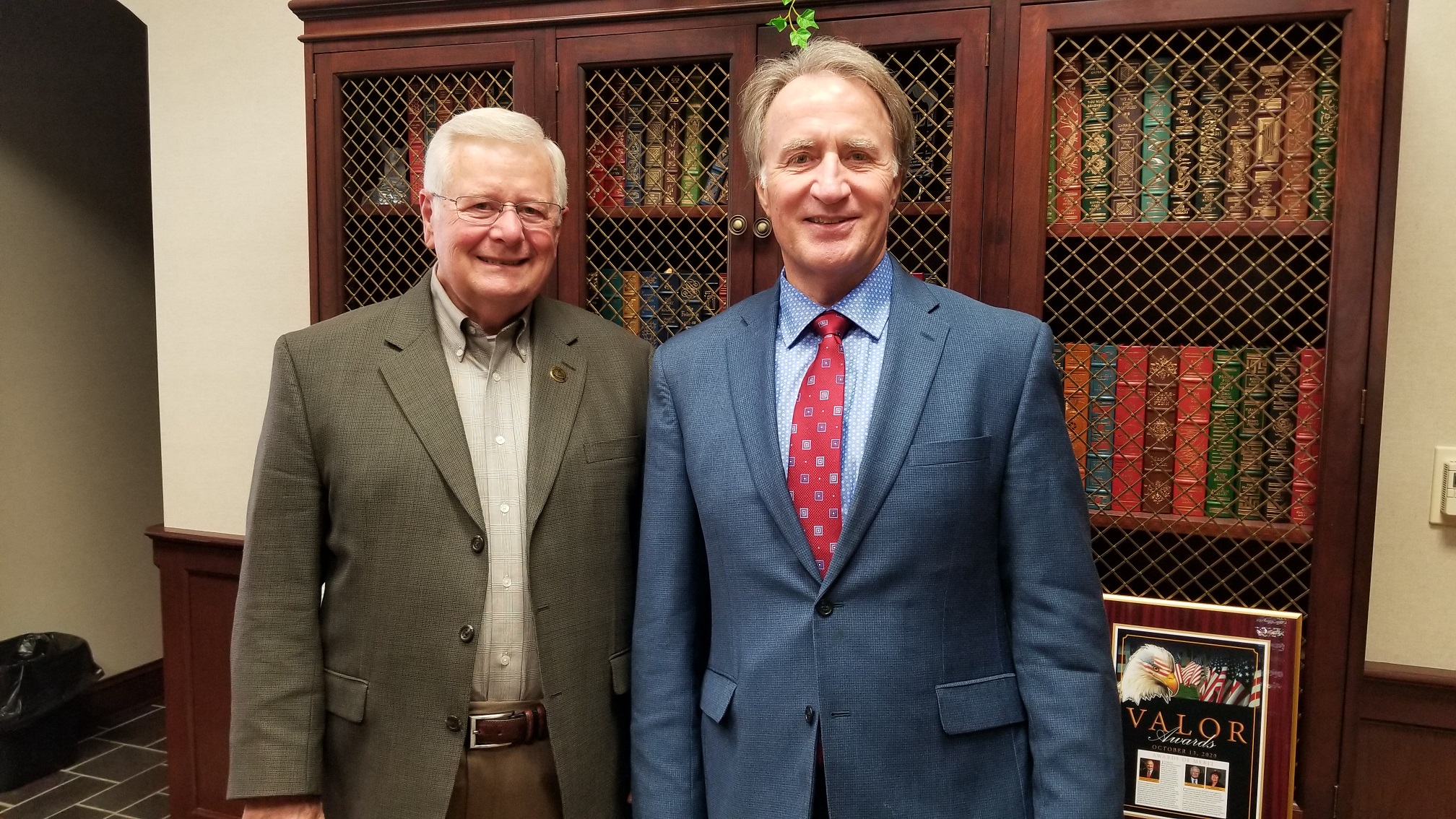 Fayetteville Technical Community College is preparing for a new chapter of leadership as President Dr. J. Larry Keen prepares to pass the torch to his future replacement Dr. Mark Sorrells following the announcement of his plans to retire in January of 2023.
Serving as President of Fayetteville Technical Community College for nearly 15 years, Dr. Keen joined FTCC as the College's president on Aug 1, 2007, succeeding Dr. Larry Norris who retired after 10 years of service.
Prior to joining FTCC, Keen served for 21 years as an officer in the Army Reserve. Following his military service, Keen held the office of Vice President of Economic and Workforce Development for the North Carolina Community College System for five years. He also worked as a business and industry development manager for the Oklahoma Department of Career and Technology Education, with positions as both a faculty member and educational leader at the community college and university levels.
Dr. Keen met his future successor Dr. Mark Sorrells shortly after arriving in North Carolina, and even before the two began working together at FTCC they worked together to achieve different goals.
"I think we met my second day in the state of North Carolina when I was in a different category," recalled Keen. "I was the vice president for Economic and Workforce Development at the system office, and I was in charge of all the workforce development and continuing education activities all over the state; 58 colleges. We were working on a project of locating a company to North Carolina and Mark and I met, and so we started off very early on my arrival to North Carolina, working in concert with each other he had worked on a philanthropic organization, the Golden LEAF Foundation, and I work for the North Carolina Community Colleges and, collectively he could do things I couldn't do and I could do things he couldn't do, and so we complimented each other quite well."
A few years later in January of 2019, Sorrells joined the FTCC staff as the Senior Vice President for Academic and Student Services. His arrival coincided with changes to college accreditation criteria, and Sorrells would go on to play a key role in keeping the college in line with standards set by The Southern Association of Colleges and Schools Commission on Colleges.
"I think having worked with Dr. Keen before, I knew the quality of his leadership. I think he was right, we complemented each other very well. We learned to work together, and we knew each other well enough we built a level of trust. So, when I got here, one of the first things, we were right in the middle of our SACS re-accreditation, which is a big deal," recalled Sorrells.
Sorrells said he joined a team of FTCC committee members, and the team was able to come together to get the job done.
"We recognized very quickly that we had made the progress, we made some strategic decisions. We rebalanced the group and did some storming, forming and norming and identified very quickly the order of priority and one of the major areas that trips people up is the assessment standards," said Sorrells.
Over the past four years, Dr. Keen and Dr. Sorrells have both worked together to help accomplish goals to push the college forward. The College has seen expanding opportunities in healthcare by partnering with local healthcare providers such as Cape Fear Valley and Womack Army Hospital, maintaining programs to help provide educated and capable members of the workforce and remaining a military friendly school are some of the improvements that have been achieved by FTCC in the post pandemic world.
"And we have example after example, after example of where we do that on a daily basis with our teams, so I think our capacity to work together, to listen to each other to stimulate each other in terms of where we need to be going as an institution and as a people and to continually refine our systems and our people and their ability to perform has been very, very significant," said Keen.
Keen said that one of the main reasons he feels ready to move on from his presidency is because he has a solid successor in place who he feels will continue to improve and progress with FTCC.
"My objective from the time I got here was create a succession plan. Whenever if I decided leave after a year or 15 years or 10 years that there be some people in the in the supply chain, if you will, that could come in and do a good job and carry on which is exactly what we've been able to demonstrate," said Keen. "So, I'm quite proud. That relationship it's not only technical competence that you have to look at, but it's an understanding of what is needed that goes well beyond just the traditional educational realm and where we are in community college."
Now, Keen said that come January he will be getting some well-deserved rest and relaxation and turn his attention to spending quality time traveling with his wife and family, writing, and stopping to smell the roses.
"I have been blessed in my lifetime in so many ways. I can't begin to count them all. But one of the true blessings I've had is my wife and my family, and they have done everything to support me over the years." said Keen. "I've probably run roughshod in some cases being too busy to do this or that and I've had to arrange times with them around schedules and so forth and so on. So, my first my first requirement is going to be spend time and dedicate my time to my wife.
After being chosen following a nationwide search launched in early 2022, Dr. Sorrells will be FTCC's fifth president in the history of the college which was founded in 1961.
Prior to joining the College in 2019, Sorrells began his career as a Business Administration Instructor at Haywood Community College in 1985. Over the next few decades, he would continue to be promoted to other positions of leadership and responsibility including serving as Executive Director of North Carolina REAL Enterprises, and later moving on to the Golden LEAF Foundation Inc. holding the position as the Senior Vice President for 14 years. Now Sorrells said his time at the College and with Dr. Keen has prepared his for the next step in his career.
"Well, part of it is having a good mentor, and Dr. Keen has been a wonderful, wonderful mentor. He's guided, he's trusted, he's challenged me on a lot of things; but he's also been willing to take a risk, and as long as that is a managed and calculated strategy going forward," said Sorrells. "And so, I couldn't have done it without him, and I will tell you, I when I left philanthropy, I been a finalist for a president's position years earlier in a small college. And I talked with my wife, my best friend, and we were plotting out, you know, what's next? What's that next step, that last step in the career?"
Sorrells said he and his wife discussed the possibility of applying at other small colleges and also achieving a president role, but instead decided to put his faith into Dr. Keen and the staff and students at FTCC.
"I chose to take that parallel move. Because I knew him, I trusted him. And I knew that if I wanted to reach my goal, he was going to be a key to preparing me for that opportunity. It was the best career move I've ever made."
Dr. Sorrells will begin his tenure as president beginning Jan 1, 2023. He said he is ready to move forward while also upholding Keen's legacy.