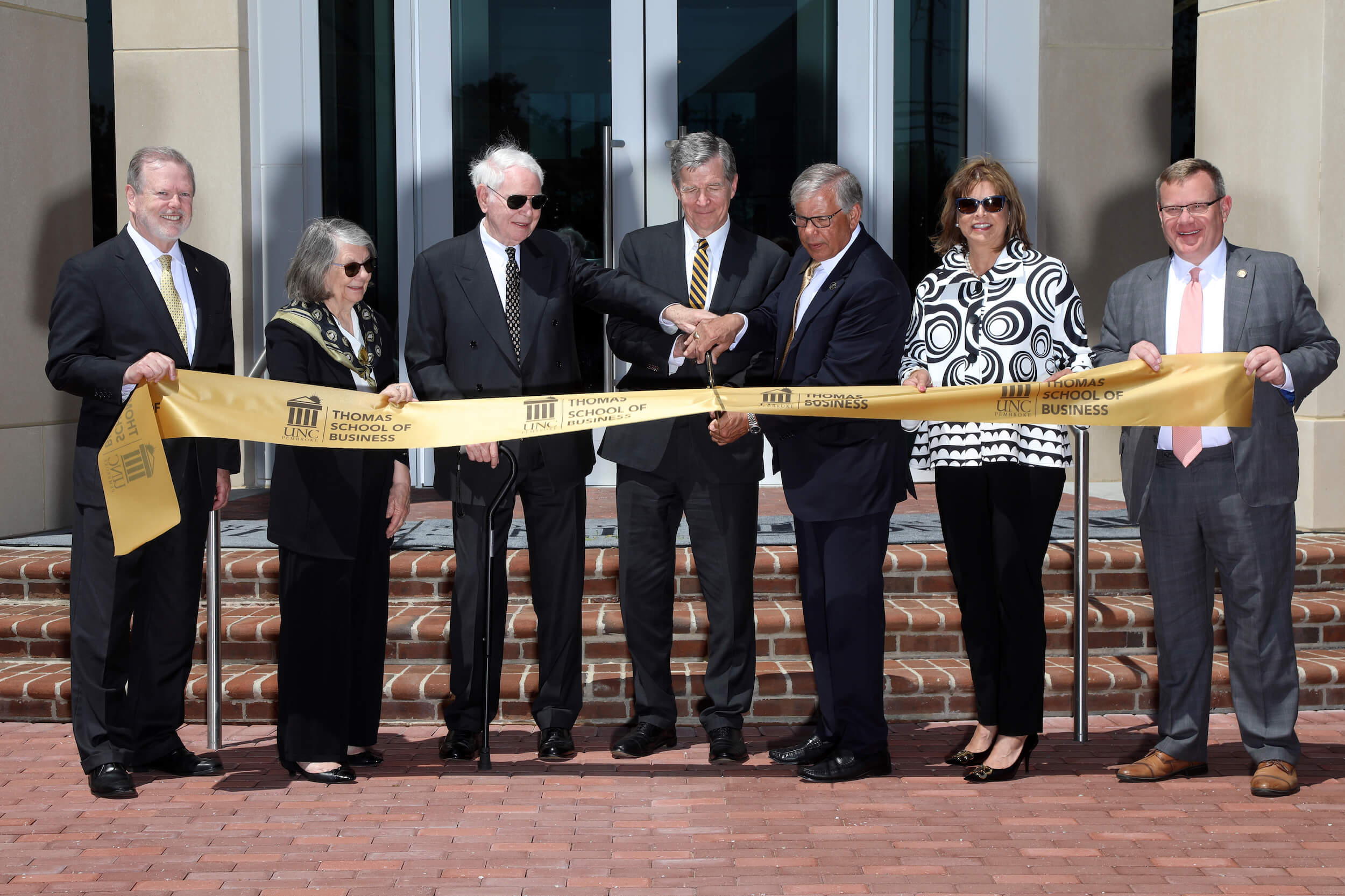 Last week, UNC Pembroke hosted a ribbon-cutting ceremony for its newly opened James A. Thomas Hall.
"This building is the outcome of support from so many," said UNCP Chancellor Robin Gary Cummings. "We look forward to holding the ribbon-cutting ceremony to thank Jim and Sally Thomas, our donors and our local and state legislators who all
had a hand in making this building a reality."
Named in honor of UNCP Trustee James A. "Jim" Thomas, the building is home to the Thomas A. School of Business and cost $38 million to be built. Thomas gifted the university $7 million to go to the project, making it the largest charitable gift in the history of UNCP.
Thomas' impact in Pembroke extends beyond the UNCP campus. He established the Thomas Entrepreneurship Hub, which helps start-ups and small businesses grow into successful companies, and the A.S. Thomas Center, a commercial and residential center, beginning the revitalization of downtown Pembroke.
In 2019, Metcon developers broke ground to begin construction. The building officially opened to students in January 2022.
The building includes offices, classrooms, a business career center, a 300-seat auditorium, an interactive market-style trading room, student discussion areas, and an eatery. Tours will be provided at the conclusion of the event.
The new building will drive the university's efforts to continue building an educated workforce in southeastern North Carolina. Former dean of the School of Business, Dr. Barry O'Brien, pointed to the School's most recent enrollment growth during his remarks. With the School of Business the university will produce 600 MBA
graduates this year.
"They will graduate, raise families and find jobs, and 95% of them will live in North Carolina," O'Brien said.
Also in attendance, along with the Thomas family and nearly 400 guests, was Governor Roy Cooper, North Carolina House Speaker Tim Moore, and Senate President Pro Tempore Phil Berger.
Governor Cooper, who helped cut the ribbon on the new facility stated that the James A. Thomas Hall is a shining example of a public-private partnership.
"I'm so excited about today because I know people are coming together because they believe in education," Cooper said. "North Carolina is taking off. We are creating record numbers of jobs in our state. With all these jobs coming, what keeps me up at night is making sure we have the well-trained, educated, diverse workforce to fill all of these jobs that these CEOs want."
During the ceremony, each speaker offered a special thanks to Jim and his wife Sally for their steadfast support of the university and the community. The Thomases kicked off the fundraising campaign with a record $7 million in 2017. The remaining funds were provided by the Connect NC Bond, state funds, private donors and a multi-million grant from the Golden LEAF Foundation.
"Jim's generosity has made a lasting impact on UNC Pembroke, its
students and the larger community in Robeson County and the state of North Carolina," Berger said. "That impact will continue to grow with this building. "The building bears Jim's name, but his influence goes far beyond physical structures. This university is a beacon of opportunity for students and the surrounding area, which is why contributions from individuals like Jim and Sally Thomas make a world of difference."
Before offering closing remarks, Cooper presented Jim Thomas, a Pembroke native, member of the Lumbee Tribe and prominent Los Angeles real estate developer, with the Order of the Long Leaf Pine–– considered the state's highest civilian honor. Thomas was also presented with a state flag and proclamations from the North Carolina House and the General Assembly by Berger and Moore thanking him for his service.
"At the time, I was more interested in the renovation of downtown Pembroke. After conversations with the Chancellor, the one thing that finally dawned on me was the university was an extension of what I had already started to do. I see the Thomas School of Business as an extension of the Hub, to train and help individuals start businesses."
Bringing the program to a close, Cummings thanked Thomas for remembering his Pembroke roots.
"For Jim, as the saying goes, 'home is not a place, it's a feeling'. The best journeys in life always do lead us back home. Thank you, Jim, for your dedication, commitment to and vision for this community."