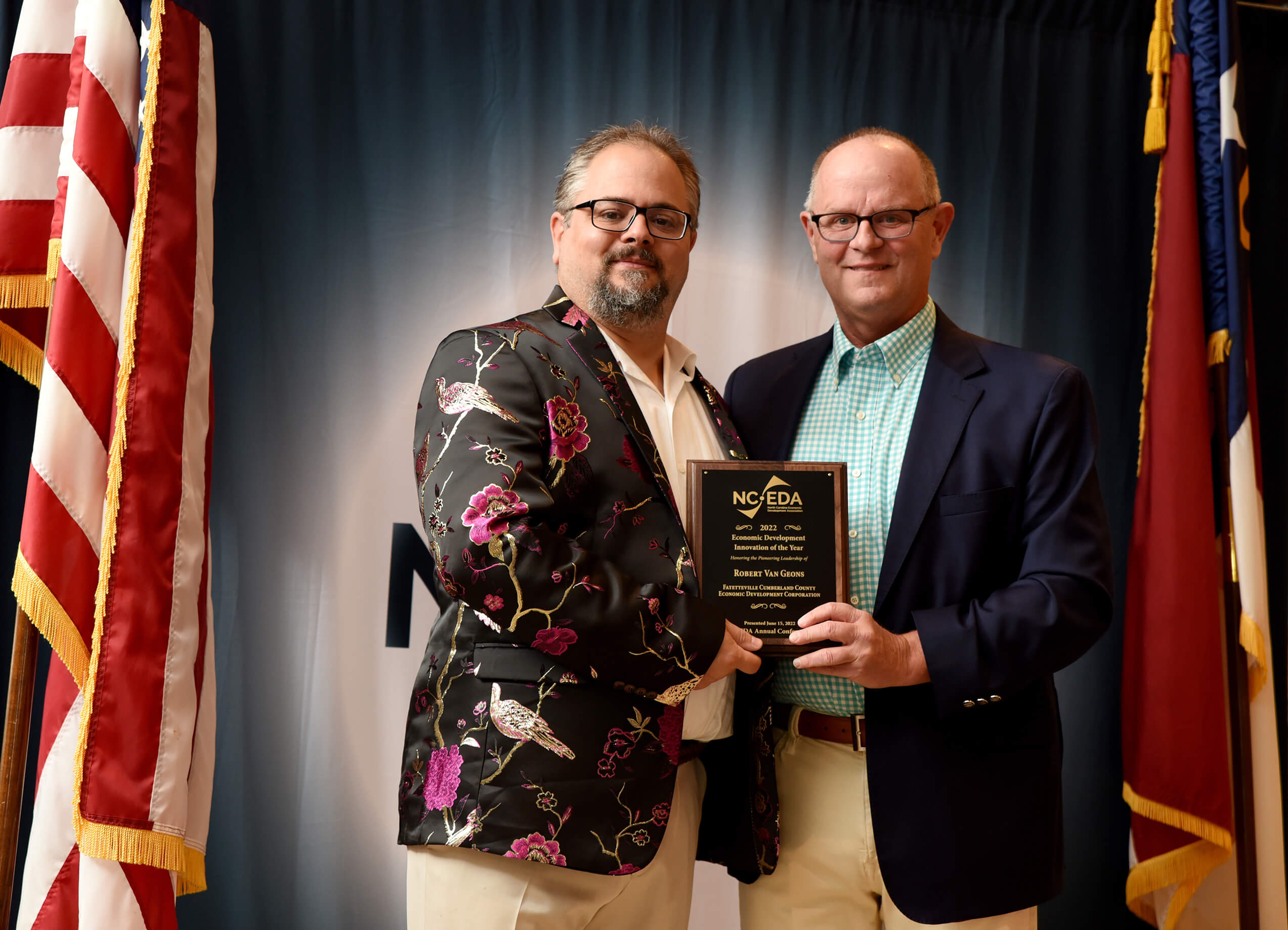 The president and CEO of the Fayetteville Cumberland Economic Development Corporation, Robert Van Geons, is the winner of the inaugural Innovation of the Year Award from the North Carolina Economic Development Association.
Van Geons received the award during the Association's annual conference in Wrightsville Beach.
"This recognition is a credit to the consistent support we receive from the City of Fayetteville and Cumberland County," Van Geons said. "Envisioned by State Senator Kirk deViere, championed by past FCEDC Chairman Jack Rostetter, and seeded with funds secured by State Representative John Szoka, this success is due to their efforts and the work of so many others."
At the conference, Van Geons was recognized for his work of bridging the digital divide in Fayetteville and Cumberland County, and advancing the goal for affordable access to digital infrastructure for residents.
"Cumberland County is unique among North Carolina communities, and Robert Van Geons' creative leadership has made a measurable difference in embracing workforce and infrastructure development opportunities that emerge from that uniqueness," said Ryan Nance, Co-Chairman of NCEDA's Professional Development Committee. "His pioneering approach to problem-solving during the difficult period of the pandemic was an inspiration to economic development practitioners across the state."
Van Geons and the FCEDC helped in the arrival of Segra and Metronent and have worked closely with several local organizations such as the Fayetteville Public Works Commission.
Aside from the FCEDC, Van Geons is involved in multiple professional organizations for innovation and enhanced technology including IEEE and Consumer Technology Association.
Van Geons currently serves on the North Carolina Technology Association's Board of Advisors.
"Our team at FCEDC is committed to building a dynamic and business-friendly community, leveraging next-generation technologies and a uniquely skilled workforce," Van Geons said. "We are fortunate to benefit from a strong and productive relationship with our city and county officials, who also believe that our community can be a leading center for applied innovation."