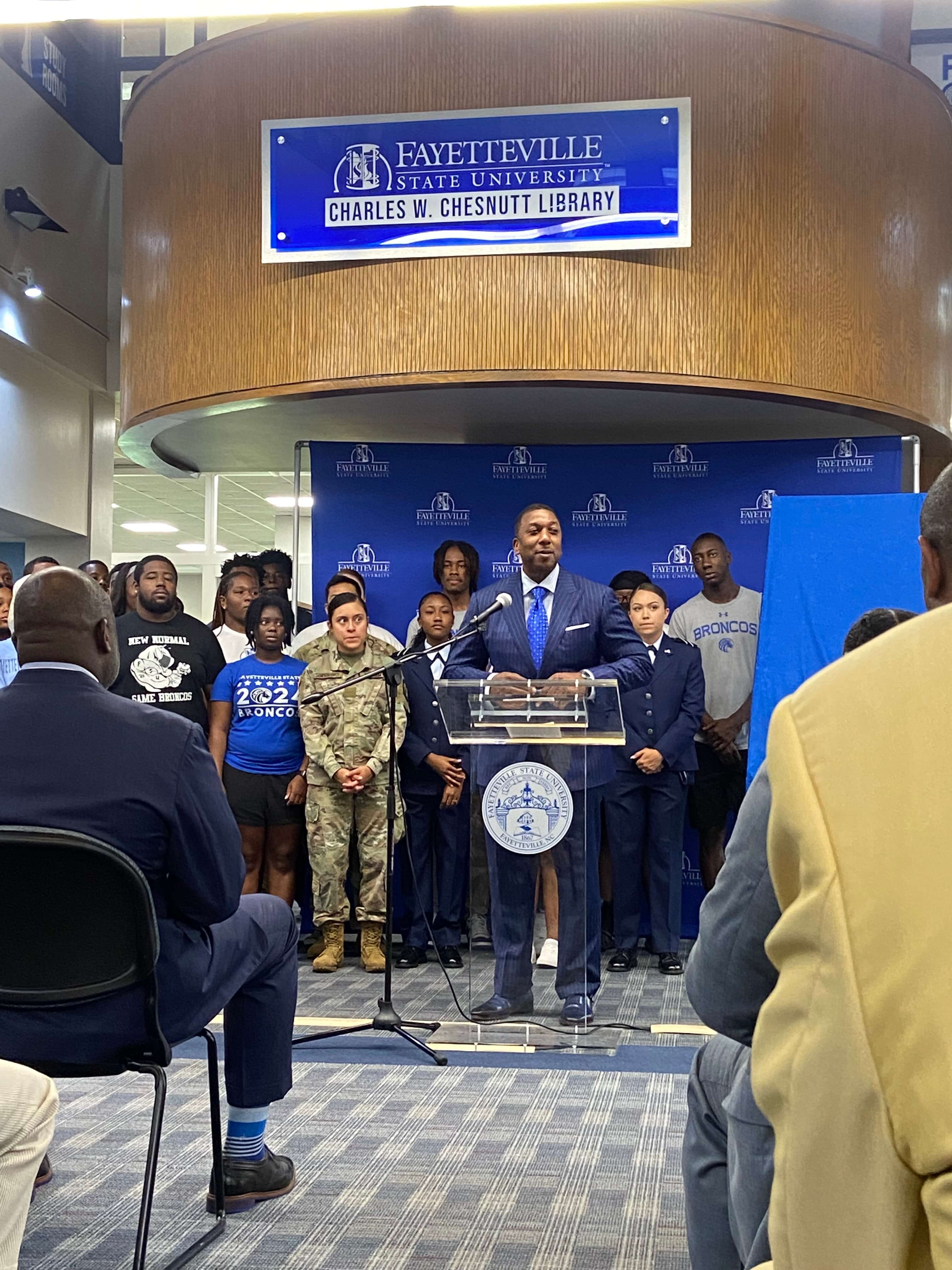 Today, Fayetteville State University announced at a press conference it has received a $5.8 million grant from Anonymous Trust, making it the largest private gift to the university.
"By the close of the fiscal year, June 30, this will set a record for a single year of private donations at Fayetteville State University," stated Chris Davis, Interim Vice Chancellor of University Advancement.
In 2021, FSU raised a total of $1.57 million in philanthropic support, with the gift from Anonymous Trust this boosts the projection for 2022 to nearly $8 million in overall gifts and donations.
In attendance at the event was Chancellor Darrell T. Allison, Anonymous Trust representatives Kimberly Beerden and Margaret Turlington, students, staff, and faculty of FSU, FSU board of Trustees, and State Legislators.
The gift will directly fund FSU's 30/60/90 program to keep students on track to obtain a degree in four years or less, Bronco Boost program to help incoming and transfer students, opportunity scholarships, minority male initiative support, and FSU's College of Education Reading Clinic.
"This is truly a pivotal moment in the life of our university and the lives of our students," said Allison. "The funding from Anonymous Trust will significantly advance our goals in recruiting, training, and graduating our students regardless of their circumstances. We are deeply grateful for this gift and the opportunities it affords FSU."
For Anonymous Trust, this gift helps continue their goal to uplift communities through education and create opportunities that may not be possible.
"We are thrilled to partner with Fayetteville State University and advance their programs aimed at expanding access to a quality education for talented students regardless of their circumstances, especially from underserved and underrepresented communities," said Turlington, director of Simple Gifts Fund. "We made this investment because we are committed to the region served by Fayetteville State, and we are confident in the leadership at FSU."
With the help of this gift the future looks bright for FSU, its students, and the community.
"We are very fortunate to have Fayetteville Technical Community College, Methodist University, and Fayetteville State University here, and we are coming together like never before. We want to do our part so that businesses and industries come this way," added Allison. "We want to make sure that students are not only getting education, but we want a real healthy support system to make sure that they grow in this region."