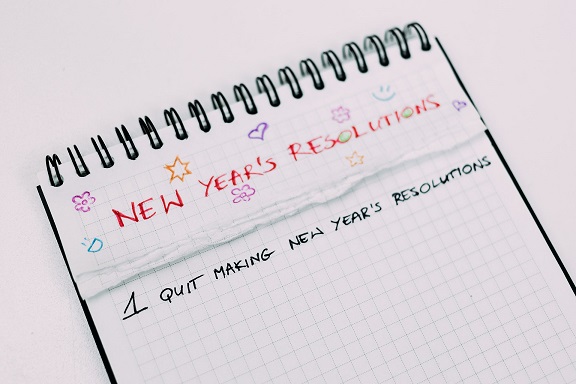 There is something refreshing about being able to start with a metaphorically clean slate come midnight on Jan. 1.
Every year, we all come together and celebrate another year around the sun. A number of us make resolutions about what we hope to accomplish in the new year. Unfortunately, many of us find ourselves falling off the wagon and sliding back into old habits shortly after announcing we were going to finally start that keto diet, start saving money, or promising to be a nicer, kinder person which tends to fall apart as soon as we hit the morning traffic jam.
Luckily, we are not alone. According to U.S. News & World Report, the failure rate of new year's resolutions is said to be about 80 percent, which sounds about right.
This year I've decided to approach my new year's resolutions more realistically. Instead of hoping that I will be able to accomplish my goals on the merit of my own character, I've decided to change how I track my progress so I -literally- don't lose sight of what I want in 2023.
Here are some of the ways I'll be challenging myself to achieve my goals in more tangible ways:
Make a 2023 new year's resolution Bingo card
Am I the kind of person who will rely on social media posts, likes and comments to track my progress? No. Am I competitive enough to not want to lose to myself in a game of bingo? Yes. You can make your free space something you can achieve everyday like getting out of bed, petting your cat, or getting that morning cup of coffee.
Having a color-coded spend calendar
By channeling long repressed elementary school memories of having my progress tracked by a colored stamp, a color-coded calendar is a great way to feel accomplished based on how much you DON'T spend. The concept, admittedly stolen from Tik Tok, is simple; every day you go without spending money is a green day, any day you do spend money (bills, gas, a coffee run,) is a red day. Being able to see how often I spend, mixed with the negative association of seeing an all-red calendar has helped me cut my useless spending in half.
Saving in place of spending
We're not going to lie to ourselves in 2023. I won't be giving into the delusion that I will use a gym membership. Instead, throughout 2023 whenever I think about going to the gym, I will transfer the amount of a monthly membership fee (based on Fayetteville market values of course) over to my savings and go on a brisk walk.
I encourage you to get creative with how you track your goals, and soon you'll see that one by one you've accomplished more than you planned to!
Happy new year everyone!
And here's to a happy, healthy, peaceful, sweet 2023!