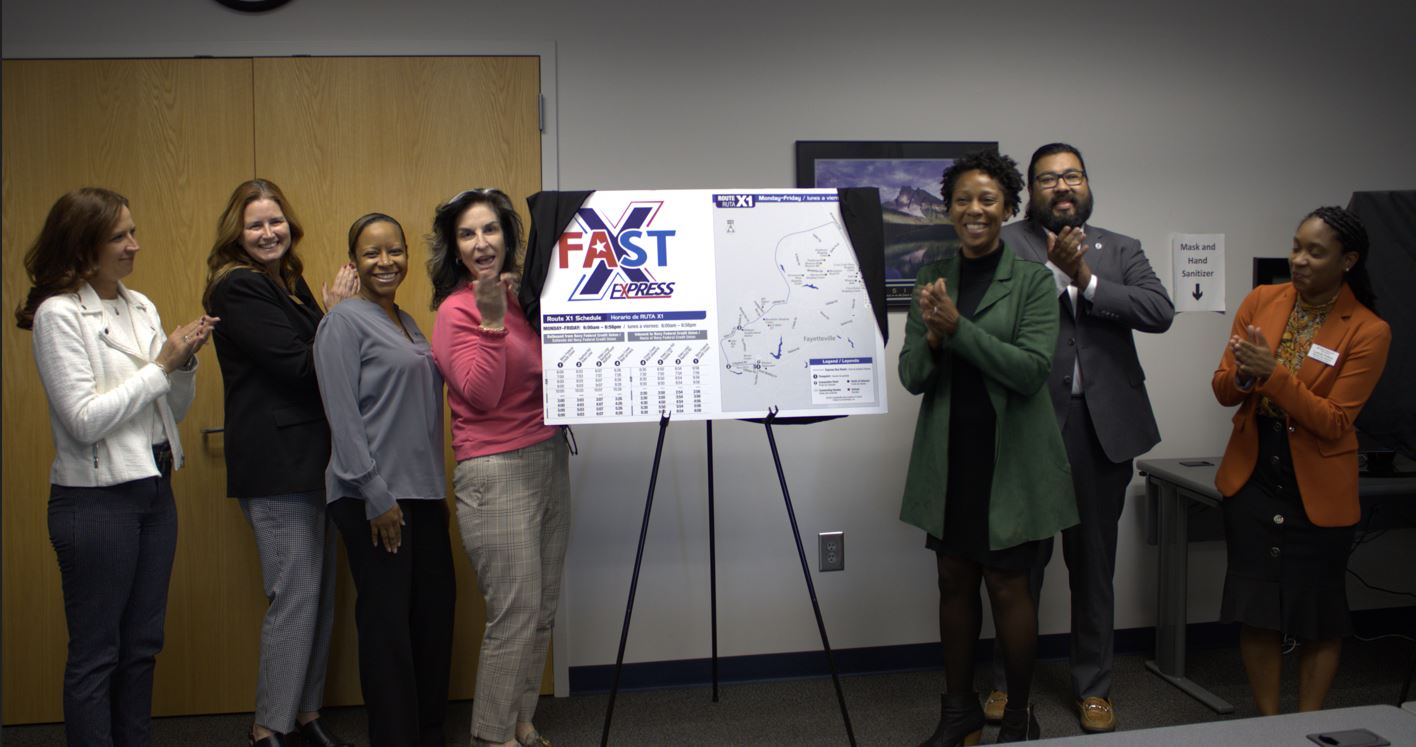 On Nov. 13, representatives from the City of Fayetteville gathered at Fayetteville Fire Station 15 on Cliffdale road to celebrate the official launch of the new Fayetteville Area System of Transit X1 Route.
This new route expands into West Fayetteville territory and adds onto the current 17 routes offered through FAST with a fleet of 30 fixed- route buses.
Around 30,000 people in Fayetteville's District 8 and adjoining areas will now have a convenient, affordable connection to the City's shopping district, with buses operating Monday- Friday from 6:00 a.m. to 6:56 p.m.
The route includes a stop at the Neighborhood Walmart at the intersection of Hoke Loop and Cliffdale Road. The route's main destinations, Cross Creek Mall and Two Bale Lane, near Walmart on south Raeford Road, serve as transfers to more than nine FAST routes. This allows riders to connect with routes 7 and 17 at Two Bale Lane and routes 10, 11, 14 and 15 at the mall.
Transfer points will be located as follows:
Two Bale Lane
Route 7- FAST Transit Center/VA- Raeford Rd./Walmart- Strickland Bridge Rd.

Route 17- Navy Federal/Montebello Shopping Center/Walmart- Raeford Rd.
Cross Creek Mall
Route 6- Cross Creek Mall/Walmart-Skibo Rd.

Route 10- Walmart- Strickland Bridge Rd./ Freedom Town Center/ West Regional Library

Route 14-FAST Transit Center/FTCC/ Eutaw Shopping Center/Westwood Shopping Center/Omni Theater

Route 15- Manna Church/Kohl's/Cape Fear Hospital
"X1 was not created just out of convenience, it wasn't created just out of being environmentally sustainable, it was created as a part of our transformative journey that transit is on as we transition our transit system from a system of need to a system of choice," said FAST Director Tyffany Neal. "Now, it's no secret there are many benefits of having public transit, transportation in our area. One of those benefits is the reduction of traffic congestion, another benefit is limiting carbon footprint. This is also one step closer in allowing us to become a greener, more environmentally friendly community for generations and generations to come."
West Fayetteville has experienced an increase in residential development in the past few years, with new apartments, neighborhoods and shopping centers being given the green light for development and expansion taking place along Cliffdale Road. With those residencies out west, this is the first route created for that area to help cater to the growing transportation needs.
"District 8 is the next step in our journey with the establishment of the crucial link and an express bus route that reaches from West Fayetteville to our vibrant shopping hub, the mall and becoming a conduit for connecting the rest of our City," shared District 8 Representative Courtney Banks-McLaughlin. "By extending an express bus route to this area, we ensure that every resident has an efficient and accessible transportation option. It's about breaking down the barriers and creating pathways for our community members to connect, collaborate and contribute to the prosperity of our City."
Included on this route are flag stops, which allows a rider to board the bus at a location that is not an established bus stop with a posted bus stop sign. Flagging the bus down will only be permitted along Hoke Loop Road.
The Fee Schedule is as follows: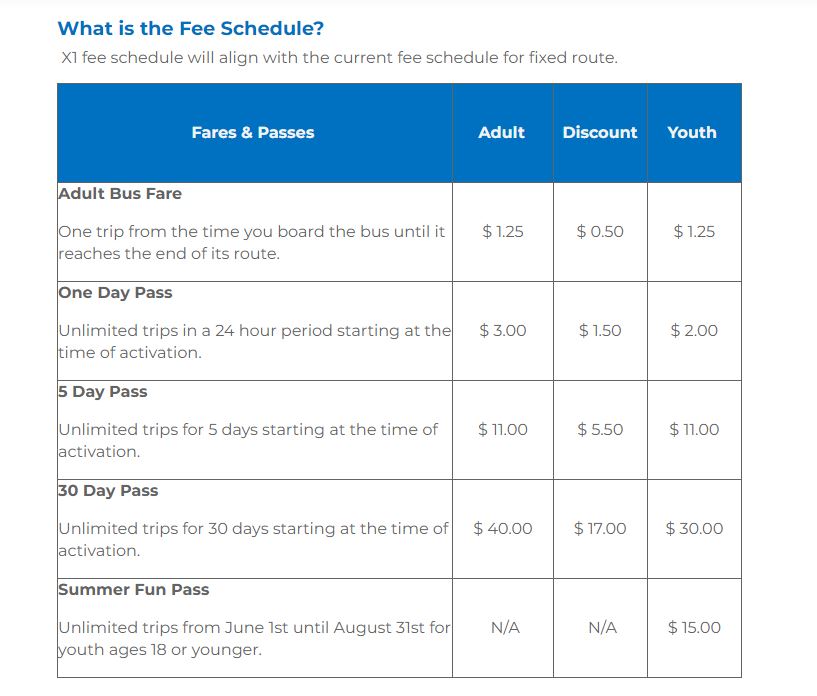 "Transportation is the livelihood and the lifeblood of a thriving community. And a robust public transportation system is its pulse. today. We celebrate not just the introduction of a new express bus route, but the transformative power that it holds for our city's connectivity. For those who rely on public transportation, this initiative represents more than just a route on a map. It signifies expanded horizons, increased access to jobs, education and health care and a sense of empowerment that comes from knowing that opportunities are within reach," said Assistant City Manager Kelly Olivera.
Following the end of the ceremony, City representatives also boarded a FAST bus for the inaugural ride of the route to experience what residents can now access.
For more information about the FAST X1 Route you can go online here.