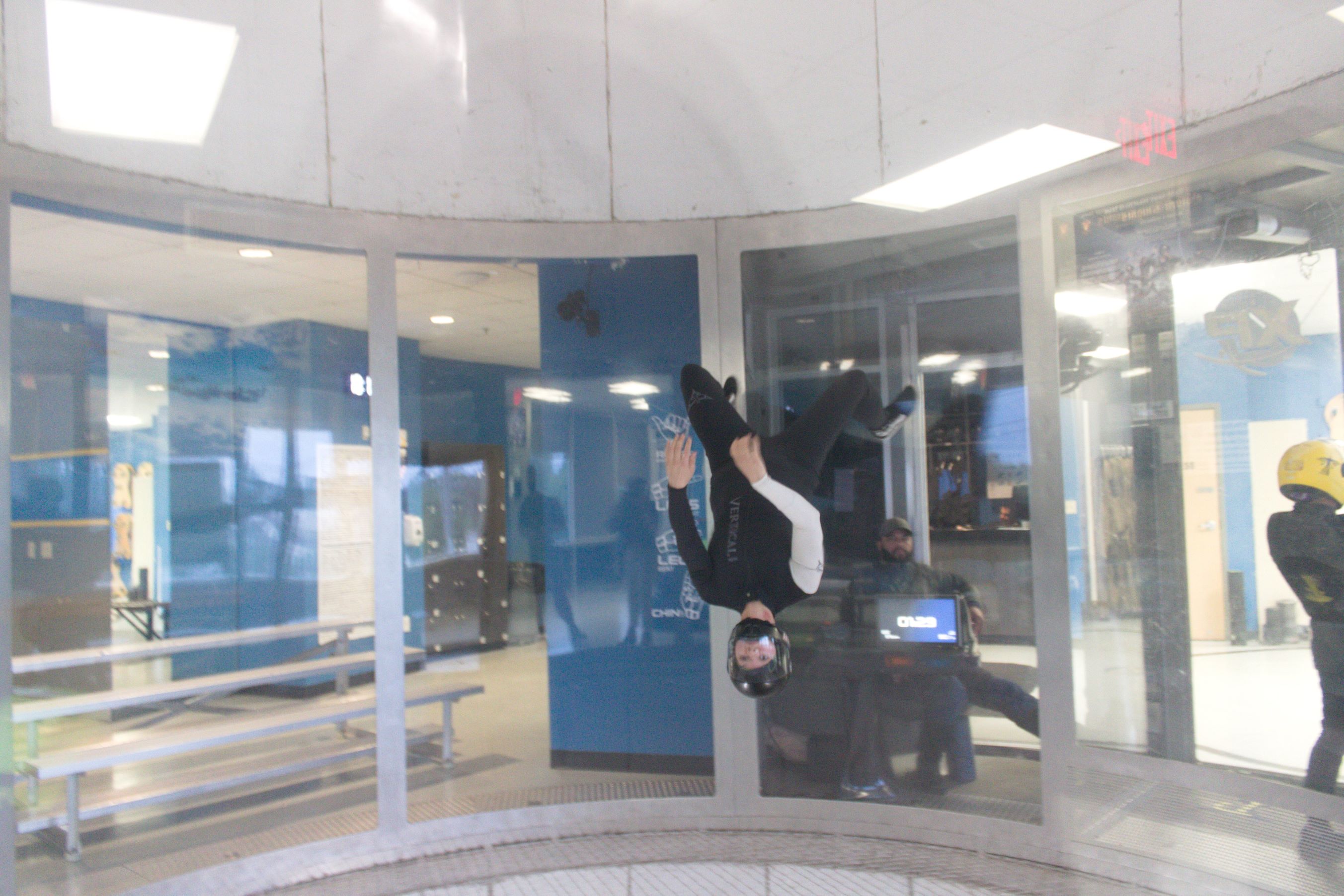 For those looking to get their hearts pumping, blood flowing and feel the wind in their hair this summer, a unique experience based in Hoke County may just be the perfect thing.
Indoor skydiving, a controlled simulation of an actual skydiving experience, is the perfect activity for those
seeking a thrill while also staying on the ground.
Paraclete XP has been offering an indoor skydiving experience to area residents since 2007 after being started by owner and Fort Bragg Veteran Tim D'Annunzio who is also a former U.S. Army Parachute Team
(Golden Knights) member.
D'Annunzio would go on to create one of the first civilian accessible wind tunnels which would later develop into what is today known as Paraclete XP Indoor Skydiving.
"We get a lot of military and we get a lot of skydivers, belly teams from all over the world come to train. We get skydivers, members, first timers, everybody," shared Paraclete XP Team Member Davy "Rocket" Nance.
Open to the public, the facility located at 190 Paraclete Drive in Raeford, houses the largest vertical wind tunnel in the United States in terms of power and size. The tunnel is powered by four fans at 541 horsepower
each to give a great range of air speed for all requirements including free and recreational flying and military operations.
Nance shared that the facility's location, nestled right over the Hoke County line, was chosen due to the
proximity to Fort Bragg, and that the facility services primarily military customers.
The Aviation Division of Paraclete XP provides aircraft leasing, Military Free Fall Training (MFF), Military Surveyed Drop Zones and Aircraft Maintenance.
For the general public however, the fun is up to you! What can only be described as leaning in and going up, the experience of indoor skydiving is one you'll want to write home about.
"We love the public, we used to be open all week and we are now back to full service following COVID," shared Nance. "We're always producing new adrenaline junkies, they come out of the tunnel and are hooked. They'll leave the tunnel, buy more time and go right back in."
First Time Flyers as young as 3 years old are welcome to come and take flight.
"We have a youth league. It's on Monday nights from 6 p.m. to 7 p.m. and that's for repeat flyers, only the kids have done it before," said Nance. "It's where we can actually coach them.We want them to get better,
we've got kids in there that are doing 'head down' and carving, layouts, which is all very advanced stuff, and
then we've got the kids that are just learning and they just love it."
Packages are available for first time flyers, repeat flyers and for parties and corporate events.
EACH PACKAGE INCLUDES:
An experienced instructor
Preflight classroom training
Flight time in the wind tunnel
Flight gear
Flight certificate
Safety is a priority for guests and staff.
Before entering the tunnel, guests are given protective headwear, eyewear, earplugs and jumpsuits to wear over their normal clothing. They are also asked to remove all jewelry and loose articles.
A trained Paraclete professional accompanies each group with flyers learning simple hand signals to keep everyone on the same page during the experience. New flyers usually take turns in the tunnel one at a time
and the instructor will maintain contact and help control their body levels and height. Flight sessions are
broken up into two minute increments due to the exhausting nature of the exercise.
With the ability to reach 198 mph, the speed of the air in the tunnel can be changed to suit each individual
flyer based on their weight and skill level.
Nance says that Paraclete currently has between 11 and 14 staff members with experience ranging from being former military and general thrill seekers who just love to fly.
"To become one of us, it takes about 10-12 hours in the tunnel in about a two week span and the T-4 who's like our boss, he's in there teaching us how to spot people, which is how to catch them and how to prevent all of the injuries and accidents that can happen," shared Nance.
"While you're in there, he teaches you how to be in the right spot to hold people to help them learn new things like for layouts and head down, other forms of flying."
But the Paraclete Skydiving experience isn't just limited to their indoor experiences, further into Hoke County, those willing to have the ultimate thrill have the chance to take what they've learned to the skies with Skydive Paraclete XP located at 143 Airport Drive in Raeford on the PK Airpark campus.
With a 250 acre airport and dropzone, the campus includes the Skydive school offering skydiving lessons
and tandem skydiving opportunities. Other amenities include two loading zones, a main hanger, a packing pavilion and PK's Grill and Pub which also features a spectator section for those who want to watch and show
support from the ground.
One of the primary offerings is a United States Parachute Association approved training progression called the Paraclete Student Program (PSP), a skydiving course that consists of 18 levels and covers all requirements to apply for a USPA 'A' license. This license allows you to jump with your friends and skydive
anywhere in the world.
The program covers everything in three stages: 1. Ground Training, 2. Wind Tunnel Training and 3. Freefall and Canopy Training.
According to information on the program from the Paraclete XP website, "Our program is designed not only to teach basic skills but to provide a clear path towards becoming a well-rounded skydiver. Our progression
continues past student levels and offers continued education. Interactive seminars, networking, multi-discipline skills camps and exclusive wind tunnel membership options at our state of the art indoor skydiving
facility, Paraclete XP SkyVenture. PSP provides everything you need to become a member of our amazing
skydiving community."
With such a unique experience just a few minutes away from Fayetteville, indoor skydiving may just be a new lifelong hobby and a once in a lifetime experience to tell your classmates about this fall, or your coworkers gathered around the water cooler.
______________________________________
You can learn more about the Paraclete XP experience by logging on to www.paracletexp.com.