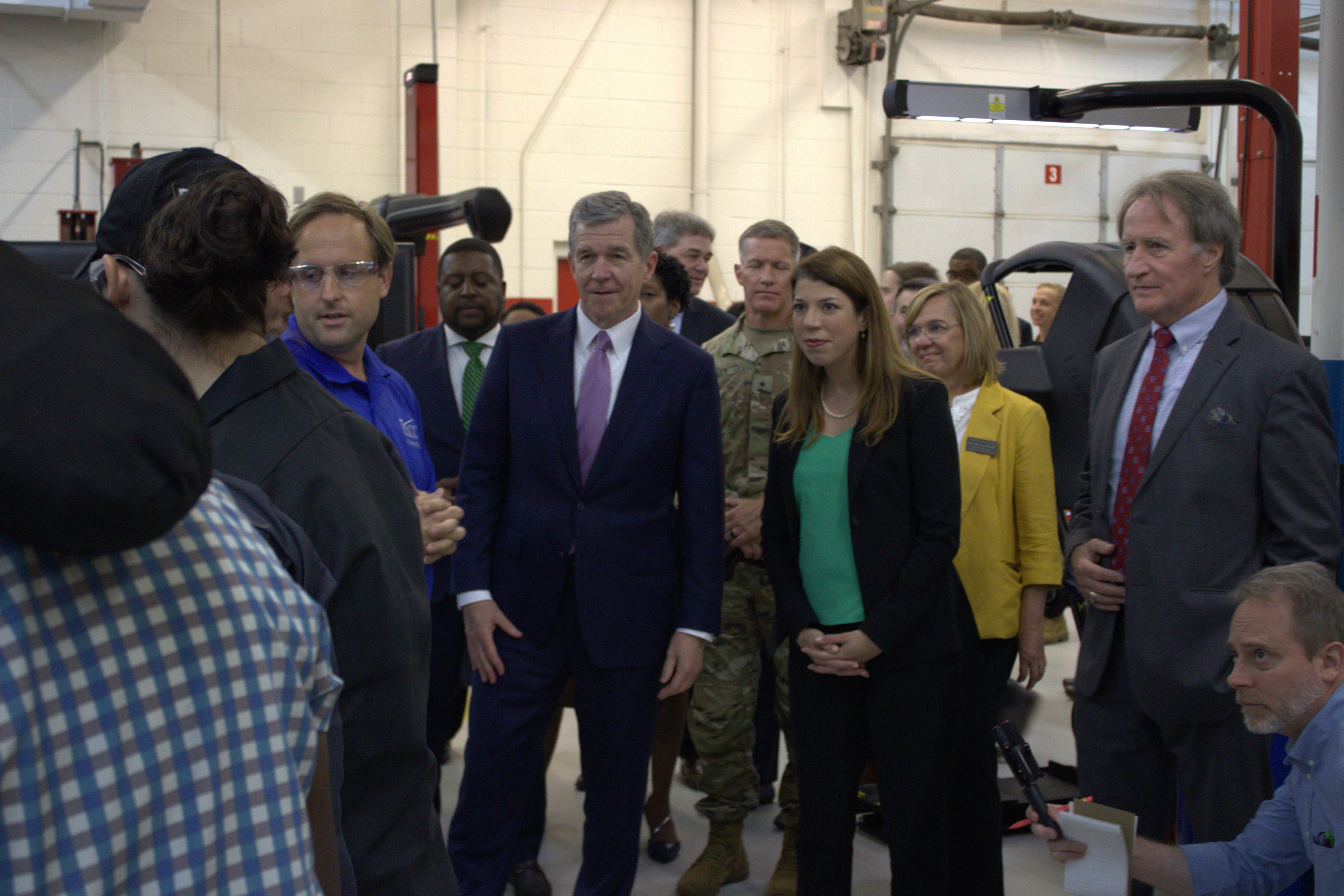 Fayetteville Technical Community College was able to to present the latest in their workforce education programs to state officials as Governor Roy Cooper [D] and NCDEQ Secretary Elizabeth Biser joined FTCC faculty and students on a tour through the campus. The tour included stops where they viewed a solar panel demonstration by Blue Ridge Power, connected with students and teachers in a Hybrid-Electric Transportation class and a walkthrough of FTCC's All American Veterans Center, and the Cyber Defense Education center.
The tour was also joined by FTCC President Dr. Mark Sorrells, Secretary of the North Carolina Department of Military and Veterans Affairs LtGen Walter E. Gaskin, USMC (Ret.), City of Fayetteville representatives and representatives from Cumberland County government, all of whom gathered to celebrate the successful programs contributing to fill the expanding workforce needs growing throughout the state.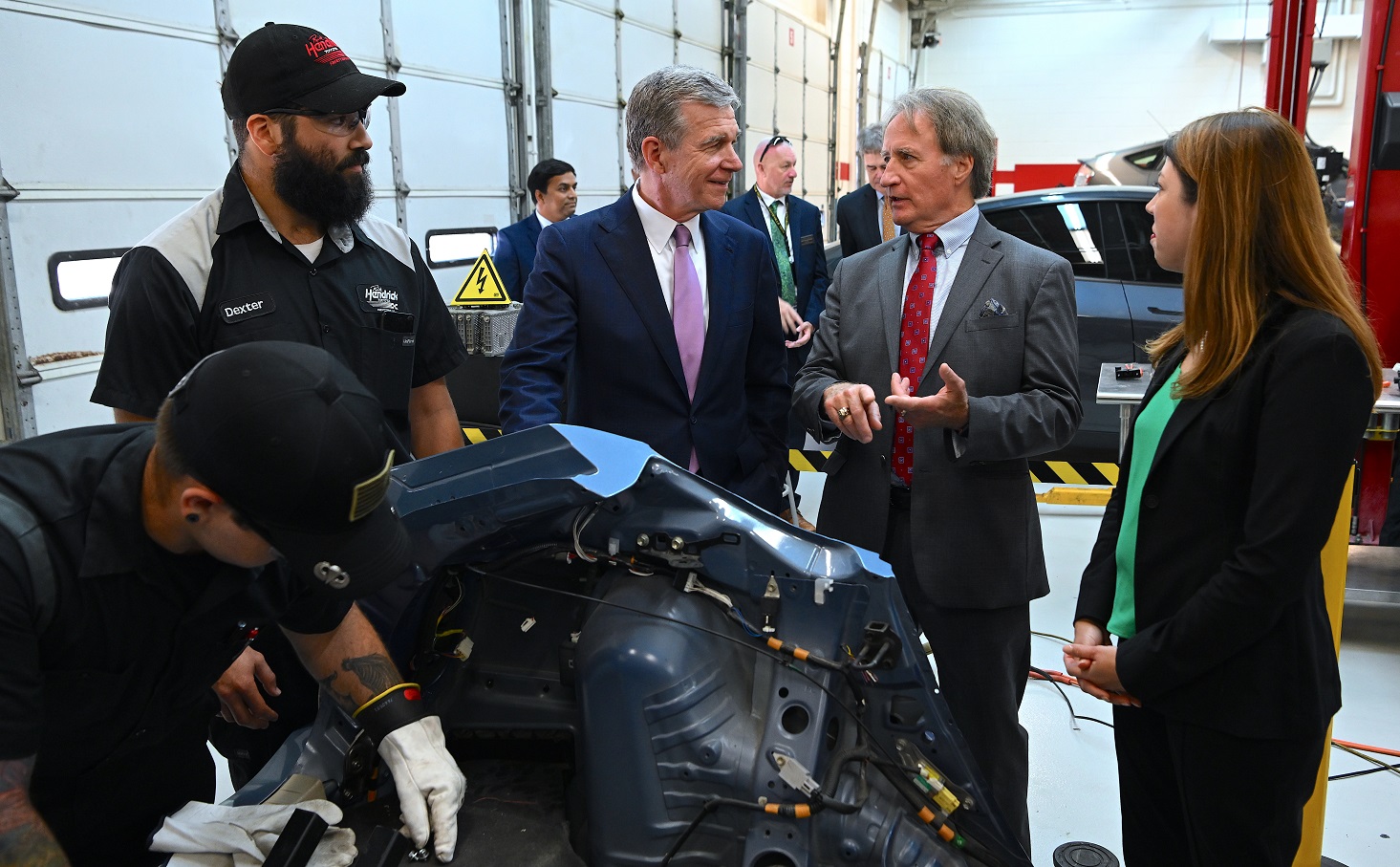 "At Fayetteville Technical Community College, we pride ourselves on preparing students for the jobs and careers of today and tomorrow," said FTCC President Dr. Mark Sorrells. "Our mission is keenly focused on preparing a workforce aligned with the economic development needs of our state and region. Clean energy is a critical element in creating a more sustainable economic base for our future. When community college students succeed, we all have a brighter future. FTCC is proud to be part of the Exceptional 58 that make up the NC Community College System."
The purpose of the tour was to highlight Clean Energy Week, proclaimed by governor Cooper to take place from September 25 – 29, 2023 to highlight the state's progress in transitioning to a clean energy future.
According to the Proclamation, North Carolina benefitted from over $31.3 billion of clean energy investment between 2007 and 2022. The State also ranks fourth nationally for installed solar energy capacity, ninth for clean energy jobs and first for clean energy jobs in rural areas.
Fayetteville Technical Community College serves over 28,000 students annually and provides 280+ occupational, technical, general education, college transfer, and continuing education programs. FTCC offers clean energy workforce training, including a solar power construction course for high school students and a hybrid-electric transportation course.
"Training courses like the ones at Fayetteville Tech are clear examples of how we can achieve our environmental and climate goals while preparing students for jobs in the clean energy economy," said NCDEQ Secretary Elizabeth Biser.
FTCC is also focused on helping servicemembers and veterans gain the skills needed to take on new jobs. The FTCC All American Veterans Center was created to honor veterans and to provide a location where veterans can gather, find assistance, and receive the support necessary to ensure their success at FTCC and beyond.
"Fayetteville Technical Community College is doing critical work to help our veterans transition into civilian jobs and help prepare people to take on all of the good-paying, clean energy jobs coming to our state," said Governor Cooper. "North Carolina continues to strive to be America's most military-friendly state as well as the epicenter of clean energy."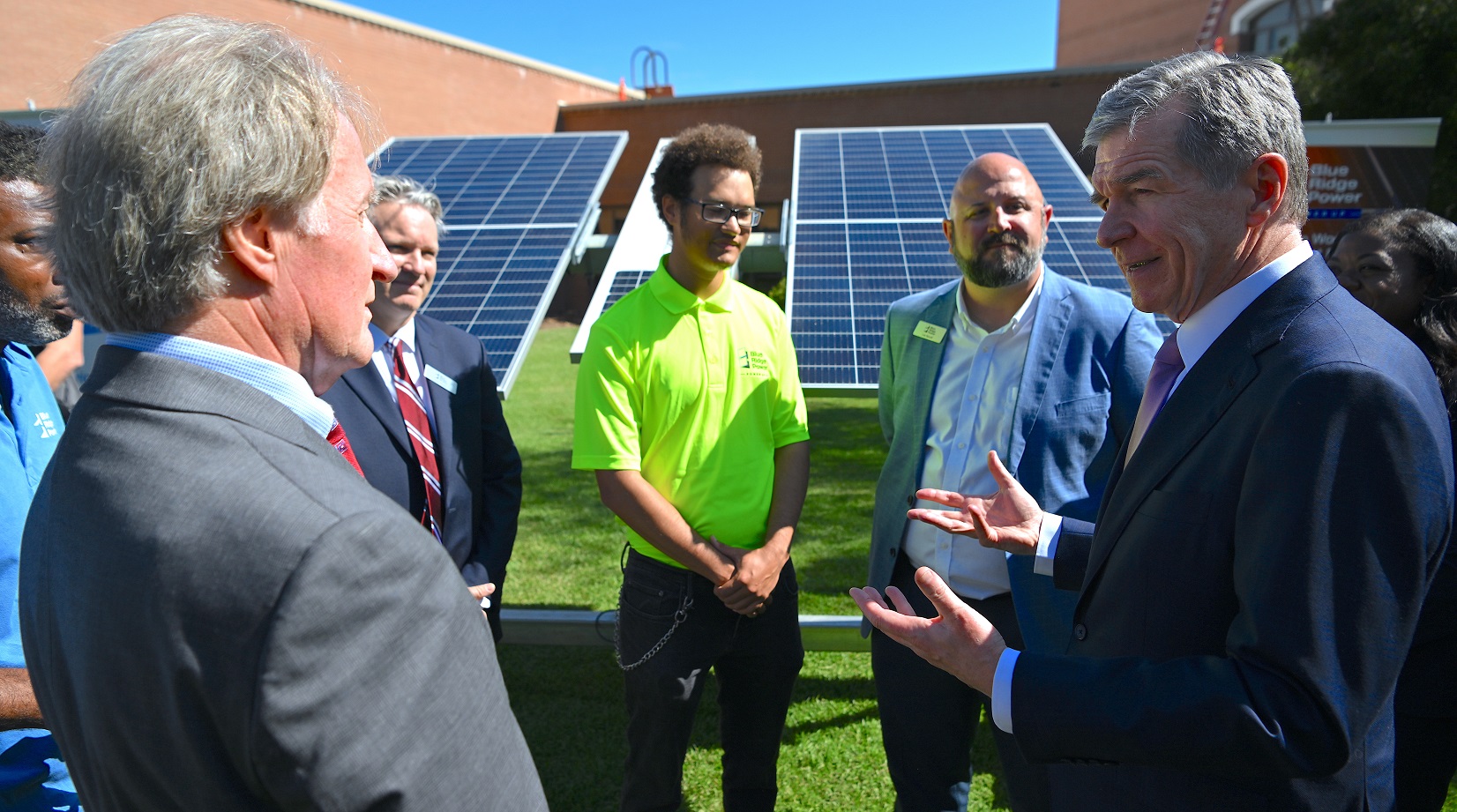 FTCC offers Transition Tech, a training program transitioning military service members into civilian jobs. Transition Tech provides industry-focused certificates and credentials, resume assistance, and mock interview opportunities designed to prepare individuals to enter the civilian workforce. These courses are free to veterans/active military in transition through a partnership with Workforce Development (NC Works).
"The military is the training ground for a wide range of people with an even wider range of talents," said LtGen Walter E. Gaskin, USMC (Ret.), Secretary of the North Carolina Department of Military and Veterans Affairs. "We are incredibly blessed to have the world's largest military installation in our state. It's home to some of the best and brightest minds in the world with dedication and service at the core of their character. FTCC's programs honor our veterans by supporting our veterans."