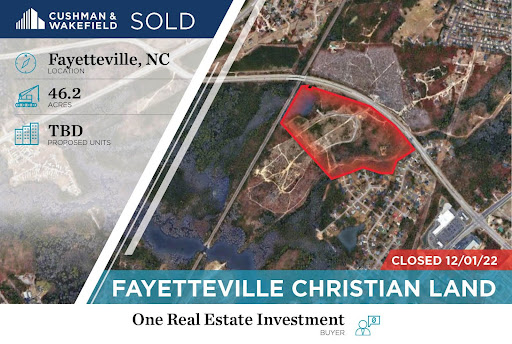 New housing options are expected to be coming to the southeast Fayetteville area after real estate development company One Real Estate Investment purchased 46.2 acres of land located at 3680 Elk Rd.
OREI partnered with real estate company Cushman & Wakefield to complete the deal, with Executive Managing Director Alex Phillips and Associate Battle Smith representing OREI in the transaction.
The company is expected to continue to expand their property portfolio in Fayetteville with the purchase.
"It was an honor to work with the buyer One Real Estate Investment to facilitate this transaction for more than 46 acres in Fayetteville. They have exciting plans for the site that include building 360 apartment units which will be a mix of one, two, and three bedrooms," said Phillips.
OREI is already in the process of constructing The One, a new 264-unit apartment community in Fayetteville expected to open in 2023. That project was announced and commemorated with a groundbreaking ceremony in late August of 2022. The company owns and operates a number of other properties across North Carolina and in Fayetteville including West End and The Summit on 401. They also own The Heritage at Fort Bragg, and Lakehurst apartments located in Spring Lake.