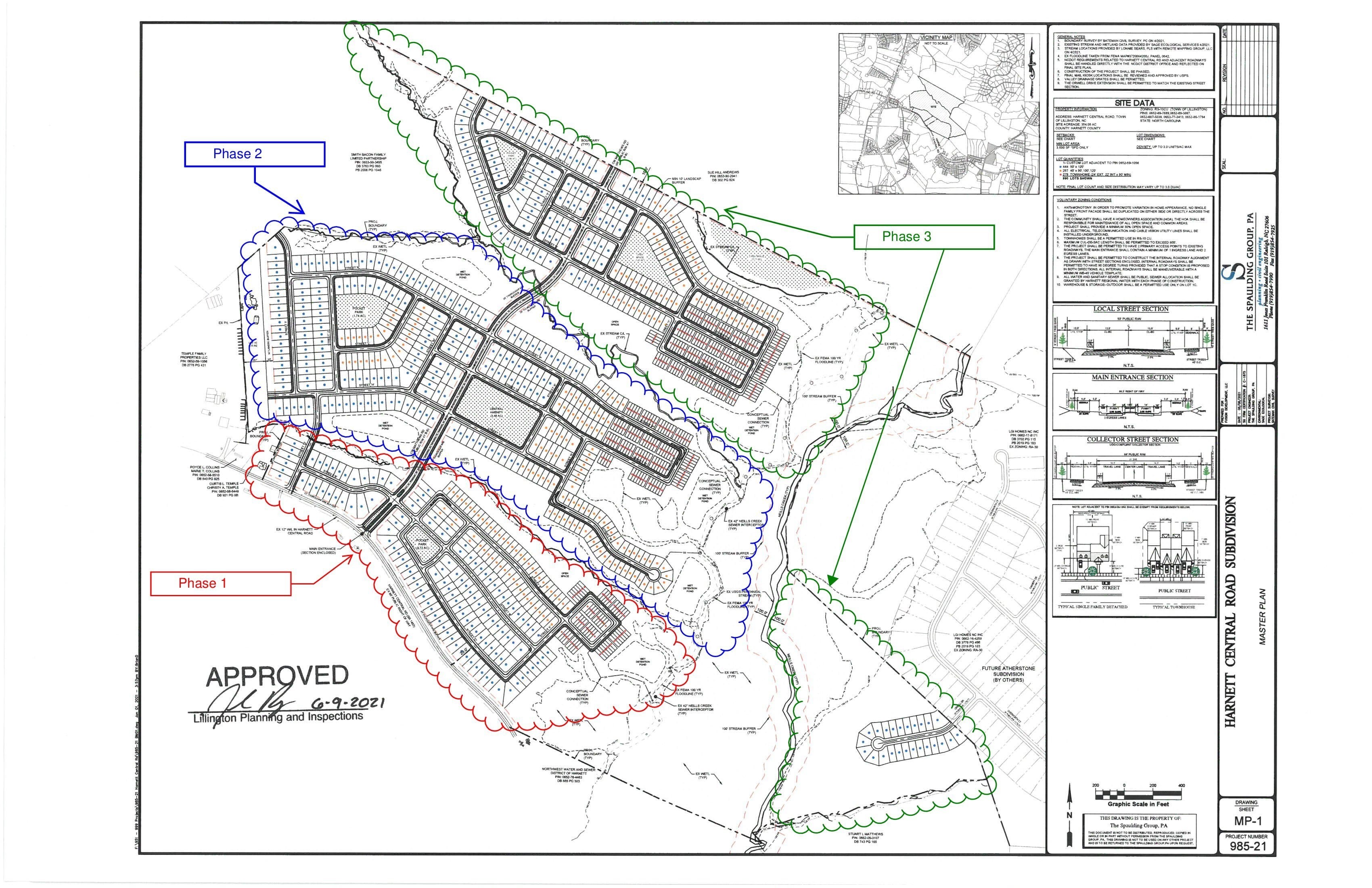 A project that began with the purchase of more than 300 acres of land in Harnett County is continuing to make progress near the Town of Lillington.
In November of 2021, it was announced that Dallas-based Reeder Land Development Company ("Reeder"), a division of Reeder Capital Partners, had purchased 348 acres of land in Fuquay-Varina, Harnett County, North Carolina. According to a press release from Reeder, the land was purchased for the development of a new single family residential planned community within the Town of Lillington ETJ.
Reeder purchased and is developing the land under its wholly- owned subsidiary, Matthews Landing Development LLC. Original plans included up to 940 single-family homes and townhomes located just north of Harnett Central Road and just east of the US 401 N and State Road 2215 Highway interchange. Reeder is under exclusive contract with the Terramor Homes division of D.R. Horton, Inc., the nation's largest homebuilder.
Developers said that the location in close proximity to the Triangle area is what brought the project to Harnett County.
"The central region of North Carolina, and just about anywhere within an hour of the Raleigh-Durham Research Triangle, has shown consistent and dynamic growth, even during the pandemic," said Bryan T. Reeder, Co-Founder of Reeder in a press release. "With Apple's announcement this past April of a new $1 billion-plus corporate campus, plus Google's announced new engineering hub - along with the thousands of high-paying jobs these corporate giants are expected to create - new business opportunities and home values in this region continue to outpace many areas of the country."
The new community, named Matthews Landing, is expected to be built in three phases.
In January of 2023, it was announced that Reeder had completed the sale of the first Phase 1 finished Lots at Matthews Landing to D.R Horton Inc., however the terms of the sales transaction were not disclosed.
According to a recent press release, Bahama, an NC based Global Construction Group who serves as Reeder's General Contractors nationwide, is also handling the complete construction and project management of Matthews Landing.
The latest plan for the development includes 970 lots with various product lines, including single-family homes and townhomes.
"Despite the general slowdown in new home sales, this region of North Carolina continues to show steady growth," said Chris Reeder, Co-Founder of Reeder Land Development in a press release. "The relocation and opening of new large manufacturing, science, tech, and related businesses are generating constant demand for new housing."
D.R. Horton's Raleigh South Division Vice President of City Operations, Courtney Smith-Gonzalez also confirmed the projected need for housing in a press release stating, "New home demand in this region remains strong. We're grateful to the Reeder team for delivering the lots on time, allowing us to begin construction next month [February]. We are confident that our product lineup will offer an affordable option for families looking to move to this up-and-coming area."
The project is currently valued at $15 million. Construction began in late 2022 with scheduled completion expected in late 2024/early 2025.