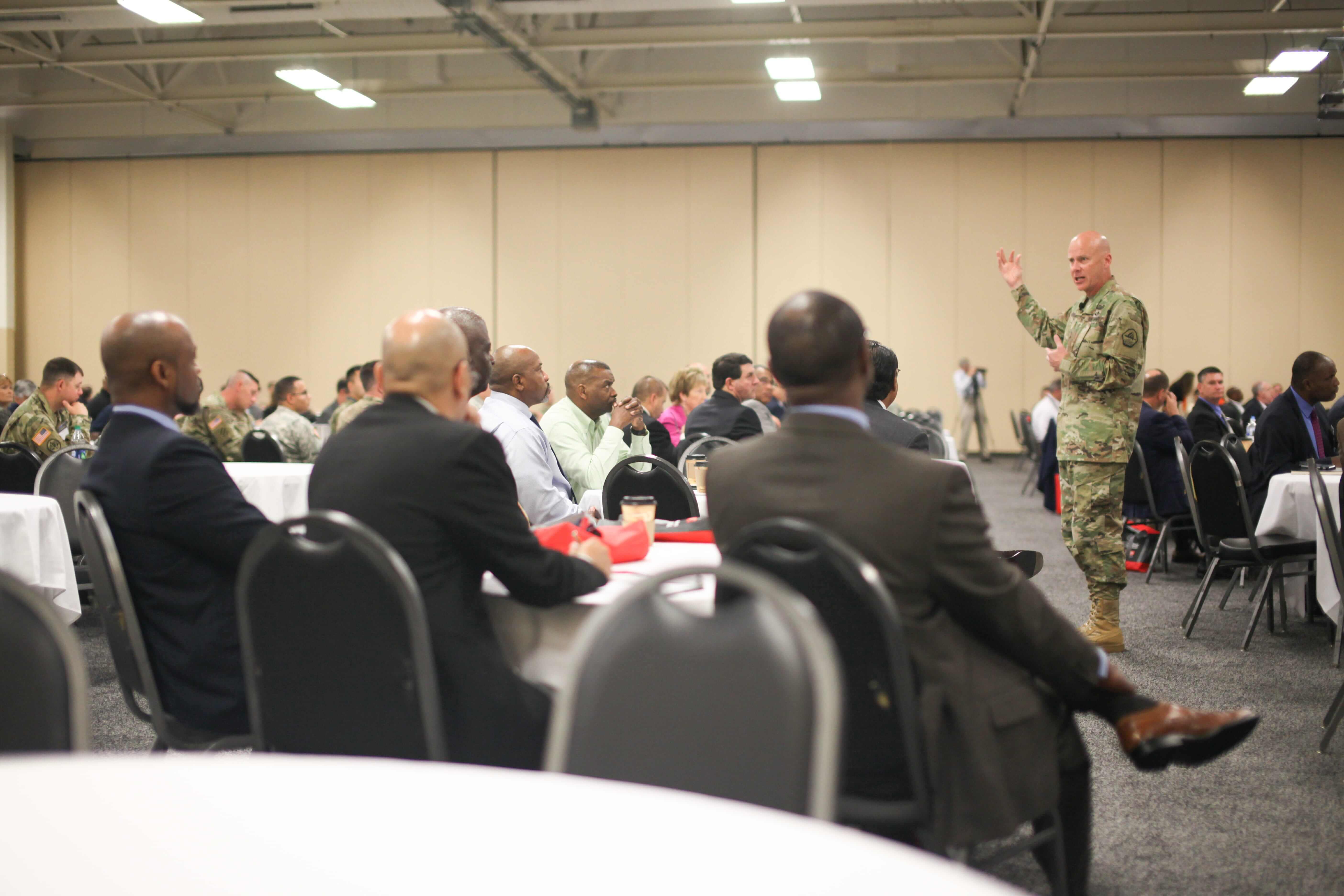 The 2021 TechNet Fort Bragg Symposium and Exposition is set for Sept. 16-17 at ETI Center located in Red Springs, N.C.

The event, hosted by AFCEA North Carolina since 2012, is usually held annually at Fort Bragg but was moved to a different venue due to the pandemic.
"It's focused on everything IT-related — intelligence analysis and things like that," Marv Gordner, president of the AFCEA-NC chapter, said. "Our theme this year is 'enabling mission command' and we have subject matter areas like artificial intelligence, cyber, data management [and the] Cyber Security Maturity Model Certification (CMMC)."

The symposium will feature multiple small business breakout sessions, over 80 exhibitors, interactive demonstrations and a 'Hack-a-Thon' for students.

The venue, ETI Center, is a 90,000 ft space with on-site medical testing and plenty of room for social distancing and outdoor demonstrations, Gordner said.
TechNet Fort Bragg will offer networking and educational opportunities to those attending. The expo will allow attendees the opportunity to gain credits required for keeping up with their government certifications.

"We have leadership panels from Joint Special Operations Command (JSOC), United States Army Forces Command (FORSCOM), United States Special Operations Command
(USSOCOM) and more," Gordner said. "There's a whole lot of other panels focusing on AI, data management, ARVR, robotics, 5G, so you can go sit in these sessions and meet people that have an interest and expertise like you do."

The event will feature many large companies like Booz Allen Hamilton, AT&T, Dell and smaller companies like SOFtact Solutions (STS), Solontek and, Technical Source.

"We are expecting about 450 or more people this year," Gordner said.

"The question is will our government people and colleagues make the trip from Fort Bragg. In the past we've had about 700 to 800 people on base."
"There will be all levels of expertise. There will be people who have been in this field for decades and young people, too. Everyone is welcome," Gordner added. "We've got the right people here, the right information and right leaders. I mean, if nothing else they just give you a vision of what's out there."

The event will feature a keynote speaker each day, a leaders presentation panel and dozens of breakout sessions that attendees can pick and choose from based on their interests, he said.

Dr. Sambit Bhattacharya, Fayetteville State University professor of the Mathematics and Computer Science department will be a returning speaker this year and speak on "Emerging Applications of Artificial Intelligence and Deep Neural Networks."


"In this talk, I will discuss the beginnings of deep neural networks, how and why it is currently dominating the field of artificial intelligence, and what are its emerging applications," Dr. Bhattacharya said.

"The community can look forward to understanding the current and future potential for artificial intelligence and deep neural networks in solving some challenges that the U.S. Defense community faces," he added. "They can also expect to hear why there is a lot of hype around artificial intelligence and deep neural networks, how to separate the hype from what is currently possible and the potential problems and drawbacks of deploying this technology without thorough testing."

Bhattacharya is excited to participate in this opportunity and to meet people outside the academic sphere and learn about the latest and best of what they are doing. Dr. Bhattacharya's talk is scheduled for 10 a.m. on Sept. 16. For a detailed itinerary and registration, visit www.technetfortbragg.com/Home.

Gordner said the goal of TechNet Fort Bragg is to facilitate networking and education opportunities and to raise money. "It's beneficial for local businesses and contractors so you can learn who's doing what and [about] opportunities," he said. "According to our N.C. Secretary of State, Elaine Marshall, the defense industry is the number two industry money-wise ...[for] what it brings in for the state of North Carolina."

TechNet Fort Bragg is AFCEA NC's biggest fundraising event of the year. Before the symposium, the organizers will host a golf tournament on Wednesday, Sept. 15 to raise money for their different ventures and for attendees to build connections. For more information
visit www.birdease.com/afceancgolf.

"We give at least $30,000 a year away to local young people going to college for scholarships, to people who are in college, the ROTC at Fayetteville State University, Campbell, N.C. State among others and to veteran students at FTCC," Gordner said. "We also give at least 11 STEM grants to local teachers to pay for robotics and Legos and such."

TechNet Fort Bragg is open to anyone interested in learning about the field including high school and college students. "If I keep my notes clean and work hard, we live in a land of opportunity, there's a ton of things you can do in this country," Gorder said.

Registration for the event is open until the day of, and tickets are free for government, military and civil servants. Contractors and industry tickets will be sold online for different prices. TechNet Fort Bragg is offering small businesses and students the opportunity to volunteer and get access to the event for free.

For more information about the 2021 TechNet Fort Bragg Symposium and Exposition visit, www.technetfortbragg.com/Home.