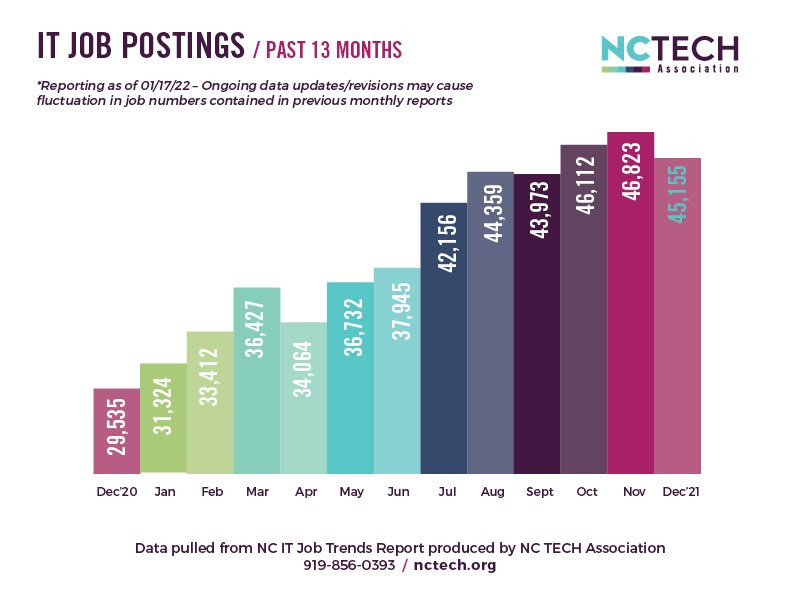 The NC Technology Association just released their monthly snapshot of available IT positions in the state for the end of 2021.
The December snapshot for 2021 showed a slight dip statewide in numbers compared to November's 2021 snapshot - which recorded the highest number of IT positions for the year. However, there is a significant increase compared to December of 2020.
However, not so for the Fayetteville MSA, which saw an increase in IT positions.
In November, Fayetteville had 496 IT positions which is a 64 percent increase from November of 2020. In November North Carolina accounted for 46,475 IT positions in the United States.
Fayetteville is ranked fifth in December's snapshot for 2021.
Fayetteville's MSA region last month had 1,506 IT positions which, in addition to being an increase from November, is an 86 percent increase compared to December of 2020 IT positions.
The IT positions in the MSA Fayetteville region include those in Cumberland, Hoke and Harnett County.
"It is common for hiring to slow in the fourth quarter, particularly December, so the fact that job openings are still near their highs is encouraging as we move into the new year," explained Brooks Raiford, CEO of NC TECH.
At the end of 2021 North Carolina saw a 53 percent increase bringing in 45,155 IT positions. The results of the December snapshot also showed that Software Engineer and Info Systems Security Professional being the top occupation and certification for the year.