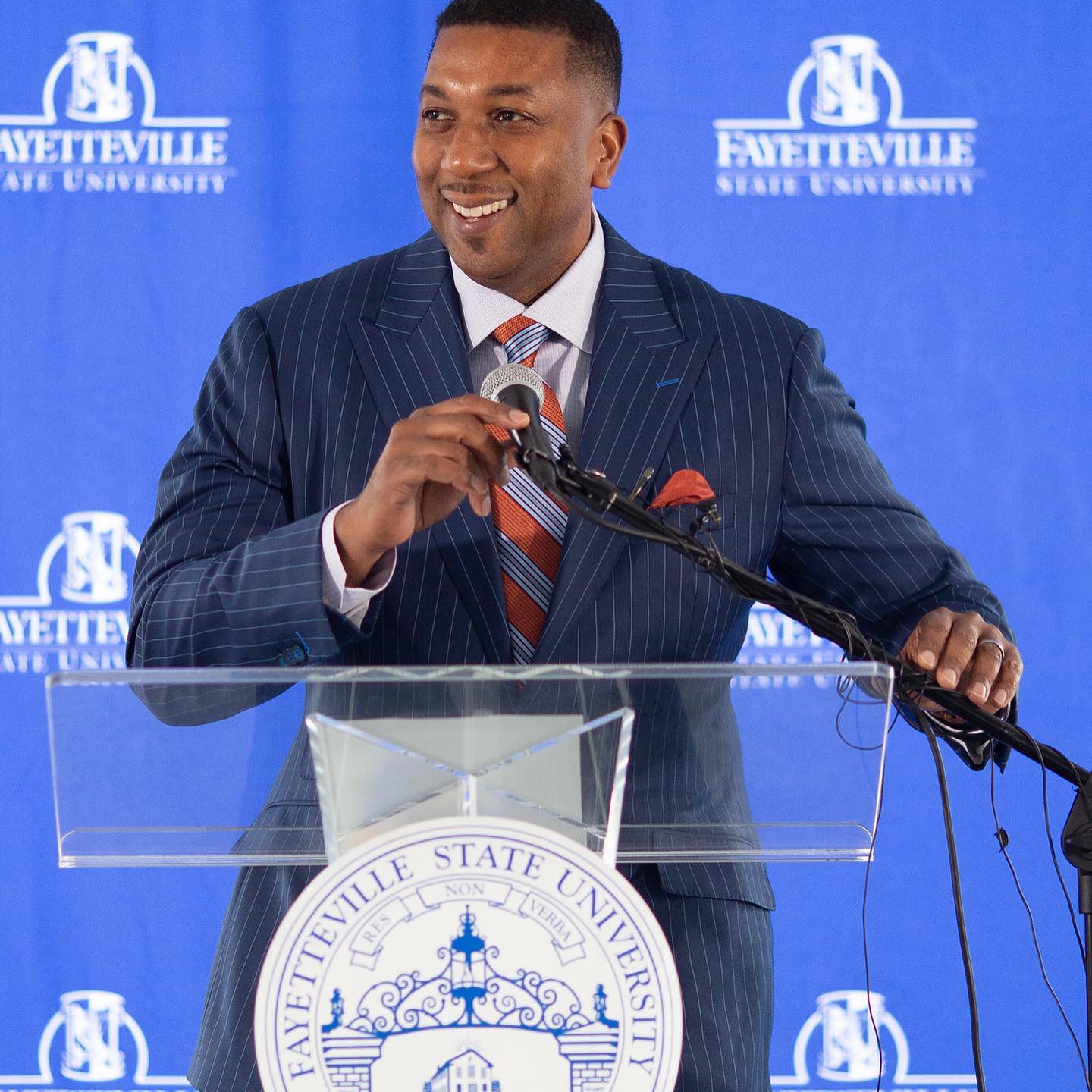 Fayetteville State University announced at a press conference recently that the institution would fully acquire Bronco Square Shopping Mall, a strip mall located near the campus, debt-free.
The development and strip mall was established conceptually in 1999. In the first stage of building in 2002-03, the first ten units were built. A few years later, an additional ten units were built and in 2006, the FSU bookstore was built. About a year and a half ago, a McAlister's Deli was added to the square.
"We've been very busy over the past seven months here," said Wesley Fountain, associate vice chancellor for community relations and economic partnership at FSU, "to establish a stake hold in the community, not only in Fayetteville but in the region as not only the premier higher ed institution but as an economic development institution."
After not having a homecoming celebration last year due to COVID-19, Fayetteville State University welcomed homecoming back with open arms as the vaccination rates on campus jumped from a 22 percent vaccination rate to approximately 64 percent verified vaccination rate in the past six weeks.
Chancellor Darrell T. Allison saw the announcement of the acquisition as the perfect way to kick off the event.
A few months into his career with FSU, Allison began to learn about Bronco Square and its history for the campus. After long and thoughtful negotiation meetings with local businessman Gary Ciccone, who serves as the chairman of the Select Bancorp, Inc. and Select Bank & Trust Boards of Directors, Allison declared, "Today we can publicly announce that Fayetteville State University, where we stand today, we are in one hundred percent ownership of Bronco Square."
"He's one heck of a negotiator. I can tell you that," Ciccone said. "He wore me out, but I'm very excited about all this. The first time I set foot on this property was 20-some years ago… There was nothing here except for the sign that said 'Coming soon: Bronco Square,' except it obviously wasn't coming soon because the post underneath it had rotted."
Back then, Chancellor McLeod had a vision to put a retail center there that would provide convenience for the community and college students on campus. Another vision was to create an opportunity for young entrepreneurs who wanted to open a small shop of their own. The third objective was to make the square a business that would create an income stream for the institution.
"I'm very pleased that I think we've accomplished what we wanted to ... the three objectives that Chancellor McLeod had," Ciccone said. "And I think this has been a very good example of a private-partnership, a joint venture that has worked very well." "I recognize my mortality. I know I will not be here forever, but God willing, Fayetteville State University will be," Ciccone said. After congratulating Chancellor Allison, Ciccone invited him back to the stage. "I have something for you," he said. "This is the master key," Ciccone joked about a large cutout of a key, symbolizing the finalization of the acquisition. "This is going to look great hanging from your keychain."
"And one more thing," Ciccone said to Allison. He drew back a cloth covering a podium to unveil a $150,000 check from the Ciccone family, marked as an investment in Fayetteville State University. "In appreciation of all that Fayetteville State University has meant for this community, and in anticipation of all of the great things that are going to come under your leadership, my family and I are excited about giving this gift to the university."
"Now, it's one thing to be one who is gifted in business, but it's also very rare to also be generous … Truly, we appreciate it. We'll make good on this investment — I promise you that," Allison said. Bronco Square, which is currently home to businesses like McAllister's Deli, a beauty salon and the FSU bookstore, will also soon welcome a new, freestanding Chick-fil-A.
The school also plans to build a freestanding Starbucks on its campus. The Chick-fil-A and the Starbucks together will total approximately five million dollars in debtfree assets for the school.
In addition to the acquisition, incoming developments and Ciccone's financial gift, Chancellor Allison said that the school had more to unveil. After months of conversations with stakeholders in the business community, Allison said the university saw the need to attract and retain people who would want to stay and work in the community.
With that, Allison made an executive decision that, upon the finalization of the acquisition, the bookstore would move into the university's library, and the current location of the bookstore in Bronco Square would be transformed into the FSU Entrepreneurial Innovation Hub.
"We want to do our part for the city, for the county, for this region, for our small businesses, for our emerging entrepreneurs … we want to play our part … so we can be a more viable partner here, so as Fayetteville State grows, so does Fayetteville. So does Cumberland County. So does this region."
Distinguished guests included a variety of recognizable figures from the community who have shown their support for the institution, including Senator Kirk DeViere, Representative Diane Wheatley, Representative Marvin Lucas, Representative Billy Richardson, FSU alum and Mayor Mitch Colvin, Cumberland County Commissioner Glenn Adams, CEO of Golden Leaf Scott Hamilton, Board of Directors Chair for Golden Leaf Bo Biggs, Fayetteville State University Development Corporation Board Chair Ulysses Taylor, Board of Visitors Chair Dr. Roxie Wells, William Brooks, John Malzone, and Field President of Higher Education at Aramark Trevor Ferguson.
The new hub will be about 6500 square feet of office space used for entrepreneurial activities and will be a one-stop-shop for emerging businesses and a place for the exchange of ideas including work and media spaces, resource center, and conference rooms.
"Fayetteville State University is at the heart of one of the fastest growing regions in the state, the Sandhills region. We are excited to share this special announcement as our university practically connects the business community and enterprise to learning communities and future leaders. FSU is a hub for innovation and Bronco Square will continue to grow and support the greater Cumberland County community," said Allison.