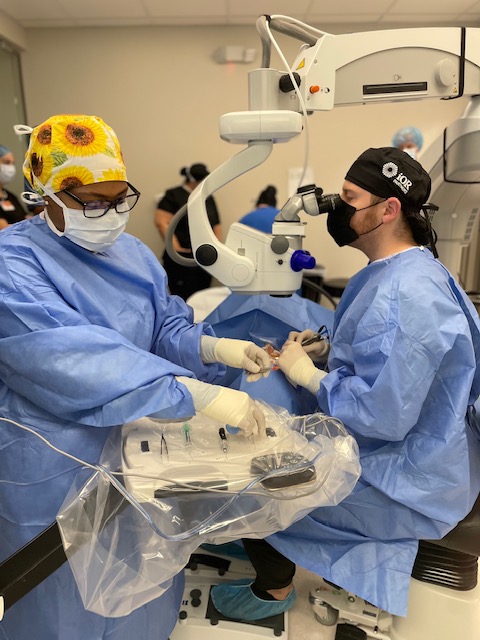 Cape Fear Eye Associates staff are celebrating the completion of substantial renovations to their office on Owen Drive.
Now offering office-based surgery, the location began performing in-office operations on Sept. 20. Providing office-based surgery to clients delivers a number of benefits for employees and patients alike.
"The office-based surgery suite that we just opened, the one huge benefit of that is that it does not require IV sedation, so everything is sublingual, meaning that they don't have to get a shot or any IV to be sedated for a cataract procedure or other minor types of surgical procedures that they typically have to do in an ambulatory surgery center," shared Cape Fear Eye Associates Chief Operating Officer Leo Swift.
This is the fourth office-based surgery center to open in the state and prior to this update, the doctors and patients would have to go to the hospital or a separate ambulatory surgery center.
Swift shared that office-based surgeries don't incur as high of costs, saving money for the patient and the insurance company.
"It's a really great opportunity for the Fayetteville community...and the equipment is state of the art. We put in Zeiss microscopes, these are made over in Germany. They're probably the best microscopes you can have on the market, along with other types of equipment that do really sophisticated type measurements," shared Swift.
Common in-office surgeries include operations to treat cataracts, glaucoma, corneal procedures and more.
"The tools that the docs use are the same tools you'll find at Duke University or the Mayo Clinic, that the same equipment that's being [used in] the big cities, like Chicago, New York, LA is [being used] right here in Fayetteville," commented Swift.
Cory Worrell, Director of Marketing for Cape Fear Eye Associates, led the Greater Fayetteville Business Journal on a tour of the newly renovated facility.
The renovations are expansive and include a pre-op area, two surgical suites, a post-op space, a new conference room, a new space for the billing department, new doctor's offices and upgraded exam rooms, new equipment and an updated, modern lobby.
"The goal is always to provide a safe place for the patients where they can get really good results," commented Swift.
The Owen Drive location had a wing previously dedicated to pediatrics, but they are no longer doing pediatrics as they shift their focus to strictly surgical and medical. This wing will now be used as a space for one of the doctors. Worrell shared that the goal is for each doctor to have their own lobby.
Just as they've upgraded to the newest equipment, Swift shared that the staff are working towards embracing new skills and new technologies as they are integrated into health practices.
"What's happening in healthcare right now is AI... That is going to revolutionize medicine as we know it in the next few years," remarked Swift.
Swift confirmed that they've begun training for some of their team in the uses for AI within their field.
Additional goals include renovations for their office on Metro Medical Drive. They've gotten rid of the optical shop at this location and they're going to expand the call center and extend the lobby.
Swift, Worrell and the rest of the Cape Fear Eye Associates staff are excited about the positive developments the office has seen, and this is only the beginning of their growth. They plan to bring on more surgeons next year.
______________________________________
To find out more about Cape Fear Eye Associates and the services they offer, go to their website at www.capefeareye.com.