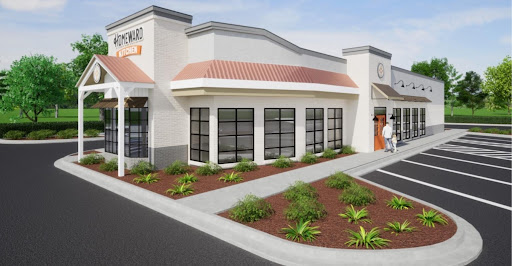 TradeMark Properties has announced that the Raleigh-based Golden Corral Corporation has selected them as their broker in North Carolina and the Master Broker for Virginia, South Carolina, and Georgia for the restaurant chain's new fast-casual concept called Homeward Kitchen.
Homeward Kitchen is launching this year and will feature comfort food served in a fast-casual format with counter service and drive-thru service options. TradeMark Properties Senior Vice Presidents Vijay K. Shah, CCIM, and Shelley Bhatia, CCIM are representing Golden Corral in transactions associated with the concept.
The initial location secured by Trademark is located at 10735 U.S. 15-501 in Southern Pines. It is a recently acquired 4,200 SF building that was formerly a Chick-Fil-A.
"Golden Corral has been a comfort food institution in the southeast for the past 50 years, and we are honored to be working with them as they launch this exciting new concept that will allow guests to enjoy comfort food in a modern way," said Vijay Shah in a press release.. "As part of our work, we are looking for properties that will allow drive-thrus in areas that fit the Homeward Kitchen criteria."
Shah and Bhatia are part of the Retail Brokers Network (RBN). They are working with other RBN brokers in South Carolina, Georgia, and Virginia to identify possible Homeward Kitchen sites.
Sites that will be considered include 2,800-34,200 SF, existing quick service restaurants with a drive-thru for sale or lease, as well as build-to-suit or those that Golden Corral can purchase and self-develop. The sites must also have a minimum of 40 spaces for parking and be located in an area with 20,000-40,000 vehicles per day, a population of at least 50,000 people, and within a five-hour drive time of Raleigh, NC.
"TradeMark has been a great partner willing to work with a large broker network to help us grow Homeward Kitchen," said David Conklin, Chief Development Officer for Golden Corral in a press release.
The first Golden Corral restaurant opened in Fayetteville, N.C., in 1973.