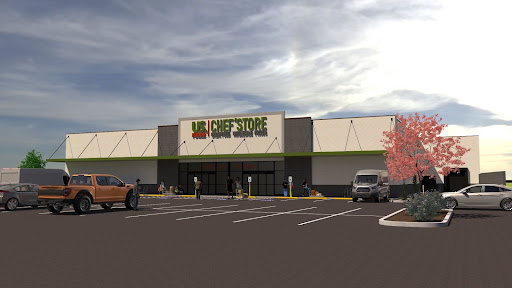 US Foods Holding Corp., one of America's leading food service distributors – announced that it will open new US Foods CHEF'STORE® locations in Fayetteville, N.C., Roanoke, Va., and Greenville, N.C. All three locations are expected to open in late fall 2023. CHEF'STORE offers a one-stop-shop for restaurant operators, food industry professionals, community groups and at-home chefs to quickly stock up or replenish ingredients and supplies by the case and in individual quantities.
The Fayetteville store will join two existing CHEF'STORE locations in North Carolina. The Greenville store will be located at 901 Mall Drive, and the Fayetteville store will be located at 505 Cross Creek Mall.
The upcoming warehouse format stores will range between 20,000 and 23,500 square feet and will offer a wide assortment of products, from fresh produce, meat, dairy, and beverages to restaurant equipment, catering essentials, janitorial supplies and other restaurant essentials. CHEF'STORE is open to the public seven days a week and no membership is required.
"As part of the US Foods omni-channel strategy to provide enhanced delivery and retail options to foodservice operators, we are excited to continue to grow the CHEF'STORE footprint," said Irfan Badibanga, president of CHEF'STOREin a press release. "Our CHEF'STORE locations provide an unmatched solution for restauranters, smaller foodservice operators and price-conscious community members to get the products they need when they need it, and we look forward to serving new and existing customers."
Since acquiring Smart Foodservice Warehouse Stores in April 2020, US Foods has continued to strategically expand its cash and carry market footprint. With the addition of the three new locations, US Foods will have a network of more than 90 CHEF'STORE locations across 13 states.