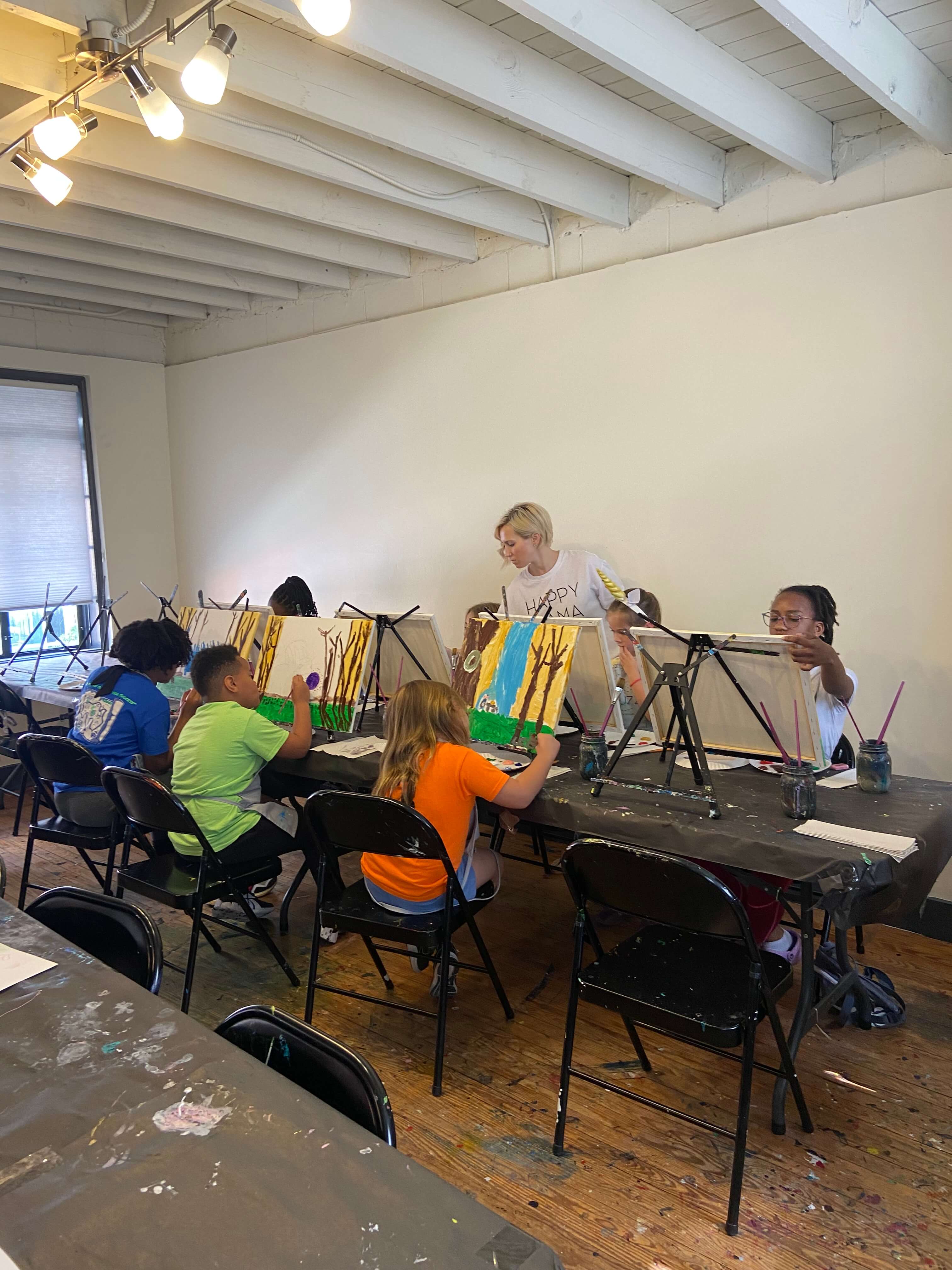 The do-it-yourself industry has been of high interest in recent
years across the country. From pottery, painting, sewing, knitting, wood-working, and more, the hobby-based craze has facilitated endless opportunities for communities and businesses to come together.
According to an article by Inc.com in 2017 with the help of Technavio, a market research firm, the DIY market was estimated to produce $13.9 billion by 2021. At the end of 2021 the industry saw a 4.08% growth and is expected to grow by $154.76 billion as reported by PR Newswire.
So what is it about DIY that is so intriguing?
Part of the draw is that creativity doesn't happen in solitude; many businesses offer opportunities to make and take home pieces of art by providing the basic equipment needed with a studio fee and the cost of paying for supplies. People feel the freedom to venture out of their homes into different areas of their town or city to tap into self-expression with friends, family, coworkers, and sometimes even strangers.
One local DIY business provides a range of affordable private and public paint-and-sip parties for all ages, groups and talents. From girls nights out to birthday parties, work events to date nights, Wine & Design provides fun activities and events for everyone.
Located at 113 Donaldson Street in Fayetteville, Wine & Design currently offers canvas paintings and are starting to incorporate ceramics with the hopes to start offering more DIY designs such as woodworking.
The business was taken over about a month ago by Jenna and Mike Argent.
"We loved doing stuff like this. We've been to the one in Myrtle Beach and it was so much fun. We took our daughter with us and had a date night," said Jenna Argent. "He (Mike) saw it was for sale and he said, 'We love doing this with our kids so let's do it.'"
"The big thing for us [was] the memories that were created here. I
didn't realize how much we would love and how much it is for us," added Mike Argent. "We've had such good times doing this, so why not help create those memories for others?"
The steps to make memories that will last a lifetime through events by Wine & Design are simple.
It begins by going to the shop's website and picking which event one is interested in. The options are endless, with Wine & Design offering events on their website calendar; dates for booking private events; Art Buzz Kids activities, team building opportunities; Paint It Forward; and other various DIY activities.
After selecting an event, participants will arrive at the store and will be greeted before being instructed to take their seats. Once seats are taken, painting will begin. Customers are welcomed to make themselves at home and bring wine, beer, or any other drink of their choice into the studio.
Another popular business that provides fun and excitement in the
Fayetteville area is Greg's Pottery, located at 122 Maxwell Street.
The business started nearly 17 years ago and has provided joy and light to everyone that steps through its doors.
"I was living in California and decided to move back here, and
downtown was big in revitalization, so I decided to do something here –which originally started out with four tables, and now there's nine or so," stated owner Kelly Hathaway.
Whether artists want to paint in the studio or from home, Greg's Pottery has offerings for everyone.
One option includes coming
into the store and picking out the pottery and painting the colors and designs. Once finished, customers leave the pottery to be put in the kiln before coming back to pick it up.
Another option includes doing Pottery To Go. Customers are able to come back and pick out the pottery with paint and take it home to work on. This option allows customers to have fun while in the comfort of their homes.
With this option, customers have to bring their pottery back to be put in the kiln and return to pick it up.
The wait to pick up pottery is typically approximately one week.
"This is something that is fun for all ages. It's something that adults can do with kids, or it can be date nights, but it's also something that allows them to be in the present and not on their phones and fully engaged in conversation and being creative," said Hathaway.
Aside from providing fun memories for families, friends, and relationships, DIY businesses are also a great way to get other businesses and their employees to bond.
"Work environments are hard. So team-building is a wonderful opportunity to grow that family within a business; and with COVID recently, it has been so weird for everybody who's been working remotely for so long," stated Roxanne Rothenberger, Wine & Design manager.
Being involved in hands-on-activities can be a way to escape from stress and unwind. Fayetteville is the fourth largest metropolitan area in North Carolina and is home to both small businesses and large corporations, not to mention the military base next door. But in 2022, the business climates are constantly
evolving through pandemic-related needs, employee shortages, mental health needs, and more. For businesspeople under pressure, creating something new may especially prove to be helpful.
Data shows that there is a direct correlation between high cortisol
levels and high stress levels. Research from Drexel University's College of Nursing and Health Professions in 2016 indicated that making art helps the artist, regardless of experience, reduce stress hormones. In a study published in Art Therapy entitled
"Reduction of Cortisol Levels and Participants' Responses Following Art Making," 75 percent of the participants experienced lower cortisol levels after creating art for 45 minutes.
Being in an environment like these shops create allows employees to see another side of each other that they may have never seen before and get to know each other on a personal level.
"I feel as though being in this type of environment allows people to come in and let their hair down and relax," added Hathaway. "They don't have to talk about work, and it opens people's eyes to the fact that they are creative."
Investing time in the hobby-oriented businesses is more than just
making something to bring home and hang on the wall or place on a shelf for everyone to see it. It creates something different – a keepsake of good times filled with community, relaxation and inspiration.