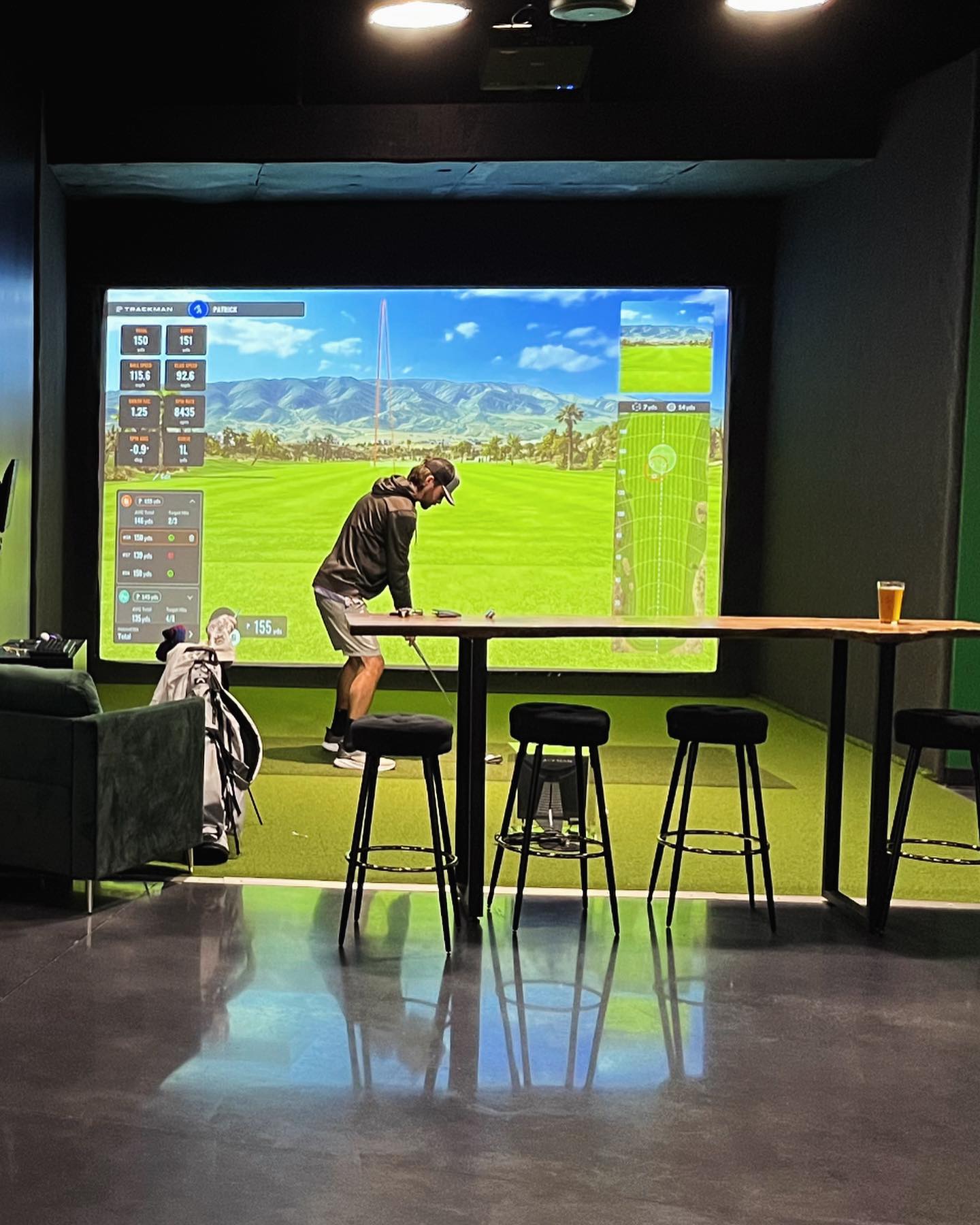 Double Eagle Indoor Golf & Lounge recently opened its doors to guests and is gearing up for an official ribbon cutting ceremony on Nov. 28. Located at 208 Brucewood Rd. in Southern Pines, this new venue offers fun for the whole family.
The founding team of the Double Eagle includes Roger Powell, Emily White and Cory White.
Cory and Roger are both members of the Air Force, and Emily runs a tech firm out of DC. Cory plans to retire from the military in the next couple of years and Emily shared that she and her husband were considering what might be next for them. After falling in love with Southern Pines and golf as a sport, the team decided to take the plunge and bring an indoor golf venue to the area.
Emily explained that the three of them had all noticed a lot of virtual golf popping up in different places and they were surprised that in Southern Pines, a mecca for golf, there was no such place yet.
Their venue features four Trackman Golf Simulators as well as a bar and gathering area. Emily shared that the response they've received since they've been open the past few weeks has been overwhelmingly positive.
"We've already found that we have regulars, so people who are in two or three times a week, and we're getting to know the community and everybody's been very supportive, really responsive and have loved what we've brought. So that's great news," remarked Emily.
They offer lessons with PGA pros as well as swing assessments from their resident chiropractor. Guests may bring their own clubs or pay to rent clubs from the facility. Golfers who are more serious can come play one of the 250+ courses in the Trackman library. Those looking for something more casual can bring family or friends to chill out and play any of Trackman's games including Bullseye, Capture the Flag, Closest to the Pin and more.
The Double Eagle team is passionate about staying plugged into the community.
"...We love golf and we've been partnering with other courses and things like that so that if they have a rain out or if they have a frost delay, people can come in and play in the mornings before they play outside. And so we really love the partnership with the whole community whether it's restaurants or courses or local pros and things like that" shared Emily.
The business is open Sunday - Wednesday, 9 a.m. to 9 p.m. and then Thursday - Saturday are 9 a.m. to 10 p.m. at night.
For more information or to book your time visit https://www.doubleeaglenc.com/.