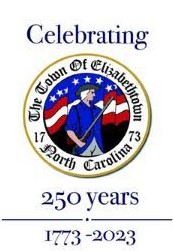 The Town of Elizabethtown will kick-off its yearlong celebration of its 250th Anniversary with a parade, Revolutionary War displays, and a traditional Celtic music band on Saturday, March 4.
According to the organizers, there will be five separate events celebrating the anniversary with the first being in March and the last in November, each celebrating a 50-year period of the town's history. The kick-off date was chosen because in March of 1773, the charter designating 100 acres of land on the Cape Fear River as the Town of Elizabeth was signed.
Founders Day will start with a parade down Board and Poplar Streets at 10 a.m. Organizers are requesting that descendants of the founding fathers or the patriots who participated in the Battle of Elizabethtown celebrate their own history by putting an entry in the parade. Parade entries are not limited to those individuals but can be a business, church, organizations and anyone else who "found" themselves in Elizabethtown.
At 11 a.m. Mayor Sylvia Campbell and other dignitaries will officially recognize the 250th Anniversary, followed by presentations on the establishment of the town and the story of the Battle of Elizabethtown at the Cape Fear Farmers Market, 106 MLK Dr, Elizabethtown. Several Revolutionary Way displays will be manned by the Sons and Daughters of the American Revolutions. At noon, Barrownburn will perform traditional Celtic Music. There will also be vendors of various types including colonial glass blowers and activities for the children. Events at the Farmers Market will last until 3 p.m.
Other dates that will feature celebratory events include: May 7 with a focus on the Civil War Era, July 8 focusing on the importance of agriculture, Sept. 23 focusing on major industry leaders and finally modern time will be celebrated during the Annual Pork & Beats Festival on November 3 & 4.
**As of Feb. 27, Organizers have announced that the Founder's Day Parade scheduled for 10AM on Saturday, March 4 has been cancelled.
All other events scheduled for March 4 will take places at the Cape Fear Farmers Market. Starting at 9AM, visitors can explore a display of Revolutionary War memorabilia, sign up as a descendant of a Patriot, and stroll through the vendors. At 11 AM, the official opening ceremony for the 250th Anniversary will take place. Cadets from Paul R Brown Academy will provide the color guard and present a drill performance.