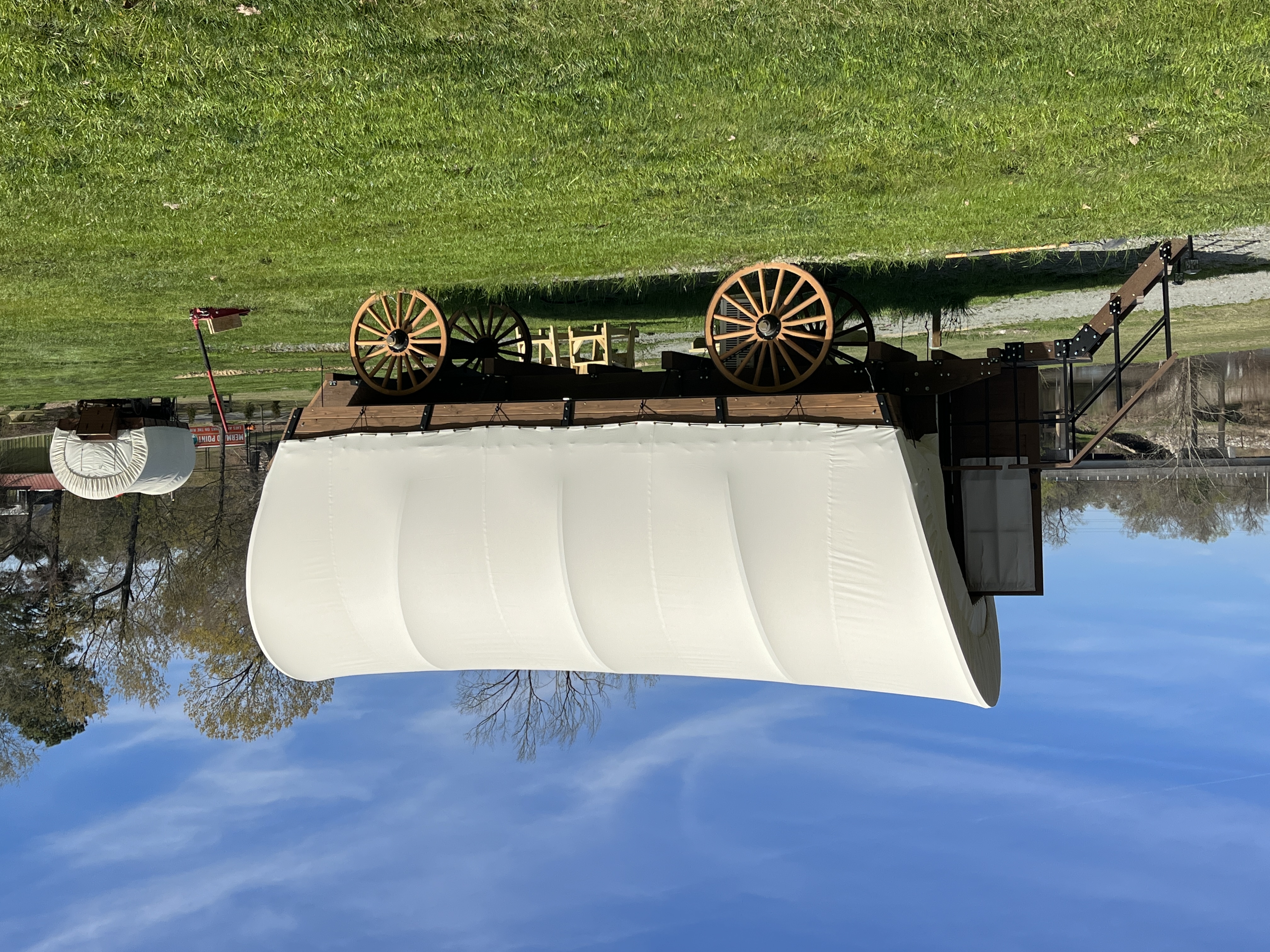 Summer is approaching rapidly in North Carolina, and we all want to make long-lasting memories for ourselves and our families and friends. It can be difficult to plan a vacation that fits everyone's needs, but not anymore! Cape Fear River Adventures is proud to announce the opening of the Cozy Heron Glamping experience. Love the outdoors, but not a huge fan of sleeping on the hard ground? Need a respite from the bugs? Don't want to hike for miles
carrying all that camping equipment? Then this local glamping experience is the summer adventure for you! It is not your typical campsite; the Cozy
Heron Glamping area houses their guests in hand crafted, fully furnished covered wagons for a truly unique vacationing experience.
"It is truly glamping in the sense that you are outdoors, but if you're not one who wants to be out with the critters or shower outside this is the way to go," said Business Operations Manager, Nancy Findley. "This is the experience for people who love to be outside, but don't necessarily love to camp—this gives you the best of both worlds."
The site is conveniently located in Lillington in a gorgeous area along the Cape Fear River. It is a perfect blend of enjoying the great outdoors in addition to having all the comforts of home right there with you on vacation.
The Cozy Heron Glamping campsite features five stationary covered wagons positioned right alongside the river on eight acres of land.
Each individual wagon is eight and a half feet tall, twenty-five feet long, and contains one hundred and eighty square feet of space to relax in. The covered wagons are fully equipped with electricity, Wi-Fi, heating and air conditioning, and are fully customized with cozy furniture, tasteful décor, and convenient appliances. Each wagon is outfitted with a table with chairs, a mini fridge, a microwave, a coffee maker, a king size bed and two bunk beds.
Each wagon can accommodate four people, and at a twenty-guest maximum capacity currently, the Cozy Heron Glamping experience lives up to its name with a secluded, cozy vibe to your vacation. A bathhouse is just a short walk away from the wagons, with all the amenities of home.
"It's just a wonderful way to get people outside in a comfortable situation," said Findley. "A guest might be like 'Oh I really like this, I might like to try camping' or someone might be like 'Nope, this is just my speed.'"
The Cozy Heron Glamping experience presents new options for hikers and campers and is a great steppingstone for those just getting into the world of camping. The wagons encircle a beautiful stone communal fire pit, complete with seating, a grill, and stocked with games for everyone to enjoy.
"You're sleeping in a luxurious bed but then you're outside at the firepit, it really is just the experience of camping but with all the luxuries of home," said Findley.
Owner Ilia Smirnov started the idea for this glamping experience three years ago, setting up the wagons and opening the experience to guests at a soft launch in March. Smirnov's passion for the outdoors and the Cape Fear River, and the desire to share it with others, fueled this project.
"Truly his [Smirnov's] vision was to help get people outside more," said Findley. "They [Smirnov and family] love the river, this is their focus. The river is their passion, and so to share that with everyone in the area is their goal, it's to get people outside and to experience nature."
Designing a space where anyone could try out a more luxurious version of the outdoors really alleviates the initial stress amateurs can experience when trying out camping for the first time.
Guests can make their stay as adventure-packed or low-key as they like with the plethora of options the Cozy Heron Glamping experience has to offer with Cape Fear River Adventures. Kayaking, river tubing, and other aquatic sports are some of the adventures that 'wagoneers' have access to.
"Another thing, if while you're staying in a wagon you get 20 percent off all river activities," shared Findley. Local Lillington attractions are a kayak trip away from the wagons, such as Cape Fear Shiner County Park and Lillington River Park, both of which offer kayak landings. Cape Fear Shiner County Park has picnic areas and volleyball courts, and Lillington River Park has playgrounds and covered picnic areas. Close by the wagons are other adventures to fill your vacation with, such as the Hawk Manor Falconry, Keith Hills Golf Club, and Lost Paddle Pizza.
The Cozy Heron Glamping experience and Cape Fear River Adventures work hard to help the local business scene, all while offering recreational services to the community.
"We are a strong supporter of the economy in the area, we love to support small businesses in any way we can. If we're going to get something, it's going to be at the local hardware store, or at the beehive, and we have just the local business of Lillington in our guidebook," shared Findley. "We're very excited after three years of work and research to finally be at the point where we are hosting guests. We can't wait to make more river friends and have them come out and experience the joy of the Cape Fear River."