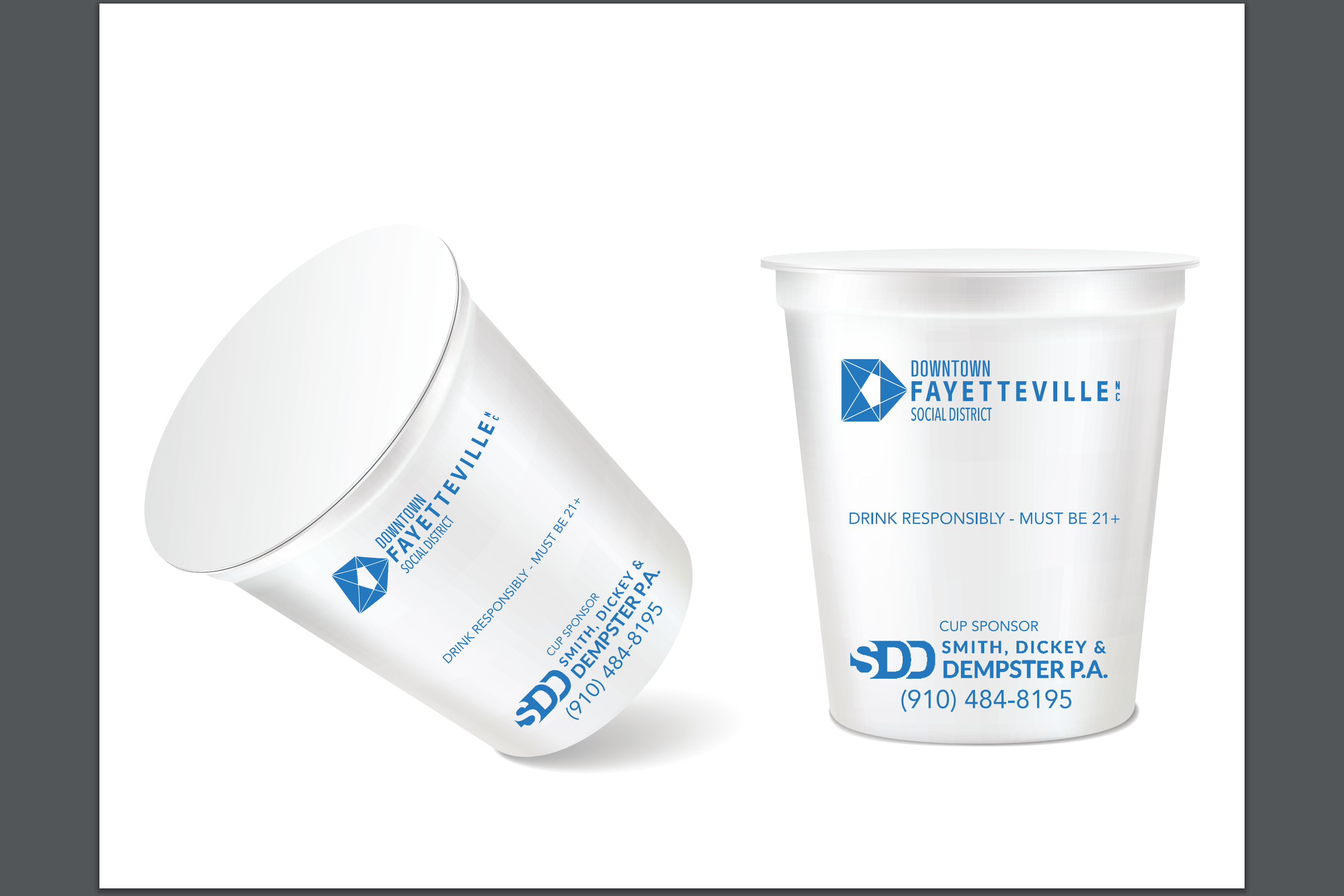 Just in time for Valentine's Day, downtown Fayetteville's Social District has launched! An open container policy created by the Cool Spring Downtown District and the City of Fayetteville, the Social District allows patrons to carry the alcoholic beverages they've purchased at participating businesses as they stroll through a designated area in the city's core.
The Social District offers many benefits, including attracting more visitors to downtown Fayetteville, generating increased revenue to support Fayetteville's independent restaurateurs and retailers, and promoting pedestrian enjoyment of the downtown core. Helping to make downtown Fayetteville a more liveable and vibrant place, patrons can explore the Social District on foot and shop at certain participating businesses with their favorite beverage in hand.
To help guide patrons through the Social District, Cool Spring Downtown District has made stickers to designate how each business is participating. Look for our Social District stickers on the front window of businesses that indicate whether Social District beverages are sold at the establishment, if Social District beverages can be enjoyed in the establishment, or if Social District beverages are not permitted in the establishment.
There are a few parameters to enjoying the Social District. After purchasing an alcoholic beverage from one of the participating restaurants or breweries within the Cool Spring Downtown District, patrons must pour their beverage into a specially designed cup that indicates where the drink was purchased. Cool Spring Downtown District would like to extend our special thanks to Smith, Dicky & Dempster P.A., located at 309 Person St., for sponsoring 10,000 of our Social District cups.
Patrons cannot carry their unfinished alcoholic beverage into a different restaurant or brewery from where they purchased their beverage. When patrons are finished enjoying their beverage, we ask that they dispose of their Social District cup in any of the trash receptacles located in downtown Fayetteville.
In addition, patrons are only permitted to carry their open container within the Social District's boundary lines during certain hours. The Social District zone runs from the intersection of Winslow St. and W. Russell St on one end, to where Bow St. meets Person St. on the other end. View a map of the Social District and the list of participating businesses here: VisitDowntownFayetteville.com/socialdistrict. The Social District hours are from 12:00 PM to 10:00 PM on Monday through Saturday and from 10:00 AM to 10:00 PM on Sunday.
Please consider patronizing these downtown Fayetteville businesses that sell Social District beverages: The Sip Room, Bright Light Brewing Company, Bruce's Sportsbloc and Lounge, Winterbloom, Pierro's Italian Bistro; Blue Moon Cafe; Gaston Brewing Company; Cameo Art House Theatre; The Livery Cigar Emporium; Archway Burgers, Dogs, and Beer; Coffee Scene at the Prince Charles; and Hay Street Kitchen and Rooftop.
Downtown Fayetteville businesses that do not sell Social District beverages but welcome their consumption while patrons are on the premises include: Ravens Nest Tattoo and Cranium Company; Reverie Goods & Gifts; American Barbershop; Garnet Skull; Hummingbird Candle Co.; The Sweet Palette; PRESSED; City Center Gallery & Books; Stevies; Arts Council of Fayetteville/Cumberland County; A Bit of Carolina; Momma's Village of Fayetteville; Washington Apparel Company; Malzone Marketing, Inc.; Cursive; Fayetteville Wellness Center; Greater Fayetteville Chamber; Turner Lane; Fabulous Finds Boutique.
Be mindful that some businesses opted to place Social District "not permitted" signs due to the nature of their business. Please respect those policies and enjoy your beverages at the Fayetteville businesses that welcome them. If you're unsure, please ask the staff if you can bring your alcoholic beverage inside.
Whether you enjoy consuming Social District beverages or not, keep in mind that downtown Fayetteville has much to offer residents and visitors on Valentine's Day and throughout the year.
For instance, visitors to the downtown core can enjoy carriage rides, live music, comedy at The Sweet Palette, cigars at The Livery Cigar Emporium, a movie at Cameo Art House Theatre, or televised sports and occasional DJs at Bruce's Sportsbloc and Lounge. Whatever you're looking for in terms of dining or entertainment, downtown Fayetteville is your destination for fun and enjoyment!