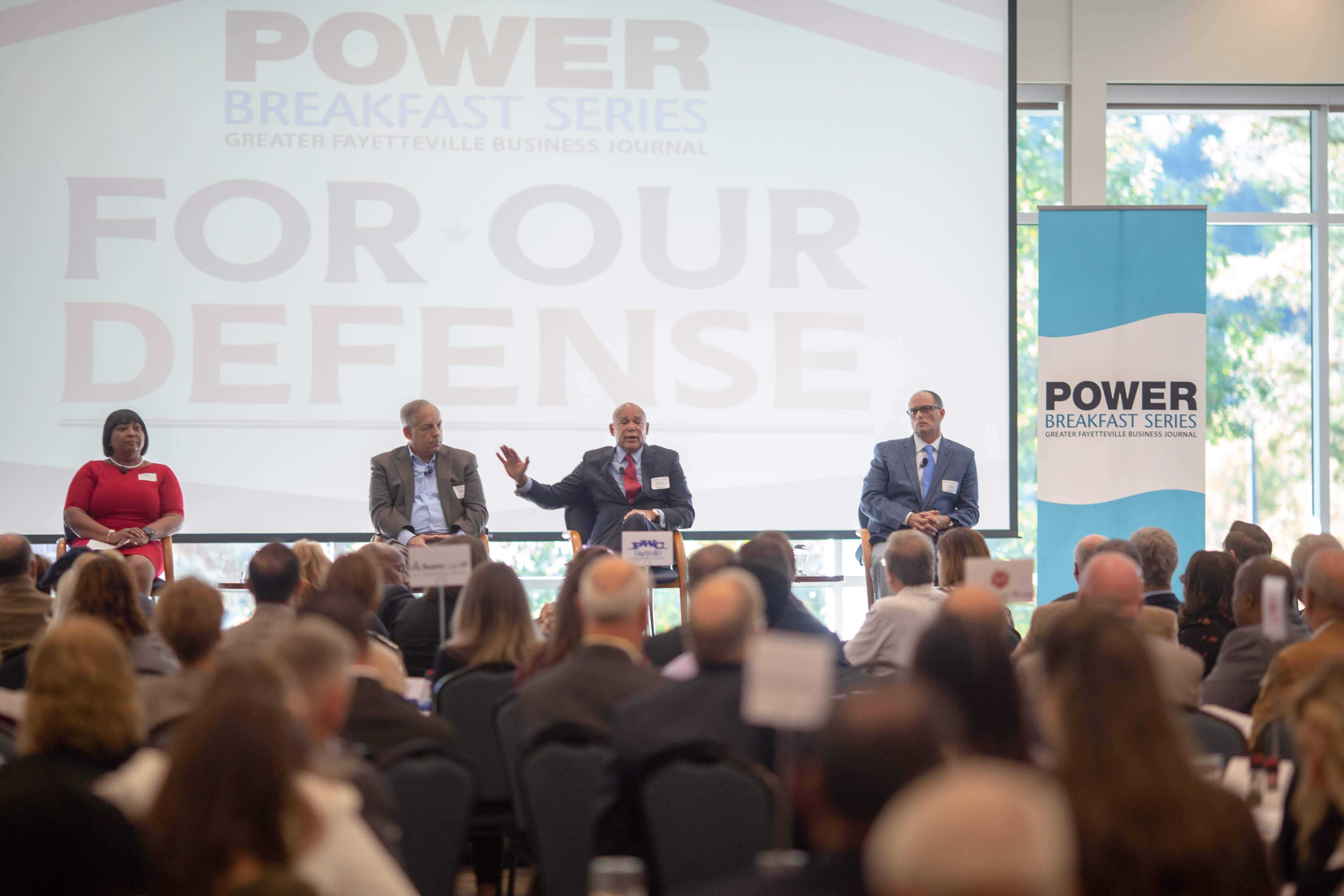 Publisher's note: Today, we celebrate those who so bravely serve this country. With gratitude, we recognize and honor the sacrifice and courage of our Armed Forces. Happy Veterans Day, and to our military and veteran subscribers, thank you for your service.
Greater Fayetteville Business Journal is proud to report the happenings within the defense industry which plays such an important role in the local community, our state and our country. On Tuesday, GFBJ hosted its second Power Breakfast, themed "For Our Defense," to highlight the economic impact that the industry has on the region.
The event, held at Fayetteville State University, was a huge success, according to GFBJ Publisher Marty Cayton. Roughly 260 people attended the event.
"Our second Power Breakfast has a direct and indirect relevance for every business owner in the Fayetteville MSA," Cayton said. "In 2020, DOD spending in North Carolina topped 66 billion, up by more than $6 billion. Cumberland and Hoke County defense contractors hauled in significant portions of this spend. The sector is set to grow steady over the next ten years."
After the event, attendees were excited to share their experiences from the Power Breakfast on social media.
"Great #defense discussions yesterday at Greater Fayetteville Business Journal Power Breakfast. Thanks to host Fayetteville State University and panelists from AEVEX Aerospace, Booz Allen Hamilton, Operation Services Inc., and Walsingham Group, Inc., who reiterated that Fayetteville and Cumberland County are on the map for defense contractors," the Fayetteville Cumberland Economic Development Corporation said in a Facebook post.
"Wow! I just LOVE the Greater Fayetteville Business Journal power breakfasts. I learned so much about the defense industry today. #Opportunity," said Lexi Hasapis, local vendor procurement analyst for PWC in a social media post.
During the Q&A session at the end, the audience showed great interest with their inquiries. "One question in particular that I thought was an eye-opener to the audience was about what local resources can be garnered for defense contracting, such as [services from] attorneys, CPAs, banks, insurance agencies, brokers, etc. The answer was eye-opening. Not many people in the area have the services to support the defense contracting industry, or have focused on having the support. Rather than look at that as a negative, I hope our audience looks at that as a positive, an opportunity… that can be created to someone willing to do the homework," Cayton said. Since the announcement of the new cybersecurity maturity model certification required of defense contractors, more organizations already established as contractors have been working to make sure they are compliant with the DOD mandate. Experts on CMMC say that now is the time for contractors to start working toward compliance, making this a good time for people interested in defense contracting to start their preparation.
Businesspeople saw the potential for Fort Bragg and were curious about the potential for growth. "There was talk about 'How do we make Fayetteville a 'D.C. South,' if you will. There was a lot of energy behind that question and a lot of possibilities behind that question," Cayton said.
Cayton is excited for future Power Breakfasts. He says that he plans to continue offering opportunities for networking and digging deeper into important topics within the business community. "Our goal is to find interesting topics that are relevant to the time we're dealing with, whatever the most relevant issues are that businesspeople are facing, and people who have expertise in that area. My goal is always for the speakers to be able to gain something for participating amongst themselves, whether it's a panel or an individual speaker… but for the audience, my expectation is that there is a 'golden nugget' that they can find that will transform their business or their career in some capacity. I saw that in real time from the dialogue that was happening," Cayton said.