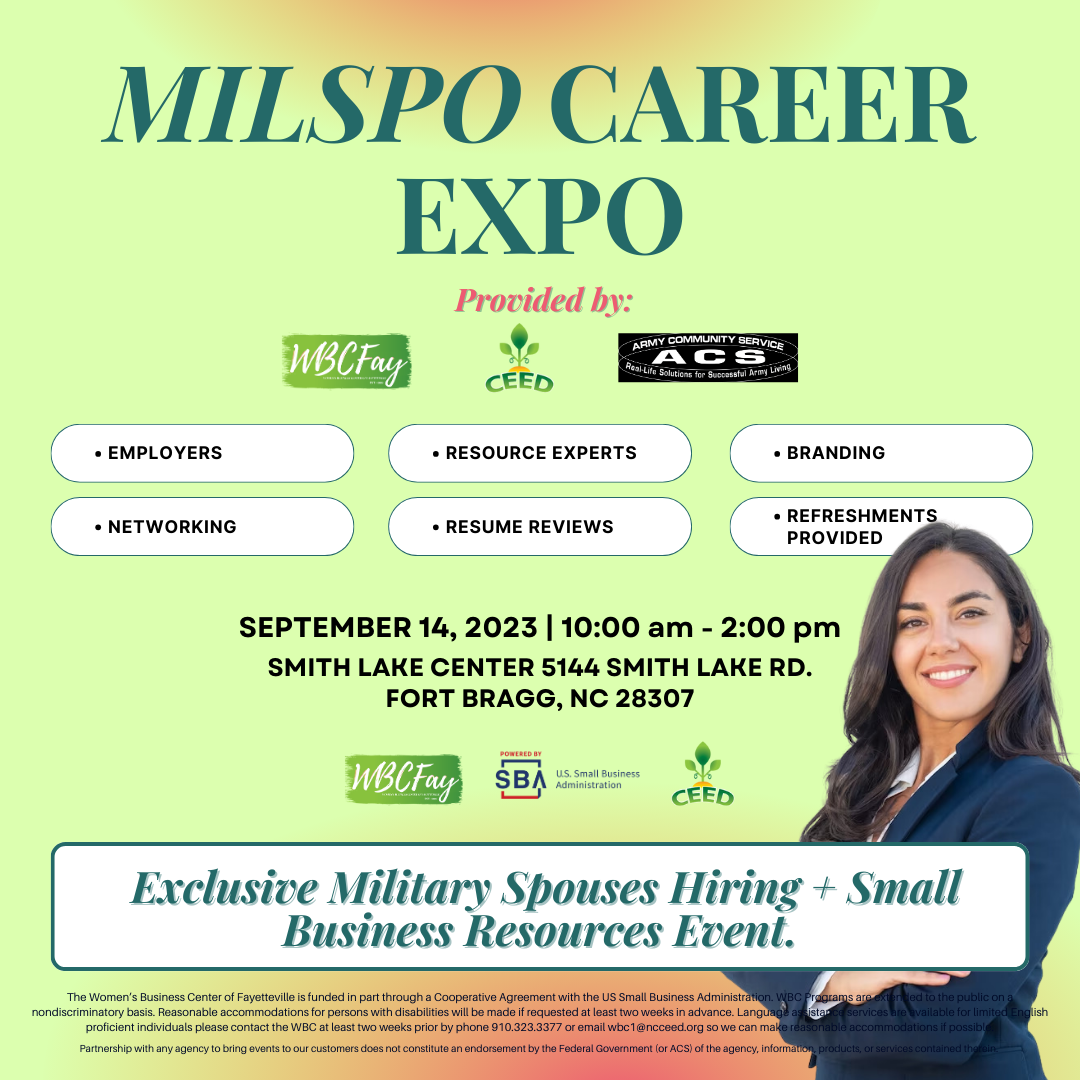 The 3rd Annual MilSpo Career Expo, a collaborative effort between CEED (Center for Economic Empowerment and Development), WBCFay (Women's Business Center of Fayetteville) and ACS ERP (Army Community Service Employment Readiness Program), is returning on Thursday, Sept. 14. This event is specifically designed to address the unique challenges that military spouses often encounter in their job search while offering employers a platform to fill their organizational vacancies.
Military spouses are invited to the annual MilSpo Career Expo from 10 a.m. to 2 p.m. at the Smith Lake Recreation Center to take advantage of opportunities to connect with a diverse range of employers and gain insight into available job openings. This event also offers a host of informative workshops and seminars aimed at enhancing skill sets and providing strategies to navigate the ever-evolving job market.
"The MilSpo Career Expo serves as a vital link between military spouses and potential employers. By fostering an environment of networking and learning, we aim to break down the barriers that often hinder the career aspirations of these resilient individuals," said Danice Langdon, Director of WBCFay, in a press release.
Participants will enjoy an exclusive opportunity to access resource experts, consolidating the essential information required to kick-start and manage their own businesses.
Employers interested in participating in this event are encouraged to reach out and register, joining the growing list of esteemed organizations dedicated to supporting the military spouse community.
"The MilSpo Career Expo aligns perfectly with our commitment to empowering military spouses by providing them with tangible resources and opportunities. Our partnership with CEED and ACS strengthens our collective impact and underlines the importance of this event," commented Suzy Hrabovsky, Executive Director of NC CEED, in a press release.
For businesses interested in participating or military spouses seeking further information and registration details, visit https://www.eventbrite.com/e/milspo-career-expo-tickets-638749104767