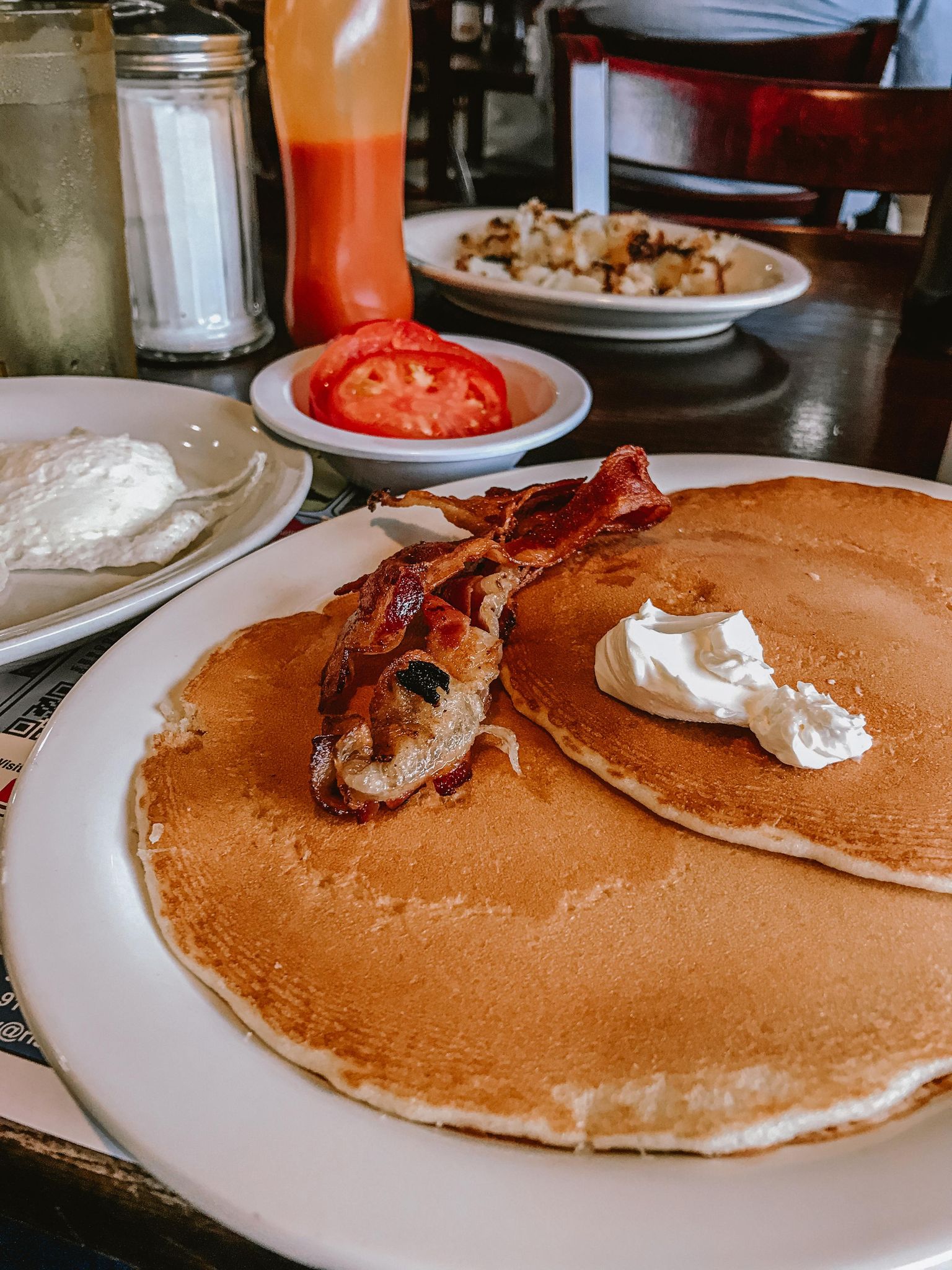 Networking plays a fundamental role in growing contacts for your business. In Fayetteville, there is no better place to build strong working relationships than local breakfast spots. The obvious instigator is coffee, caffeinated and poured fresh from table to table, allowing the conversation to flow, but more so building rapport during those energizing first hours helps set the tone for the workday.

Many of Fayetteville's breakfast groups have been meeting for years. Stephen Wheeler, president of Holmes Security Systems, has been meeting with a group of local community members from Snyder Memorial Baptist Church once a week for over 20 years.

"We meet weekly to talk about a certain book or Bible study, and we've been doing it a long time," said Wheeler.

Brad Hurley with Hurley Insurance Group remembers the start of their group well.

"We started meeting in the fall of 1998. I'll never forget how old the group is because my son was born six months after we started. We've been a solid, tight-knit group ever since," said Hurley. "We are all friends. We play golf together. We've done so many things and all support each other. It's a good fellowship group."

Wheeler agreed, and added, "We have a great group made up of people in accounting, insurance, food processing, ministry and security. Some have retired, some are still active.

Even during the COVID lockdown, we still talked weekly even if we
weren't getting the big group together. We support each other."

As far as locations, the breakfast spots vary. Most remember being at a Fayetteville Young Professionals breakfast chat at K&W back in
the FYP heyday, or at a local civic organization's early morning meeting at Haymount Grill, or seeing business owners and community members from around downtown particularly the courthouse, or police departments at Horne's Café or Big Dawg's. Only K&W remains although their hours changed to no longer serve breakfast. Even still, there are more grills hot all around our county from Cedar Point Restaurant, a main fixture in Spring Lake for almost 50 years, and Lindy's and Zorba's, neighbors on Raeford Road who often have regulars switch between the two with their proximity to each other to Kinlaw's Welcome Grill outside downtown on Sapona Road, where people ready for their homemade biscuits head over for breakfast starting at 6 a.m., and MaryBills Café, a hidden gem in Eutaw North Shopping Center.

"Our group has traveled a bit in our years. We met at K&W for a long time; then Mr. Jim's, which later became Fireside Restaurant, and we
were just at JK's Deli," said Hurley.

JK's Deli is a family-owned diner serving traditional breakfast fare at 125 Owen Drive in Fayetteville open weekdays except Wednesdays from 7 a.m. to 7 p.m. and weekends from 7 a.m. to 2 p.m. Their open dining room was updated a few years ago to also include an outdoor patio and new booths, tables and décor.

"We have several groups who meet regularly. Breakfast is very popular," said Jeanna Goodpasture, manager of JK's Deli, "Most of our guests have been here since the 1960s when we were Christo's Restaurant on Hay Street downtown and then moved over here with us in 1983."

Another restaurant popular for breakfast in North Fayetteville is the Rainbow, or the "new" Rainbow as some still call it. The Rainbow moved
to Ramsey in the 1970s as downtown became a less desirable location to own a restaurant and the Cross Creek mall area developed. The Rainbow has now been in business for over 80 years.

"We moved from downtown to Ramsey Street in the early 1970s and have had a great business here," said Thea Kanos, wife of John Kanos,
who is the third generation restaurant owner for the Rainbow Restaurant. "We have a side room and have regular groups since we can fit up
to 40 people. We host Bible studies along with other business groups. We have a lot of people from Goodyear who meet here during the breakfast hours."

The Rainbow Restaurant is located at 3708 Ramsey Street and is open from Tuesday-Friday 6 a.m. to 8:30 p.m., Saturdays from 6 a.m. to 3 p.m. and Sundays from 7 a.m. to 3 p.m.

The longevity for our breakfast spots include the Continental Café in Eutaw Shopping Center. Tucked on the side of the building, behind Carlie C's IGA, the Continental Café has been serving breakfast and lunch made to order for 60 years.

Beverly Chavis, manager of the Continental Café and daughter of owner Lynn Prevatte, was able to rattle off several of their regulars from area businesses who come in weekly, if not, daily for breakfast conversation.

"Hobgood Jones Realty, Metz Glass, Fosters and Sons Plumbing …We have business owners who come in regularly and have been for years. We've been in business for 26 years and the café dates back to the 1960s," said Chavis.

Continental Café is open Monday through Friday from 7 a.m. to 2:30 p.m. Located at 808 Elm Street in Eutaw Shopping Center, they specialize in home-style cooking and homemade breakfast.

Outside our trusty breakfast spots that make you feel at home, opportunities for breakfast networking exist in a more organized fashion as well in our area.

The Greater Fayetteville Chamber has been hosting the Chairman's Coffee Club for years and added a business networking breakfast
to their monthly schedule as well. These events can fill a room as business cards are passed around and handshakes greet the morning with pastries and sausage biscuits.

"We have a monthly coffee club on third Thursdays and a business networking breakfast on first Tuesdays. It's a great way to introduce
new members and get them involved.

The coffee club has had speakers from PWC, Methodist University, Cape Fear Valley Medical Center, Fort Bragg and others," said Toni
Dixon, office and event manager for the Greater Fayetteville Chamber. "At one of our last events, Mike Nagowski, CEO of the Cape Fear Valley Health System, spoke on the latest developments with COVID. You could hear a pin drop in the room. It was very informative."

The Fayetteville Chamber selects speakers for the coffee club to get members the most up to date information straight from the source and also encourages members to network.

"Our events target issues that affect our businesses along with a place to network," continued Dixon. "Our business networking breakfast is also a way to get to know our members and what they do. Networking is key. It really is all about connecting."

The Hope Mills Area Chamber of Commerce has a similar goal for their monthly business breakfasts.

Casey Ferris, president of the Hope Mills Area Chamber of Commerce, has ramped up events as they have looked at benefits to their
membership to include their monthly breakfast meetings.

"We have regular business breakfasts for our members. It is a more relaxed way to interact and network. Usually the entire group gets involved," said Ferris, "Last month, we held it at Hope Mills Lake. We had a fitness company sponsor and they partnered with a nutrition business, so we had a great workout along with a healthy breakfast. It was a different version of our normal breakfast, but a lot of fun. Next up, we will be at Drizzled Waffles, which is a relatively new business in Hope Mills. We encourage our members to be speakers."

Combining a panel of speakers along with a topic for discussion, the Greater Fayetteville Business Journal also hosts a Power Breakfast series. The series, held once a quarter, hosts a panel of local business owners with topics relevant to all community members interested in networking and their business community. The first event in July had 250 community members attend.

Whether meeting at a local breakfast joint or at an organized business function, the premise is the same. This is your network. Word of mouth marketing and building connections is vital to business growth. Businesspeople looking to get involved can contact the Fayetteville or Hope Mills Chamber or keep reading the Greater Fayetteville Business Journal for an upcoming date in the Power Breakfast series.

Sidebar - "What are your favorites?"
GFBJ ASKED SOME LOCAL BUSINESSPEOPLE FOR THEIR FAVORITE BREAKFAST FOODS.

HERE IS WHAT THEY SAID:

STEPHEN BARRINGTON, executive director, Sampson County Economic Development Commission
Grits, eggs and pancakes with crunchy bacon or sausage.

CASEY FERRIS, Hope Mills chamber president
Eggs benedict.

LEXI HASAPIS, local vendor procurement analyst, PWC
Any omelet from Zorba's and hashbrowns.

ROB PATTON, vice president, Fayetteville Cumberland Economic Development Corporation
Cottage cheese with hot sauce and coffee.

BELINDA WILKERSON, independent educational consultant, Steps to the Future LLC
French toast and scrambled eggs with a side of linguica,
a Portuguese sausage common in Rhode Island.