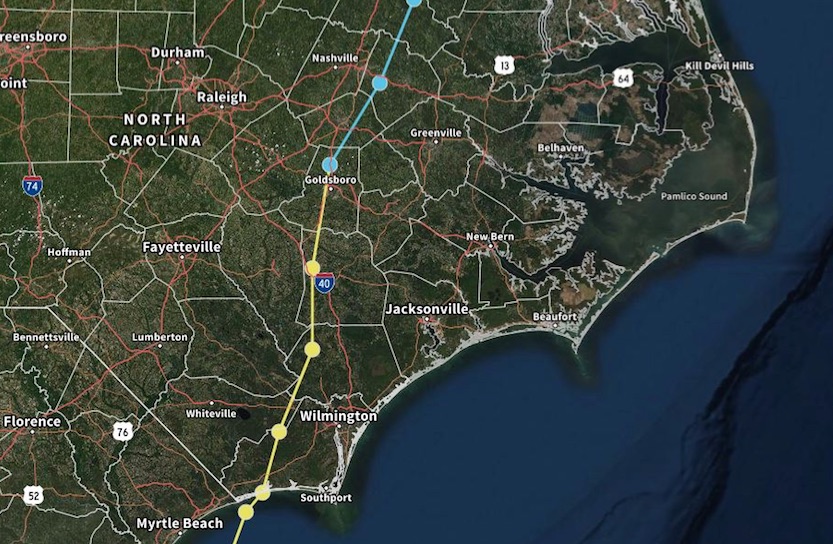 The images are iconic -- yachts beached on highways along abandoned cars; boats at marinas piled up like firewood. For years, when it came to hurricanes, all eyes were on the coast.
Then came 1999 and Hurricane Floyd. While the potential winds from the monster storm sent coastal residents racing inland, Floyd's wrath ended up being more water than wind. In addition to the dozens of Tar Heels who lost their lives, thousands of acres of low-lying land (much of it devoted to tobacco, soybeans, poultry and swine) were devastated by wind and rain.
Though not as devastating as Floyd, Matthew or Florence, 2020's Hurricane Isaias did cause significant damage to crops in Eastern North Carolina. It was, however, damage that farmers were protected from by the crop insurance -- or so they thought.
Insurance claims can be a tricky business. The "fine type" is often the difference between a successful claim and getting zilch, especially in a weather-related event.
Scott Flowers, an attorney with the Hutchens Law Firm in Fayetteville, saw firsthand how farmers who had purchased crop insurance were getting passed over, despite major damage to crops. Family members who farmed in Duplin County were among them.
Along with his colleague Damon Gray II, Flowers set out to prove that officials had erred when they determined that crop damage in Duplin County was not covered by the insurance farmers had purchased.
Flowers and Gray ultimately filed a lawsuit on behalf of two Duplin County farmers. And although there was no trial outcome or even an official settlement, the federal government agreed to pay the claim, admitting that the language in the insurance policies favored the farmers in this case. The decision meant that damages were paid to other nearby farmers, as well.
The details of the case, which delved deeply into the minutia of the administrative legal system, is probably best explained in a law school class. But for Flowers and Gray, the satisfaction of the victory was the fact that farmers in Duplin and nearby counties received $32 million in benefits they were rightly owed, based on the insurance contract they had purchased.
The case relied (in a very technical way) on what areas of the state the storm affected and the storm's category at that time of impact.
"The farmers in Duplin County were confused about why they (initially) were excluded because all the news reports said that Hurricane Isaias had gone right through Duplin County," Flowers told the Greater Fayetteville Business Journal on Wednesday.
"My brother-in-law and sister farm in Duplin County, outside of Warsaw, and his father farms there and all his family," Flowers said. "Not long after (the federal government) published this list of what counties were affected, I was having dinner with my brother-in-law and my family. My brother-in-law mentioned to me that he and the other farmers were confused as to why during the hurricane a different county was not included on the list of affected counties.
"We started looking into this, and we found that the federal government had published a formula to determine which counties were" eligible for relief, Flowers said.
"I told them I'll look into it. And I did some research and I looked at the maps and the insurance policy, and the instructions that the federal government published," Flowers said.
"I concluded that Duplin County should have been included … and those adjacent counties to the north should have been paid, too."
Flowers told the GFBJ that neither party in the lawsuit was trying to pull something over the eyes of the other -- it simply was a complex part of the policy that needed to be more precise, Flowers said, adding that neither party was trying to harm the other.
Regardless, Flowers is delighted that his argument won the day.
"When we took the case on, it was an uphill battle," Flowers said. "You know, anytime you sue the federal government, it's David versus Goliath. "We, we sort of expected it to be a long, drawn-out piece of litigation, you know, going up to the fourth circuit court of appeals or whatever. So we couldn't have been happier that it actually got resolved fairly quickly."