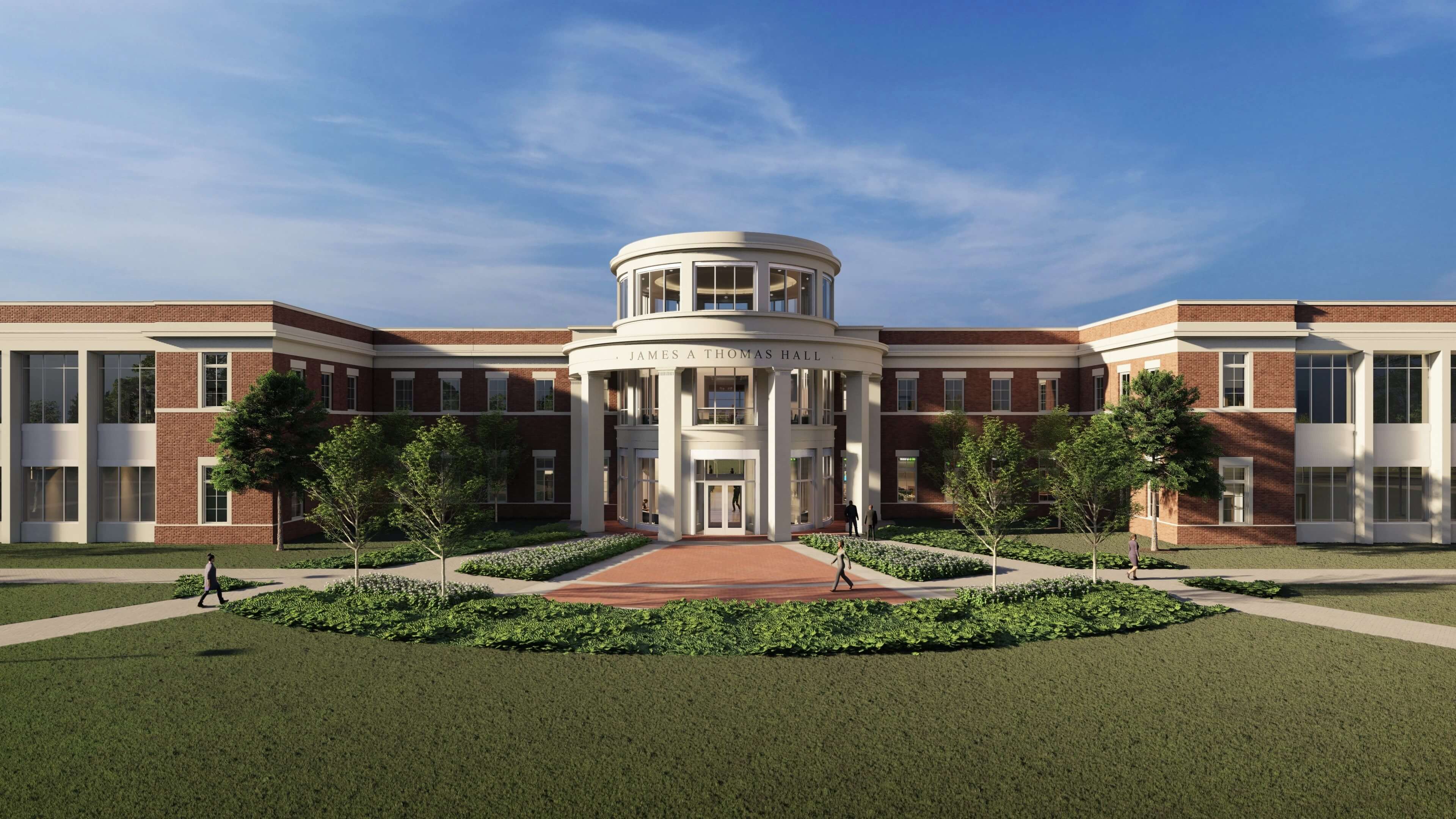 Robeson County is seeing big shifts in the economy, to include groundbreaking upgrades and new facilities, some of which are already in the works. The County encourages economic development by showcasing a variety of incentives and grants available to companies in the area who choose to take advantage of them, such as the Robeson County Industrial Development Incentive Grant, Article 3J Credit, Research and Development Tax Credit, Capital Investment Credit (Machinery & Equipment), HUBZone Eligibility, One North Carolina Fund, Robeson County Industrial Development Incentive Grant, Golden LEAF Foundation / Economic Catalyst Grants and assistance from the NC Rural Economic Development Center. Learn more at www.robesoncountyoed.org/incentives.
In August, the North Carolina Rural Infrastructure Authority approved 21 grant requests, three of which were for Robeson County. One of the grants was a $140,000 grant supporting the reuse of a building that will become the site for Air Production & Service, Inc. The company anticipates that the project will create 14 new jobs with an investment of $2,610,000.
Another grant was $200,000 to go toward the reuse of a building as Brianwood Custom Meats, LLC. The company will process cattle and swine for their wholesale and retail customers there, creating an anticipated 30 jobs and $1,248,874 investment in the project.
A $170,000 grant will be used to expand a building in Fairmont, where Harger Lighting & Grounding, Inc. plans to add 20,000 square feet to the facility, creating 20 jobs and $4,088,000 by the company.
And the changes keep coming. Among some of the other up-and-coming projects and developments that will boost the county's industry are the ongoing building of the I-95/I-74 Industrial Park, the soonto-be completed University of North Carolina at Pembroke (UNCP) Thomas School of Business building, the expansion of Lumberton Municipal Airport, and the continual economic support of both Thomas Entrepreneurship Hub (TEH) and Lumbee Tribe Enterprises.
I-95/I-74 INDUSTRIAL PARK Situated on 215 acres of land and nestled between I-95 and I-74 interstate highways in southeastern North Carolina, the industrial park will be open for bidding this month, according to Channing Jones, director of Robeson County Economic Development. "We're in the process of designing the parameters for the design of the park," Jones said. "Bids should come back at the end of November and we should start seeing initial construction phases starting at the end of this year or the beginning of 2022. Jones added, they identify the site to be one of the few — if not the only — industrial sites in North Carolina that is completely surrounded by interstate. "We believe that would be a really nice industrial park for Robeson County, for southeastern North Carolina and hopefully to be a showcase position for travelers not only up and down I-95 but one that is situated very near to the South Carolina border," he said. The project was conceived October 2020 by the officials of City of Lumberton, Robeson County and the economic development office. As plans matured, the economic development office was able to obtain development funds from the North Carolina Department of Commerce under two stipulations. "One is that we had to control the land or own the land," Jones said. "And two, we have to provide some form of job creation within the park initially." There is about $2 million of biddable land in the industrial park and currently, Elkay Plumbing, leading producer of stainless steel sinks, is partnered with the economic commission to occupy the largest lot. "They are the largest manufacturer of stainless steel sinks," Jones said.
UNCP THOMAS SCHOOL OF BUSINESS Anticipated to be functional for in-person classes next year, the new Thomas School of Business building is estimated to aid in the expansion of the university, according to UNCP Chancellor Robin Cummings. "We will move in over the holiday season and first classes will be held in spring 2022," Cummings said. "We will be contributing to our continued growth of our School of Business; we grow about 10 percent per year at the undergraduate level." Accredited by the Southern Association of Colleges and Schools Commission on Colleges (SACSCOC) in 2010 and to be reaccredited again in December 2021, the architecture of the building is patterned after the fronts of two renowned business schools in the country: Harvard and Wake Forest. A unique student learning feature from those schools has been incorporated into the facility — the trading room, where the NASDAQ ticker tape will be run along the walls at all times. "In that room, students will go in and learn about Wall Street and how to trade," Cummings said. "Classes will be taught there." Another feature new to the 64,000 square-foot business school is common areas for students to congregate. "Students are more social these days," Cummings said. "We learned that students really want to have gathering places where they can sit and study together." The facility cost $38 million to build and was funded by a bond program with North Carolina and Jim Thomas, a Pembroke native and LA real estate tycoon. A ribbon cutting ceremony will be held next spring, added Cummings. "I think it's going to be a state-ofthe-art, higher education building in southeast North Carolina," he said.
LUMBERTON MUNICIPAL AIRPORT The City of Lumberton's airport has been on a path of transformation for the past five years, according to Jones. Recently, they received a grant of $5 million from North Carolina Board of Transportation to expand their runway. "That may allow various types of commercial traffic at some point," Jones added. "Most of the flights here are private. There is no commercial traffic here at this stage." Prior to this, the airport received a facelift focusing on a more elevated aesthetic appeal and shares the building with the county's economic development office. The birdseye view of the terminal is fashioned into the shape of a wing, Jones said. "(The airport) hired a group of engineers and architects to design the building," he said. "We started moving in January 2021 in various stages."
THOMAS ENTREPRENEURSHIP HUB (TEH) AND LUMBEE TRIBE ENTERPRISE (LTE) Another project by the UNCP business school and funded by Jim Thomas, the focal point of the TEH is to aid and churn out small businesses in Robeson County and its surrounding communities in southeastern North Carolina. According to Jones, the design of the hub was to provide a place where startup companies could come at relatively very low cost to take advantage of the office space, use telecommunications facilities, and access cash-flow analysis and business plan advice. Located at 202 Main St., the 20,000 square-foot hub offers nine private office spaces, 16 semi-private cubicles, an Idea Lab, conference rooms, a 24-seat co-working space, and more. According to the hub's website, the facility opened its doors in November 2015 and has since generated 312 clients, 130 active businesses, and created 294 jobs. "I think they've been very successful," Jones said. "The idea is to get them low start-up costs, so that they can get a customer base started, and then eventually those entrepreneurs will start to move out into the greater community and that cycle would continue." The LTE is a for-profit function of the Lumbee Tribe who bids on government contracts, according to Jones. "A percentage of those funds come back to the tribe," he said. "These contracts can be something as very high-level and very classified training programs for special forces, to getting the contracts to do all the laundry on the military base — there's just a large swath of opportunity they can go into." According to LTE's website, they are a Native American, 8(a), Disadvantaged Small Business with a primary NAICS code of 541611. After receiving 8(a) certification from the SBA, LTE's niche is to source federal contract work. "Last time I heard they had over $800 million worth of contracts going on right now," Jones said. "So it's a substantial endeavor."