Sabrina Brooks is the executive director of the Cape Fear Valley Health Foundation. Brooks joined the foundation in 2010 and has been a driving force behind the philanthropic support for the Cape Fear Valley Health System, one of the largest health systems in North Carolina.
She oversees a staff of six and works closely with a volunteer board of directors. She holds a bachelor's degree in business administration from the University of North Carolina at Chapel Hill, and a Master's degree in business administration from Western Carolina University. She also holds a Certified Fund Raising Executive designation (CFE).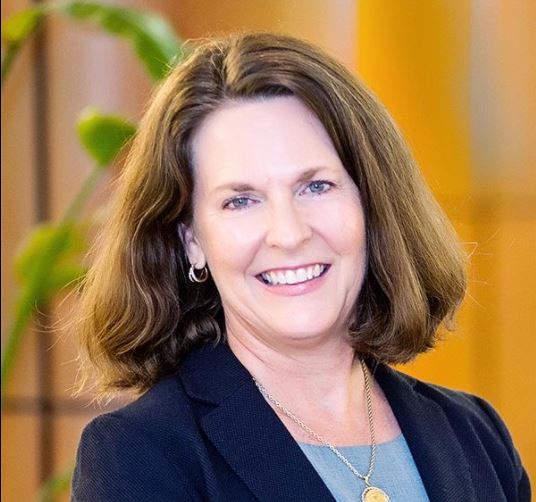 GFBJ: Tell our readers about the Cape Fear Valley Health Foundation:
BROOKS: The Cape Fear Valley Health Foundation was organized in 1995 to provide a source of philanthropic funding for Cape Fear Valley Health. The Foundation is able to fund projects and programs which go beyond basic medical care, yet have a positive impact on the health and wellness of the community, as well as the patient and family experience when seeking healthcare from Cape Fear Valley Health.
The impact of Foundation funding touches every area of care, including children, cancer patients, those with chronic diseases, behavioral health, cardiac care, and much more.
We are governed by a volunteer board of directors who help ensure the gifts the Foundation receives are used in ways which have a positive impact on the health of the communities we serve.
The Foundation has a staff of seasoned fundraising professionals who work with donors to help guide their giving to meaningful and worthwhile projects which fulfill their desire to provide the best in innovative health programs, to meet the needs of patients and staff or improve or create new healthcare facilities.
GFBJ: What does the foundation do to support its mission?
BROOKS: Our mission is to serve the community by building awareness and philanthropic support for Cape Fear Valley Health. We fulfill this mission by working with community members to contribute to programs and services which have a positive impact on patient care at our community hospital.
GFBJ: What is Caring for the Future?
BROOKS: Caring for the Future is our capital campaign to fund the Center for Medical Education and Neuroscience Institute on the Cape Fear Valley Medical Center campus. This facility will house learning space and simulation labs for the training of medical residents at Cape Fear Valley Health. This program will add hundreds of much needed physicians in southeastern North Carolina, which will improve access to healthcare and improve health outcomes across this region. In addition, the residency program will generate an estimated $500 million in economic impact for the region. The fifth floor of the building will expand our neuroscience capabilities in the community. This $32 million project, located on the Melrose Road side of the campus, is the largest capital campaign the Foundation has ever embarked upon and we are grateful for the community's response to the project.
GFBJ: Where does your support come from?
BROOKS: Individual donors from the communities we serve, businesses and other organizations who recognize the value of quality healthcare in the community, memorial and tribute gifts which honor someone's loved one, local, regional and national funders who invest in programs geared toward specific health issues, Cape Fear Valley team members, really anyone who has a desire to impact local health care is encouraged to contact us to see how their gift, regardless of size, can make a difference.
GFBJ: How will donations help Cape Fear Valley?
BROOKS: Donations to the Foundation help Cape Fear Valley Health provide the best healthcare to our community members and to provide the services we need and the care we deserve.
GFBJ: What is the impact on our hospital and community?
BROOKS: Through gifts to the Foundation, patient care is enriched, and our family, friends, colleagues and neighbors receive enhanced healthcare, all because of the generosity of our donors. Community members undergoing cancer care and facing related economic distress are able to stay in their home and make sure their lights stay on during their treatments, children have a cuddly stuffed animal to hold onto during scary treatments, our tiniest babies have access to state of the art care in the most advanced incubators, which enables them to grow and develop to a point they can go home to their new family, those in cardiac arrest have an increased chance of survival because their EKG is transmitted to the Cath Lab during their transport to the Emergency Department, nurses have access to the most current educational offerings due to scholarship funding for advanced degrees, and so much more.
GFBJ: How has Covid impacted the foundation's work?
BROOKS: In the early days of the pandemic, the Foundation was tasked with receiving, organizing, and distributing all the in-kind support for the healthcare system and our team members from our generous community. This included everything from handmade masks and other PPE to meals to hand sanitizer and so many other expressions of support for health care workers. As things began to return to some normalcy, COVID continued to impact our ability to meet with donors in person, but we have been able to engage with many using electronic means. We have put a pause on our in-person events but are beginning to move toward a resumption of in-person gatherings.
GFBJ: What contribution or achievement have you been the most proud of as the executive director?
BROOKS: In the 11 years I have been involved with the Foundation, there have been many proud achievements.
However, the one with the most impact which stands out is our "Caring for the Future" effort to support the Medical Residency Program. This program is transforming the healthcare landscape for southeastern North Carolina and the impact will be felt for decades to come. We are truly cultivating the next generation of physicians for this area. It is energizing to see the young residents, excited to be in Fayetteville to receive their training and the manner in which they care for our patients.
The first classes of graduates are already having an impact, as 50 percent of them have chosen to stay in Fayetteville to practice medicine. Equally exciting is the way in which the community has responded to make this program a reality. It all comes together to show what a wonderful community Fayetteville is and the collective desire for it to a great place to live, work and play. I am proud to have a small part in making quality healthcare a part of that reality.
GFBJ: Any upcoming events or fundraisers?
BOOKS: We will hold a fundraiser in April 2022 in Festival Park which is very similar to our Ribbon Walk, with some exciting enhancements. More information will be coming soon, so stay tuned!
GFBJ: How can someone become involved?
BOOKS: Those interested in learning more, volunteering and donating to the Foundation can contact our office at 910-615-1285 or visit our website, cfvfoundation.org.