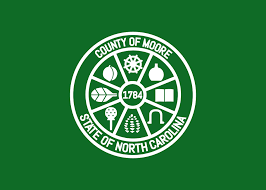 Moore County has issued a State of Emergency as related to Mass Power Outage in Moore County due to a criminal incident.
According to an update provided by the Town of Southern Pines on Facebook, Duke Energy announced late Sunday afternoon that two electrical substations were "intentionally impacted, damaging multiple pieces" by firearms. Due to this damage, equipment will need to be replaced.
President & CEO of the Moore County Chamber of Commerce Linda Parsons admires the fortitude of the citizens of Moore County during this difficult time. "...we are a very creative, resilient and supportive community that has come up with solutions to provide free coffee, pancakes, hotdogs, whatever it may be. The community is wrapping its arms around its neighbors and trying to find a way to lift people up."
No power, no internet, and some spotty cell phone service leave many businesses with no choice but to shut their doors for the time being.
Executive Director of Moore County Partners in Progress Natalie Dean Hawkins spoke with the Greater Fayetteville Business Journal to provide some additional information about Moore County's current state.
Hawkins confirmed that thanks to back-up generators the hospital is operating as normal. However, convenient care centers have been closed.
The majority of businesses in town have been forced to shut down. Harris Teeter's have back-up generators and are able to serve consumers. Being one of the only stores open, it has drawn quite the crowd.
A few restaurants and a few hardware stores have also been able to regain power over the past few hours and may cater to the community in a limited capacity. Some stores are open despite having no power such as Vass Hardware and customers can shop there with cash.
Red's Corner is open and the food trucks are serving meals to community members.
Parsons also mentioned that while many businesses have their storefronts closed they are still encouraging people to support them by shopping online at their websites.
Hawkins shared that the community is optimistic that power will be restored by Thursday, though there is no guarantee everything will be resolved by this date.
"Businesses are going to lose…in the millions when all this is added up, no doubt," commented Hawkins. "It's going to be some serious financial harm to a lot of our businesses and that's really, really unfortunate."
Fire stations, police stations, town libraries, and other places have opened their doors to people who need a place to get warm or charge their devices.
The Moore County Chamber Facebook page is being updated regularly with locations for community members to get food, charge electronic devices, and take shelter if they need to.
https://www.facebook.com/MooreCountyChamber