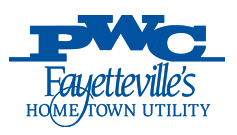 The Fayetteville Public Works Commission will be hosting its Power & Water Conservation Expo on Friday, June 24, from 10 a.m. to 9 p.m.
The free event will be held at SkyView on Hay, located at 121 Hay Street, and allows customers and visitors to learn ways to save on utility bills with experts on hand, demos, useful giveaways and more to help conserve.
Those in attendance will have the opportunity to speak with customer service representatives, incentive program specialists, and other PWC experts including lineworkers.
"We are excited to have this event back," said Courtney Lucas, community relations associate for PWC. "This year it will be a one day event, instead of two, and customers can come to the event to learn more about ways to save. There will be different tables and booths for them to get all these fun facts and be educated on conservation."
Attendees can pick up a Fat Trapper and help 'Cease the Grease," visit the Watersheds staff to learn how they are protecting the drinking water quality, chat with the Water Reclamation Facility Maintenance Group about keeping wipes out of pipes, and learn about job opportunities with PWC.
Individuals also will be able to receive giveaways.
If in a hurry, individuals can stop by and get a giveaway that has 10 to 12 handy items that coordinate with the event such as a LED bulb, a five minute shower timer, and more.
This event is for everyone, even kids.
Kids Korner will have lots of fun activities that will teach kids about ways they can conserve. The kids can participate in live demos with linemen where the kids can put on their gloves and work with a mini power pole. There will also be a photo op with a bucket truck and show and tell.
Local businesses can learn about how their businesses can save money and conserve.
"We will have some people from our Energy Resource Center and business customers can come look at our new system to see how they can reduce their costs and talk to representatives from there and learn more about how the Center can be helpful for them," added Lucas.
At the event there will also be several community outreach organizations, such as the Salvation Army and Red Cross where people can also learn about their involvement in the community.