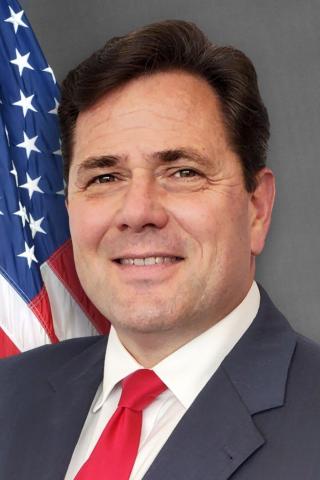 GFBJ: Throughout your military career, you served in a variety of positions, including some in Fort Bragg. How is this role in particular meaningful to you?
MORGAN: It's meaningful because I feel like I'm on bonus round. I actually stayed in the military as an orthopedic surgeon and did a variety of leadership things in there as I love serving soldiers, sailors, airmen, Marines, and their families.
My wife and I wanted to stay in the area and we had options to continue on with the military career, but I'm originally from Asheboro and my wife went to high school in Rocky Mountain, and we're North Carolinians and not getting any younger, so we figured we'd stay.
GFBJ: What inspired you to join the VA after your retirement from the U.S. Army as a Colonel?
MORGAN: I looked at some various opportunities. My background was one in which the army sent me for my fellowship, my additional training, to Duke to get an MBA in health sector management. I looked at business type of stuff, and some venture capital stuff on the medical side, and private practice opportunities, but you gotta do what you love and for me that is taking care of veterans.
There's a closer integration that occurs with Fort Bragg hospitals and the VA. I was originally brought on to assist with some of that as well as being an orthopedic surgeon. I had no intention of really going into much leadership, but I do enjoy being a surgeon and one thing led to another.
GFBJ: What is it like to serve in healthcare in a leadership position with the evolution of the pandemic?
MORGAN: In the new role that I am in now, I'm a little less hands-on than I was before, because before as Chief of Staff, which is the lead doctor for the organization, I was advising the director a lot more on the strategy and things like that as to how I thought we needed to go.
With the response, I'm still involved in it. We're effectively becoming an endemic, with the disease now versus a pandemic.
We went through a period of time where we were not doing a lot of screening things that we would do for cancers and things like that and we need to make sure that we're doing all those and getting back in the saddle with it. Our goal now is to respond to the pandemic as to what the needs are.
GFBJ: How has the transition been for you from chief of staff to being the interim executive director?
MORGAN: Overall, it's going good. The fortunate part is that I'm very familiar with the organization. So, it's not like I was going to a completely different organization with that.
More importantly I couldn't do this or feel as comfortable in this transition without the teammates that I have around me. This is very much of a team effort as we approach problems. I love hearing what they have to say and they provide some great input.
We've also had a lot of people stepping up in a variety of capacities and that's sort of been the main thing is how phenomenal the teamwork has been.
GFBJ: What's your favorite part of your job? What is the biggest challenge?
MORGAN: My favorite part of the job is the responsibility. The idea that I'm able to make the decisions and to take responsibility for that.
I would say the biggest challenge of the job is just the size of the responsibility in a sense that there are all these different variables that are associated with healthcare delivery. It's not an easy thing to do and you have many different aspects of it and different challenges with each type.
We have 86,000 patients, 17 sites of care, and us in general are serving a large scale that expands over 19 counties. Overall, we're trying to be as efficient as possible and make sure we are in the right direction of accomplishing that.
GFBJ: What is the best piece of advice you've ever received?
MORGAN: I think the best piece of advice I received was from my mom and it was just, "Be nice."
GFBJ: If you could give a piece of advice to someone just starting out in the medical field, what would it be?
MORGAN: I would say to make sure you're being a team player, health care delivery is all about being a team.
You can be the smartest person in the world, have all the grades and everything else, but if you can't function as a team member or teammate both in a follower capacity and sometimes as a leaser, you're gonna have a tough time working in health care especially today.
GFBJ: What do you think the future of the Fayetteville VA looks like going forward in the next few years?
MORGAN: I think you're going to see it expanding out in what we do. Right now, we are in the unique position that we are the fastest growing level one facility in the nation, in the last 10 years we're the third fastest growing VA.
We've been growing over five percent for the last 10 years and that's pretty impressive. You're also going to see a change in income or retirement for the military. So I foresee that we're going to end up having more people stay in longer and see a significantly ordered growth as well.
Age: 56
Family: Dr. Morgan is married to Laura C. Morgan, who is the reigning Ms. Senior America. They live in Pinehurst, NC and have four adult children.
Professional Background: Dr. Morgan is a graduate of the United States Military Academy at West Point and the East Tennessee University James H. Quillen College of Medicine with a Master of Business Administration from Duke University Fuqua School of Business with a concentration in Health Sector Management. During his military career, Morgan served in a variety of roles such as the U.S. Army Special Operations Command (USASOC) Surgeon Fort Bragg, N.C.; Deputy Commander for Clinical Services (Chief Medical Officer) for Womack Army Medical Center, Fort Bragg; USASOC THOR3 (Human Performance program) Program Director, and Chief, Department of Orthopedics and Rehabilitation at Darnall Army Medical Center, Fort Hood, Texas.
Hobbies: Morgan is into community service and has served on the board and then as president of Friend to Friend, an organization that helps provide support to victims of domestic abuse, sexual assault and human trafficking. Morgan is also a council member in Pinehurst.
Favorite type of music or movie: Any action movie and classic rock.