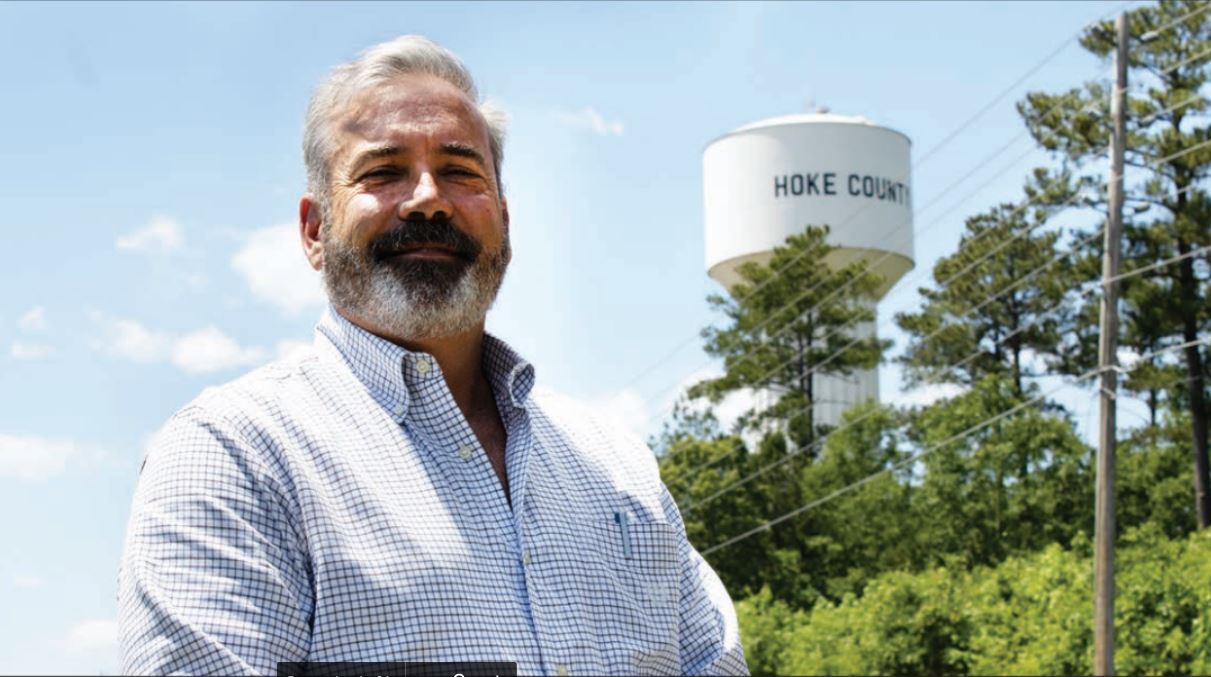 Hoke County is the place to be for contractors, realtors and new businesses as an approved rezoning plan has paved the way for development never before seen in the area.
It began with the approval of a Conditional Use District for Hoke County. Intended to be a mixed- use development aimed at allowing a space for commercial, retail, medical and professional offices, the idea was pitched to area leaders in 2012. Now in 2023, the growth from that area is tangible as new construction begins in Hoke County across U.S. Highway 401 and beyond.
Real Estate Developer and Consultant Charles Morris has been a key player in establishing the foundation for this rapid growth, helping to get the Conditional Use District passed by Hoke County leadership, and most importantly, leading the way for a strong anchor for other
businesses, residential developments and more to build around.
The FirstHealth Moore Regional Hospital Hoke Campus lies at the center of the development plans. After coming to the area, the campus has brought the necessary jobs, medical services, and infrastructure to make other developments possible.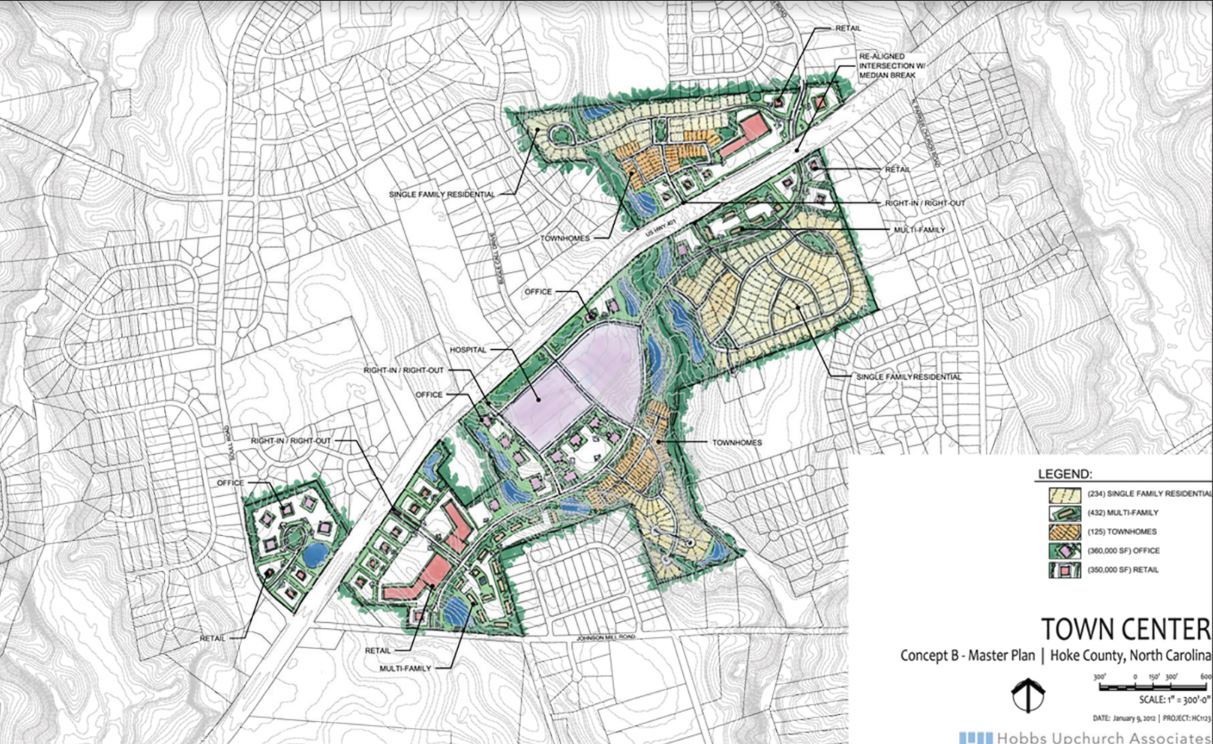 "In a mixed-use conditional use district, it's kind of its own governance. It has its own rules, setbacks, vegetative spaces, and then we did a concept 'A' and a concept 'B', and this was the [Hoke FirstHealth] hospital. They took 30 acres and then we sold them an additional six out here, so they own all this now. We want them to be successful," shared Morris.
Morris also serves as head of development facilitation for the Williams family who own what is officially known as The Williams Family Tract, 196 acres of land located along Highway 401 between Johnson Mill Road and North Parker Church Road. As the property began to be purchased for development and
plans began to pour in, Morris said he has helped the developers and the Williams family facilitate plans that allow for all parties to meet their needs and wants for what they want the future to look like as they bring in more mainstream builds and businesses.
Morris said that a large emphasis has been put on making sure there is a small town feel in the look and designs of commercial buildings
coming to the community.
"That's what the family wants. Because they all feel like this was something from their grandparents and their parents. And then they're going
to put their fingerprint on society. Ed Williams is really adamant that this does not look like just a traditional, slap it down development," shared Morris.
By providing the critical infrastructure, the new district has opened the floodgates for both residential and commercial construction to begin, so much so that Cumberland based builders are setting their sights on having multiple projects in Hoke County.
Ben Stout, CEO of Fayetteville based Ben Stout Construction, which has a number of projects in development in Hoke, said that Hoke County has made it easy to develop, with County and City officials working with builders to rezone and get the proper permits quickly and efficiently which allows for a safe investment.
"In Hoke County, I think one of the things that stands out is that you know if you're going to spend money, you're going to not have as many channels and hurdles to overcome to get rezoned to meet your needs. So, the money that you invest upfront, you know you'd be able to recoup because you have confidence that you're going to get the project done," shared Stout.
Other contractors have agreed that the municipal laws in place have also made Hoke County a safe and more
profitable investment.
Ralph Huff, owner of Coldwell Banker Advantage and former owner of H&H Homes, currently with Huff Family Office, has over 45 years of
real estate experience in Fayetteville and the surrounding areas. Huff shared that material and construction requirements in the Hoke area's Unified Development Ordinances are more cost effective and achievable.
This can make or break a construction company's plans, with builders seeing an increase in prices on everything from construction materials to
labor costs.
"Most all municipalities have a Unified Development Ordinance and when they do, it normally sets back the ability to develop for a decade.
But what we did in Hoke County is, once they adapted it and we saw the impact of it, we met with Hoke County, and they changed five or six
things in there that made the cost of developing the lots untenable. They worked with the builders and developers to help modify the UDO which was over the top," shared Huff.
"Hoke County has always been relatively easy to deal with because I'm from Hoke County and I know all the pieces of the puzzles over there. I have done so much work over there that when I speak, they understand that I'm not trying to pull something over on them."
Co-Owner of A&G Residential Wells Alderman currently has projects in four neighborhoods under development in Hoke County, with more projects already being planned for the future.
"Hoke County has always been on our radar. Like any county or any project, some opportunities are better than others. Since we've started in 2019, one of the first houses we built was in Hoke County, and Hoke County has always been a part of our business model," shared Alderman. "When you drive down [Highway] 401 and you see that new aquatic center that just opened, and you see the amount of money that they put into that. That to me shows the growth that the county is doing, you see all these different projects that are going up."
Hoke County leaders say they are all on one page in regard to getting projects to come and be completed in their area, with multiple community developments moving through the proper channels, and using both local and out of county contractors to find the best way to get the job done and benefit everyone.
"If we say we want to build a courthouse, the goal is to build a courthouse. Okay, we look at 'how can we do it economically?' And then while we're doing that, we want to put our business community first. When we do that, we get to hire locally, so we get to hire some local painters, some contract workers,
the money stays in our community," shared Hoke County Commissioner Harry Southerland. "It's going to our schools, helping out the school system, it's going into our grocery stores and going to convenience stores buying gas, so we keep the money, not all of it, but most of it
locally. And when you do that, those dollars keep turning in your account at least seven times. When you do that, you can expand and grow."